Commitment + Clinical Leadership = Better Outcomes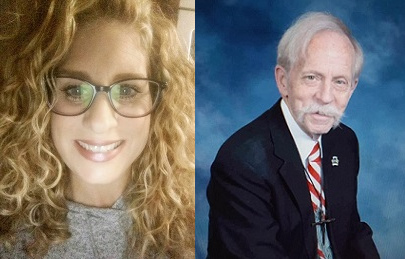 What is Respiratory Therapy?
Oct. 26th, 2020
This week is National Respiratory Care Week, and here at Saber Healthcare, we are celebrating all of our Respiratory Therapists!
We took the time to interview Joe Baden, a Staff Respiratory Therapist at Waterside Health and Rehab, and Lori Carr, a Registered Respiratory Therapist at Waterside Health and Rehab, to learn more about Respiratory Therapy.
"Respiratory Therapy is the hidden gem of healthcare," Carr shared.
Carr has over twenty years of experience in Respiratory Therapy and Baden has more than forty years. The two therapists were happy to share their expertise in Respiratory Therapy and what a normal day in their career looks like.
"It's very rewarding when I can make someone's life better," Baden said. "We become the advocates for our patients."
What is Respiratory Therapy?
Respiratory therapy requires knowledge not only in the pulmonary system, but the cardiac system and kidneys as well. All of these systems of organs work together to keep the body functioning properly.
Respiratory Therapists work to diagnose problems and dispense remedies for their patients. When patients have difficulty breathing due to an illness, lung disease, or trauma, respiratory therapists help them breathe. This may involve supplemental oxygen or mechanical ventilation.
"There are Respiratory Therapists working with all ages of life, from premature babies all the way up to long term care," Baden said.
Respiratory therapy treatments range from simple breathing treatments, to managing a ventilator for patients who can't breathe on their own.
"Most people don't know that we are extremely vital to the healthcare team," Carr said. "We maintain and sustain life."
How did you get started in this career?
Baden and Carr both have many years of admirable experience in the Respiratory Therapy field.
Baden began back in 1974 when they were called Inhalation Therapists. He completed a program at the Bowman School of Medicine in Winston-Salem, North Carolina. Post-graduation, he worked on a trauma ventilator unit before he moved back to Virginia Beach and was employed at acute care facilities.
Carr has been working in the Respiratory Therapy field for twenty-one years now. She has worked in many facets of the field including acute care, long term acute care, long term care, outpatient setting, pulmonary function testing, and pulmonary rehab.
What is required to become a Respiratory Therapist?
To become a Respiratory Therapist, a high school diploma or GED is required, and then you must complete an accredited Respiratory Therapy program.
The minimum requirement for practice is an Associate's degree in Respiratory Therapy. While there are two year programs to obtain an Associate's degree, there are also four year Bachelor's degree programs for a Respiratory Therapist to further their knowledge in the field.
Once completing a program, an exam and clinical simulations are required to become a licensed Respiratory Therapist.
While obtaining a degree is essential when pursuing a career in Respiratory Therapy, there are also many areas that therapists can obtain certifications in such as pediatrics, geriatrics, Neonatal Intensive Care Unit, and more. Once someone is a Respiratory Therapist, they can then go through further training and testing to receive these extra certifications.
Advice for Aspiring Respiratory Therapists
Carr and Baden shared some advice for anyone who is aspiring to become a Respiratory Therapist.
"Try to shadow someone for a shift," Carr said. "You get an idea of what we do and how many different things we do in one day's work."
Baden suggested having a strong background in math, because measurements are heavily involved in Respiratory Therapy.
What does a normal day look like in Respiratory Therapy?
We asked Baden and Carr to share with us what a normal day in their career looks like.
A day in Respiratory Therapy involves learning a patient's history, diagnosing, and providing care depending on the patient's needs and careful evaluation.
Carr said that she works as a staff therapist, and there are always two of them for a twelve hour shift. She works with other therapists on duty to provide respiratory care to the residents on their floor.
Baden said that there is no such thing as a typical day and it can get very busy.
Respiratory therapists work alongside doctors and nurses during their shift to assess and treat their patients. They may ask a nurse for a patient's history or what medications they're taking, and a nurse may need a Respiratory Therapist's expertise on ventilators.
Carr and Baden both shared that they enjoy spending time getting to know the residents they care for on a daily basis.
"You get appreciation for what you do and how heavily they rely on us," Carr said.
"I enjoy being able to talk to the patients and get to know them," Baden shared. "They trust us a lot."
Equipment and medications are constantly evolving as well, which can be challenging in any field of the healthcare industry. Respiratory Therapists have to adapt and learn new medications and treatments to better help their patients.
Saber Healthcare appreciates our Respiratory Therapists
Saber Healthcare is proud of our Respiratory Therapists and all they do every day. Thank you to Joe Baden, Lori Carr, and all of our other Respiratory Therapists!
Visit AARC.org if you're interested in learning more about Respiratory Therapy or becoming a Respiratory Therapist.
Saber Healthcare is an organization dedicated to providing consultant services to long term care providers. This article is for informational purposes and is not meant to be seen as professional advice. Please consult with a medical expert before relying on the information provided.