Commitment + Clinical Leadership = Better Outcomes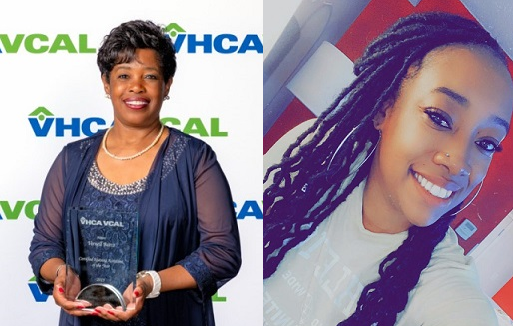 CNAs and Their Role in Healthcare
Jun. 18th, 2021
Photo, left to right: Vernell Barco, Janae Worrell
Certified Nursing Assistants are an asset to the nursing team and all the communities here at Saber Healthcare.
As we celebrate Nursing Assistants Week, we wanted to highlight our wonderful CNAs and all the work they do for our residents.
We interviewed two CNAs at Autumn Care of Chesapeake, Janae Worrell and Vernell Barco, to learn more about what they do each day for the residents.
Worrell has been working as a CNA since 2006. She said she loves taking care of people, and she has a soft spot for older patients.
"I love the patients, interacting with them, and making them smile," Worrell said.
Barco has been working as a CNA since 1999 and has won a few awards including CNA of the Year from Virginia Health Care Association (VHCA).
"I look forward to seeing my residents," Barco shared. "It just makes me smile."
What Does a Day as a CNA Look Like?
We asked Worrell and Barco what an average day looks like when working as a CNA.
Barco said when she first comes in, she greets the residents and staff. Then, she helps with activities of daily living (ADLs), as well as getting the residents ready for the day.
Worrell shared that she comes into work, gets her assignment, collects vitals on her group of residents, and begins checking what is needed for residents' breakfasts.
Barco and Worrell help pass out food for residents and help with feeding if the extra assistance is needed.
Other duties include getting residents where they need to go, whether its activities or therapy. They also clean up rooms, check on residents throughout the day, and complete charting for the next shift that comes in.
Barco added that she loves dancing for the residents to get them to smile. "I love just being my bubbly self," Barco said. The residents refer to Barco as Happy Feet because of her bubbly and happy personality.
"I laugh with them and dance with them," Worrell stated. "I know it's not the same as being with family, but I try to make them feel at home."
What Did You Have to do to Become a CNA?
Worrell shared that before she could work as a CNA, she took a four month course at a community college. The course included CPR certification, hands-on classes that taught her how to care for residents, and clinicals.
Barco mentioned that she also went to school and earned her CNA certification years ago. She said she decided to become a CNA because she always liked helping people out and wanted to take care of others.
What is Something Most People Do Not Know About CNAs?
CNAs are constantly working with residents and doing hands-on tasks behind the scenes. Barco and Worrell shared a few facts that most people might not know about CNAs.
"We take care of the residents and make sure everything is to their satisfaction, all while treating them with dignity and respect," Barco said.
Worrell added that most people might not know what CNAs do unless a CNA explains it to them or they come into the building.
"CNAs may get overlooked, but I believe we are a big part of the job," Worrell said. "We take care of the patients hands-on."
Advice for Aspiring CNAs
Barco and Worrell gave some advice for those who are interested or thinking about becoming a CNA.
"Always be polite and respectful. Treat your residents like family or how you would want to be treated," Barco stated.
"You have to have a heart for this job. You have to have patience and empathy," Worrell said. "This job is all about taking care of someone else's family member and having the passion in your heart."
Saber Healthcare Appreciates Our CNAs
Saber Healthcare is thankful for all our CNAs and the hard work they do each and every day. They work hands-on with residents and make a difference in the care they receive.
To learn more about Saber Healthcare and the services we offer, click here.
Saber Healthcare is an organization dedicated to providing consultant services to long term care providers. This article is for informational purposes and is not meant to be seen as professional advice. Please consult with a medical expert before relying on the information provided.