Commitment + Clinical Leadership = Better Outcomes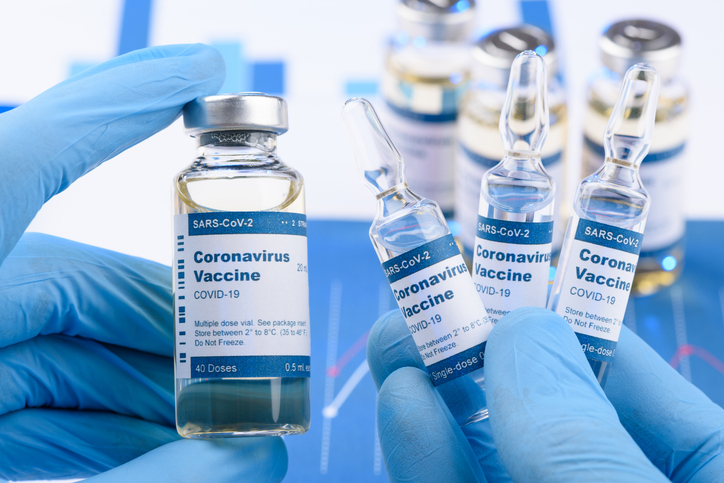 6 Facts to Know About the COVID-19 Vaccine
Feb. 10th, 2021
Vaccines help stop the spread of viruses and illnesses in our local communities, which can help save lives year after year. Vaccines allow people's bodies to fight off disease when it comes in contact with a virus.
Pfizer's and Moderna's COVID-19 vaccines have recently been approved for distribution by the U.S. Food and Drug (FDA) administration. The first rollout of the vaccine has begun in priority settings such as nursing homes and first responders, but the vaccine is expected to be available to the general public in the near future.
You may have some questions as you learn more about the COVID-19 vaccine and consider getting it yourself. Here are six facts you should know about the COVID-19 vaccine.
The Pfizer and Moderna Vaccines Needs to be Given in Two Doses
In order for your body to develop immunity and fight off COVID-19, your body needs two doses of the vaccine. The COVID-19 vaccine provides your body the ability to produce antibodies that will help fight off the virus if your body comes in contact with it.
In the clinical trials, it was found that those who had the second dose of the vaccine were roughly 95% effective for Pfizer's and 94.1% effective for Moderna's in preventing COVID-19. The vaccine doses were given twenty-one and twenty-eight days apart respectively to individuals over the age of eighteen.1
It is possible to get COVID-19 after being vaccinated if your body was exposed to the virus before or shortly after you receive the vaccine. Your body needs time to develop the antibodies that fight the virus and prevents you from getting sick.2 It can take up to 14 days after the second dose for your body to develop its immunity.3
The Vaccine Can't Give You COVID
One reason people may be concerned about receiving the COVID-19 vaccine is that they are afraid that they could get COVID-19 from it. However, this is a myth, since the vaccines approved for use in the United States do not contain a live virus.
Both Pfizer and Moderna's vaccines use messenger RNA (mRNA) that create a harmless version of COVID-19's S proteins. Your body's immune system can utilize the harmless S proteins as a template from which to build antibodies.
Because the actual COVID-19 virus needs its S proteins to make you sick and harm your body, the antibodies developed from the vaccine will be able to kill the virus.1
This defense mechanism will help to keep your body healthy and prevent you from becoming ill from COVID-19.
There are Common Side Effects, but They Don't Last Long
Like any other vaccine, there are possible side effects that may be present. The side effects of the COVID-19 vaccine usually last only a day or two.
Most of the vaccine side effects are proof that it is working and that your immune system is responding.
The Centers for Disease Control and Prevention (CDC) states that you can minimize the effects of taking the vaccine by:4
Washing your arm before you take the vaccine
Drinking plenty of water
Exercising your arm beforehand
Dressing comfortably
Furthermore, the CDC suggests that you should only contact a doctor about your symptoms if they continue to persist after a few days. For those who may have severe allergies, you should immediately contact 911.
According to the FDA, common side effects of the Moderna vaccine include:5
Fatigue/tiredness
Pain at injection site
Headaches
Fever
Muscle aches and pains
Sickness – nausea/vomiting
Swollen lymph nodes in same arm that vaccine was administered
As for the Pfzier vaccine, the common side effects are:6
Fatigue/tiredness
Pain at injection site
Headaches
Fever
Muscle aches and pains
The FDA also states that there is more of a chance that these side effects will be experienced after the second dose than the first for both vaccines.
You will still have to take precautions after taking the vaccine
Once you receive the vaccine, you might think that you no longer need to wear a mask or social distance. After all, your body will have the antibodies it needs to fight the virus.
However, health experts say that you still need to take protective measures even after you receive the COVID-19 vaccine. There is still a 5% risk of contracting COVID, although typically it will be a milder case.7
At this time, scientists are unsure if the COVID-19 vaccine would prevent you from spreading the COVID virus if you were to contract the illness.8 That means you will still need to protect others in the community even if you cannot become ill from COVID-19 yourself.
Furthermore, it is recommended you receive the vaccine even if you have had COVID-19 already. It is possible to get COVID-19 again after once having it, however the CDC says that this is rare.9 Combining natural immunity with a vaccination can help protect you from potentially contracting the virus again.
As more people receive the vaccine, health experts will have more data on when we will achieve herd immunity or slow the spread enough to return back to our normal lives. Even if vaccinated, you should continue to wear a mask and wash your hands.
Certain Groups are Receiving the Vaccine First
At this time, vaccine distribution is limited in the United States. Many states are rolling out the COVID-19 vaccine plan on a priority basis where front line workers will have the opportunity to receive it first.
These plans are to help protect individuals who work in high-risk jobs such as healthcare or first responders. Residents of nursing and long term care facilities are also one of the key groups who are recommended to be some of the first to receive the COVID-19 vaccine.
The vaccine is currently not recommended for children and teens at this time. Currently, Pfzier's COVID-19 vaccine is approved for use on individuals sixteen or older, and Moderna's is for anyone above the age of eighteen.10
The Vaccine Will Not Cost You Any Money
As you consider receiving the vaccine, you might be worried about your ability to afford it.
The vaccine is free in the United States. The U.S. Department of Health and Human Services has purchased the vaccine and is providing it to all Americans. Depending on where you receive your vaccine they may bill your insurance for administering it. If you do not have insurance, the US government will pay for the administration.
While only the Pfizer and Moderna vaccines have received Emergency Use Authorization from the FDA, several more vaccines are in development.
The possible approval of vaccines from Johnson & Johnson, AstraZeneca, and Novavax will greatly improve the availability of the vaccine in the US and ensure everyone who wishes to be vaccinated can receive a dose.
The breakdown of where the government is in approving the next COVID-19 vaccines, as of the writing of this article, is:11
Johnson & Johnson: Currently in phase 3 clinical trials. This will be a muscle injection vaccine. One and two doses are being tested. The U.S. government pledged to purchase 100 million doses if this vaccine receives emergency or regular approval.
Novavax: Currently in phase 3 clinical trials. This will be a muscle injection vaccine. Currently, researchers are testing two doses that are twenty-one days apart. If it receives FDA approval, the U.S. government will own 100 million doses.
University of Oxford-AstraZeneca: Currently in phase 3 clinical trials. This vaccine will be a muscle injection. Currently, testing results show 62% efficiency with two standard doses and 90% with a low dose followed by a standard dose. The U.S. government will purchase 500 million doses if approved for emergency or regular use by the FDA.
While only time will tell when the other brands of vaccines will come out, you do not need to worry about it coming out of your pocket.
Saber Healthcare Encourages You to Consider the COVID-19 Vaccine
While there is much to think about when it comes to the vaccine, we hope that you will take this information and consider receiving it. After all, vaccines help protect our communities and will keep you and your loved ones safe from COVID-19.
If you have any questions as to who should or shouldn't receive the vaccine, please reach out to your doctor or physician.
Saber Healthcare is an organization dedicated to providing consultant services to long term care providers. This article is for informational purposes and is not meant to be seen as professional advice. Please consult with a medical expert before relying on the information provided.
Sources