Commitment + Clinical Leadership = Better Outcomes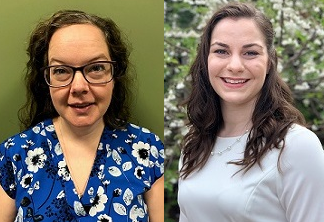 Diabetes: Facts, Causes, and Treatments
Nov. 24th, 2020
Photo, from left to right: Mollie Molin and Rachel Ackley
November is recognized as National Diabetes Month. This month is dedicated to spreading awareness about Diabetes and how it affects the body.
Millions of Americans are diagnosed with diabetes every year, from those who have been battling it from a young age to others who have just been diagnosed with prediabetes. Those who are diagnosed with diabetes have to watch their sugar levels to ensure that their body maintains a balanced state.
We talked to two of Saber Healthcare's best Dietitians, Rachel Ackley and Mollie Molin, to learn more about Diabetes.
Ackley is a Registered Dietitian at Kingston Health Care. Molin is a Senior Dietitian, with her home facility being Twin Pines, but she also travels to ten others.
We asked them questions about what it's like to live with diabetes, as well as how individuals diagnosed with diabetes can effectively manage their condition.
What's your experience with Diabetes?
Molin and Ackley discussed their personal experience with diabetes and how they came to learn more about it.
Molin shared that she was diagnosed with Type 1 Diabetes at seven years old. Her parents noticed that she drank large amounts of liquids and that she only weighed forty pounds, so they took her to the doctor.
"Diabetes is why I became a dietitian," Molin said. She wanted to learn more about herself and help others who also have diabetes.
Ackley shared with us that many of her residents have had diabetes over the course of her career. She once worked at a hospital as an intern and took part in a diabetes education class to work one-on-one with the diabetes educator.
"Many of my residents right now have diabetes," Ackley said. "Not many realize that changing their lifestyle factors can help improve their health in this situation."
What is Diabetes?
Molin and Ackley told us that diabetes is the body's inability to process glucose and carbohydrates.
They also mentioned that managing diabetes can look different for people depending on the type they have. The two most common types of Diabetes are type 1 (insulin dependent) and type 2 (non-insulin dependent).
Type 1 Diabetes
The exact cause of type 1 diabetes is not clearly understood. It is believed that family history and environmental factors may both be potential factors relating to the diagnosis of type 1.
Ackley said it once was commonly described as "juvenile diabetes," however, doctors have diagnosed more and more adults with it in recent years.
Type 1 Diabetes can also be caused from destruction of beta cells in the pancreas potentially caused by an autoimmune reaction. An example of this is when the body undergoes a change where it may respond by shutting down the pancreas. Then, the body somehow restructures itself and is unable to produce insulin, which helps absorb glucose.
"Type 1 may develop after your immune system goes through a stressful situation, which can cause damage to the pancreas causing insulin to no longer be produced," Ackley said.
"People who have type 1 don't produce insulin. Instead, they have to manually inject it in order to match the amount of carbohydrates they eat," Molin said.
Researchers are still unsure why people may develop type 1 diabetes later on in life, but there are studies currently being done to help find the root cause.
Type 2 Diabetes
There are several lifestyle factors that can put individuals at a higher risk of developing type 2 diabetes.
Some examples of conditions that may trigger the development of Type 2 diabetes are weight gain, chronic illnesses, high blood pressure, and high cholesterol. Molin and Ackley told us that residents can reduce their risk of diabetes by choosing a healthy lifestyle and healthy eating habits.
One of the key factors of an individual with Type 2 Diabetes is that they have insulin; however, the body's cells do not use insulin effectively in the breakdown of carbohydrates. This will cause high levels of glucose to stay in the blood, instead of being properly broken down and utilized for energy.
Individuals with Type 2 diabetes can also be more limited than Type 1 as to what they can eat. Since their body has a difficult time breaking down glucose, they may only be able to have two or three servings of carbohydrates at one time.
Diabetes Symptoms and Diagnosis
With Diabetes being a common disease, there are symptoms doctors look for and medical tests they may use to diagnose someone.
Symptoms
There are numerous symptoms someone may experience when they have Diabetes. These symptoms and severity may also vary from person to person, so it's best to seek advice from your doctor or a medical professional if you think you may have Diabetes.
For example, if someone's blood sugar is high, they may experience slightly different symptoms compared to someone whose blood sugar is low.
Common symptoms of high blood sugar include:
Blurred vision
Weakness/tired
Thirsty
Headaches
Change in mood
Frequent urination
Hunger
Here are some symptoms to expect when experiencing low blood sugar:
Hunger
Shakiness
Trouble concentrating
Dizziness
Loss of consciousness
Diagnosis
When it comes to diagnosing a resident with diabetes, there are a few different tests doctors may use.
The first option doctors consider is a routine screening and regular lab work. The lab work will show the resident's glucose level.
A normal glucose level is around 100. Numbers between 100 and 125 would indicate prediabetes. Numbers greater than 126 would indicate diabetes.
Another blood test the doctor may consider is the A1C, which tests the average sugar for the past three months. This test can show pre-diabetes, diabetes, or none.
Doctors may also conduct a urine test to look at ketones, protein, or both.
How to Manage Diabetes
When it comes to diabetes, luckily there are ways to help manage it.
Ackley said it's important to consult with a dietitian about meal planning because they specialize in creating a personalized approach and giving their patients one-on-one attention.
"There's oftentimes miscommunication about what a diet needs to look like, but a dietitian can recommend individualized portion control as well as a healthy intake of fruits and vegetables," Ackley said.
"Knowing what foods are carbohydrates and raise blood sugar will help you manage diabetes. Being able to identify servings and food types will help you manage your meals," Molin said.
Depending on the type and diagnosis, some residents may inject insulin throughout the day, and some may take oral diabetes medication.
Other ways they mentioned to manage diabetes includes exercise, self-care, drinking water, avoiding alcohol or substance abuse, and avoiding frequent consumption of added sugars, added salt, and saturated/trans fats.
How Does Diabetes Affect Life On a Daily Basis?
Molin told us as an individual with type 1 diabetes, she chose to inject insulin versus using an insulin pump.
"I don't view my diabetes as an issue. Instead, I work through it and can still eat pretty much whatever I want as long as I take the correct amount of insulin. I believe some people with type 2 have it harder because they can't always enjoy the food they like," Molin said.
Molin also mentioned that having diabetes means she is aware of what she eats and how it can affect her body.
Ackley commented that getting diabetes can also be emotional for some patients, so joining a support group and getting involved can also help someone get through their new diagnosis.
"Individuals with diabetes have to constantly check that their blood sugar is in a safe place. Emotionally, this puts some of my patients in a situation where they feel badly about themselves and have a hard time with being positive," Ackley said.
However, she shared that with positive support and the right education, many individuals diagnosed with diabetes will learn that they aren't alone. They can properly manage their condition and work to live happy, healthy lives.
Health Advice
We asked Molin and Ackley to share their expertise and some general health advice.
Molin said her best advice is for people to recognize the different food groups such as carbohydrates, fats, and proteins.
"A lot of people want to go on a special diet, but they don't last," Molin said. "It's best to recognize what you're eating."
Ackley shared that it's extremely important for everyone to follow a healthy lifestyle to prevent diseases all-around.
"Making healthy diet and lifestyle changes can reduce your risk for diabetes," Ackley said.
Ackley added that consuming more fruits and vegetables in your daily diet can have a positive impact. Try to limit your intake of processed, high fat, and high sodium foods.
Saber Healthcare Supports Diabetes Awareness
Saber Healthcare is proud to support National Diabetes Month and spread awareness about this topic.
We appreciate Mollie Molin, Rachel Ackley, and all of our Dieticians for all they do for our residents and those with Diabetes.
Visit the American Diabetes Association's website to learn more about Diabetes.
Saber Healthcare is an organization dedicated to providing consultant services to long term care providers. This article is for informational purposes and is not meant to be seen as professional advice. Please consult with a medical expert before relying on the information provided.