Commitment + Clinical Leadership = Better Outcomes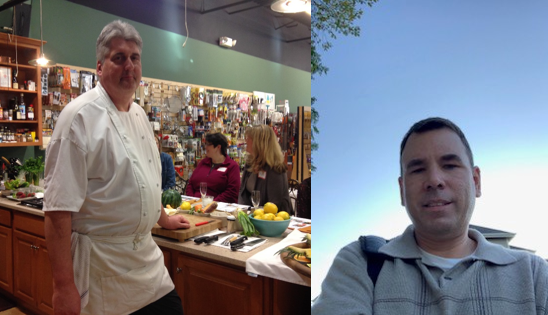 Dietary Management in Healthcare
Oct. 8th, 2020
Photo: Barry Williams on the left, Brian Betonte on the right
As Saber Healthcare celebrates Healthcare Foodservice Workers Week, we wanted to shine a light on our dietary management team. Our organization's leaders help manage our teams who serve the residents the nutritious food they need to stay healthy.
To learn more about dietary management, we interviewed Barry Williams, the Dietary Director at Azalea Health & Rehab, and Brian Betonte, the Director of Dining Services at Caring Heights Community Care and Rehabilitation.
How did you get started in this career?
To learn more about what it takes to become a leader in the dietary field, we asked Williams and Betonte what training and education they have.
Williams graduated from culinary school and started out as a certified chef. He owned a restaurant for fifteen years and eventually sold it to move South. He worked at the Mariott, but he eventually transitioned into the healthcare industry because he saw the food that was served and wanted to change it.
"I saw the quality of food here and I wasn't happy with it," Williams said. "I try to bring on quality people who understand how to work with food. I like to train my team to make things from scratch rather than buying process foods."
Betonte has been in the culinary field for thirty-five years. He began his career at Caring Heights and told us his boss encouraged him to pursue cooking. Betonte transitioned into working with US Foods for a time, but he noticed his healthcare clients didn't always prepare their food in the best ways. He came back to Caring Heights with his knowledge and now trains his staff to create high-quality food efficiently.
"As I grew in my career, I found myself doing more and more for the residents. I always spend time with them, and they're what bring me in every day," Betonte said.
Betonte is a Dietetic Technician Registered, Certified Dietary Manager, and has a Certificate in Culinary Arts. He is also a proctor and instructor for the Serv Safe Certification.
What is it like to work in the food service field within the healthcare industry?
Williams told us working with food in the healthcare industry is very similar to working at a restaurant or hotel. Residents choose what they'd like to eat off of a menu, and it's the team's job to ensure that everything is quality.
"Because we're creating a menu for them, I want to try to give the residents more of a choice to create a restaurant-style atmosphere. I consider the residents my customers and always instill good service on my team," Williams said.
Betonte told us he enjoys working with the residents every day, especially when they're in the dining room. He said his facility puts on special events with the activities department to help entertain them and cook special meals.
"I enjoy being able to serve the residents and see them smile. I always give them my all and treat them with respect," Betonte said.
What Does your Job Entail on a Daily Basis?
To get a glimpse into the culinary management world, we asked Williams and Betonte what they're responsible for on a day-to-day basis.
The first and foremost thing that happens is that they check in with their staff. They ask how the day has been going and work with them to address anything that they may need.
Another job of a dietary director is to make sure everything is labeled/dated correctly. They also need to make sure the kitchen is clean and wiped down, such as checking if the sink is sanitized and the dish washer is operating properly.
Other duties include processing new resident information and ensuring that their residents are eating.
"I always like to check how breakfast looks and seeing what the residents are up to. If they're not eating, I will make sure I bring them something that they can eat," Betonte said.
Another part of their job is training their team. This includes making sure they're cooking meals properly and following all state and federal guidelines.
"I prepare lunch and dinner with my team to show them why we do what we do. I like to instill the knowledge so that they are putting out quality meals at all times," Williams said.
How Do You Organize Your Team Within the Facility?
Both Williams and Betonte said that they manage their teams as if they are one unit. They said it's important to build trust and teach their members how to properly prepare food.
"If your team feels like they're learning something, that's a win-win. I work alongside them and that builds respect," Williams said. "It can't be one person doing everything."
Both of them mentioned the value in training their staff members to do the job correctly. This includes teaching them how to cook and explaining the importance of building connections to the residents.
"When I help a team member who needs it, later on they will reciprocate the action. I have a lot of younger folks in the evening shift and teach them how to do things properly," Betonte said.
They also mentioned that keeping people happy and paying them well helps boost staff morale and reduces turnover. Both said that they have a low turnover because they continuously invest in their employees with hands-on training and good communication.
Challenges the Team Faces
When it comes to managing a kitchen's team, there's always ups and down. We asked Betonte and Williams some of the challenges they've experienced.
"One of our team's greatest challenges is that in Pittsburgh, people have different types of foods that they like. We want to meet our residents' nutritional needs," Betonte said. He mentioned that he works to create food that the residents will like.
Another challenge that comes with managing a team is ensuring that they stay on top of regulations when it comes to the state health department. Williams mentioned on any given day, someone may break a glass, and they have to clean it up quickly to adhere to the guidelines.
"Sometimes they look at things one way while we look at them another," Williams said.
They also mentioned that facilities are open twenty-four seven. To ensure the residents don't go hungry, they offer them snacks to tide them over.
However, they both agree that positive teamwork combined with showing their staff the proper way to cook and clean ensures that their dining services run smoothly. When the team works together, they can find solutions to the problems and work to give their residents quality customer service.
Can You Explain What A Dietary Manager Is?
When asked this question, Betonte said, "I'm the coach and you're my team, I want us to win. Within these four walls all day, we have to have a light atmosphere. I believe everything can be fixed in a dietary department."
A dietary manager is responsible for making sure they're providing the residents the nutrition they need. This includes checking the residents' weight and seeing how to keep it stable.
Dietary managers also conduct sanitary checks and rounds every day to make sure the facility follows all state and local regulations.
To become a certified dietary manager, you need to take a course or test in the food and health prepared rules and regulations. A certified dietary manager must take a course and pass a test to become licensed.
The certified dietary manager also works in conjunction with the dietician, and the dietician focuses on the clinical aspect.
"They work to make sure that weight and nutritional value is okay as well as check for the supplements the residents need. They will look at a chart and then forward it to me to discuss next steps. I will work hand-in-hand with them and teach them the nutritional aspect," Williams said.
Betonte mentioned that dieticians can also be found in hospitals or sports nutrition programs. Dieticians in these settings might see their patients one or two times a week while healthcare workers see their patients daily.
What is your Favorite Part About Working for Saber Healthcare?
We asked Williams and Betonte what their favorite part about working for Saber Healthcare was. Both of them said that they enjoy talking to the residents and getting to know more about them.
"I like it when the dining room is open and I can see their reaction to the food. They tell me about their lives as well as their likes and dislikes. I also always make sure the quality is there when it comes to food, and we offer them other choices like a restaurant if they don't like it," Williams said.
"I work with the activities department and the resident council president to incorporate what the residents like into a special meal. When we bring in an ice cream truck, we get to see them smile. I like to think that we're making the last parts of their lives enjoyable because at one point in time, they helped us. Now it's our turn to make them happy," Betonte said.
If you have any health advice when it comes to food, what would it be?
"The healthier you eat, the better off you'll be," Williams said. "I saw the quality of food at Saber and worked to bring it up to restaurant quality. And just like in a restaurant, you become a family – some days are good and some days are bad."
"Eating is one of the things we can control. You need to have a healthy lifestyle and when you can control it, you'll have a balanced diet. I recommend to drink a lot of water and fluids every day," Betonte said.
Some Fun Photos!
Our dietary team takes pride in the work they do. Check out these pictures that they wanted to share!
Here's some fun creations Azalea Health and Rehab made:
And here's Caring Heights' beautiful seasonal décor for the dining room last year: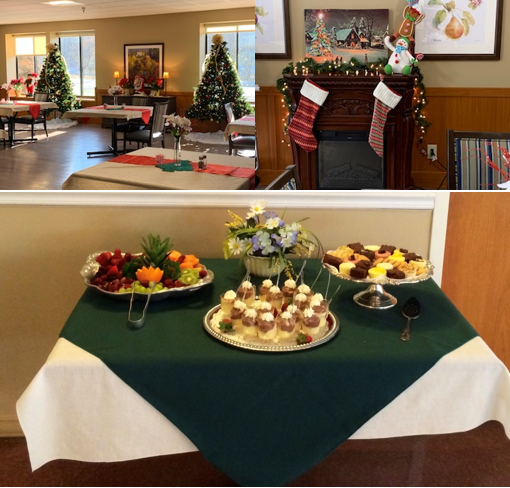 Saber Healthcare Appreciates Our Dietary Managers!
Here at Saber Healthcare Group, we're proud of the dedication our dietary leaders put into making sure our residents receive healthy, quality food.
If you're interested in working for one of our dietary teams, check out our careers page.
Saber Healthcare is an organization dedicated to providing consultant services to long term care providers. This article is for informational purposes and is not meant to be seen as professional advice. Please consult with a medical expert before relying on the information provided.