Commitment + Clinical Leadership = Better Outcomes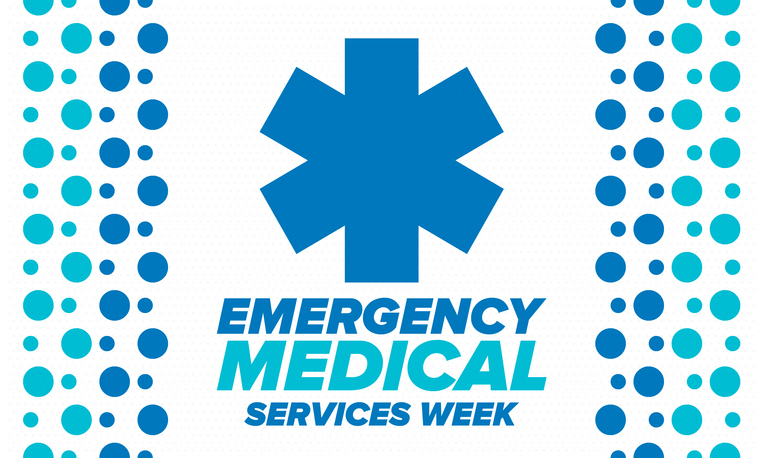 How to Honor EMS Professionals
May. 20th, 2021
May 16th through May 22nd is recognized as National Emergency Medical Services (EMS) Week. Sometimes it is called EMS appreciation week because it is a time when our communities show appreciation to those who work in EMS services. Examples of EMS professionals include first responders and paramedics.
In 1947, President Ford authorized EMS appreciation week as an official week to celebrate the importance of EMS professionals and what they do for our communities.1 It is the third week in May every year. This year's theme for 2021 is "This is EMS: Caring for our Communities."
National EMS Week is meant to honor EMTs, paramedics, and all others who serve in emergency medical services. This special group of professionals ensures our community's safety and responds to danger. EMS workers deserve our appreciation not just this week, but throughout the year.
Here are a few facts about EMS professionals, how they contribute to society, and ways you can thank your local EMS teams this week.
EMS Week Facts
EMS professionals work day and night to ensure that our communities are safe and secure. Here are some facts about different EMS professionals and how they help the community.
EMTs
Currently, there are about 265,200 paramedics and Emergency Medical Technicians (EMTs) working in the United States.2 EMTs work in ambulances, fire trucks, medical helicopters, and hospitals.
EMTs are the lifesavers who arrive at the scene whenever disaster strikes or a medical emergency takes place. When 911 is called, these men and women are some of the first to arrive when someone needs help. EMTs help people who have been harmed or injured in car crashes, fires, natural disasters, and more.
EMTs are the most common provider of emergency medical services which includes CPR and first aid. Aspiring EMTs need to obtain a high school diploma or GED, complete a CPR certification, and finish an EMT training program.2
EMT workers often work long hours and always tirelessly make sure they provide immediate care whenever someone in the community is in need. Thank your local EMTS for always being there whenever we need them!
Paramedics
Paramedics are health professionals who respond to emergency calls and provide aid while transporting people to medical facilities. Paramedics have expertise in subjects such as anatomy, medications, and more.3
Paramedics are ready to perform advanced care if needed during transportation to the hospital or on site at the accident. This care may include IVs and administering medical drugs.
Paramedics complete basic and advanced EMT training. College programs for paramedics generally take two years and are designed to prepare students for emergency medical services.
Both EMTs and paramedics need state certifications to work. The most common exam is the National Registry of Emergency Medical Technicians (NREMT) exam, although the requirements may vary based on state.4
Ways to Celebrate EMS Week
This week is the time to thank all the EMS workers for their dedication and sacrifice to our communities. Their strength and bravery does not go unnoticed.
Here are some ideas to celebrate this week:
Thank an EMS worker. A simple way to show your gratitude is by simply thanking an EMS professional. Whether you know one in the neighborhood or stop by a local station, this small token of appreciation will make them smile.
Deliver Food. Putting together a basket with snacks or delivering a meal to a local department for EMS workers is a great way to show appreciation to your local EMS team.
Create Thank-you Cards. Another way to brighten the day of your local EMS professionals is by making them thank-you cards. You can decorate your cards with appreciation drawings to show your local EMS professionals how much you care!
Make Handmade Gifts. If you're creative and crafty, handmade gifts are another way to show gratitude during EMS appreciation week. Some ideas include baking cookies or making coasters.
Host a Blood Drive – This year has been a hard year for the American Red Cross due to a shortage of blood donations. Try hosting a blood drive and recognizing EMS Week with t-shirts.
Donate. There are many organizations that support EMS professionals by raising awareness and donating equipment. Consider donating to an organization or your local EMS to help support those who help our communities.
2021 EMS Themed Days
There are also different themed days for National EMS Week. Here are the days this year:1
Monday: EMS Education Day
Tuesday: Safety Tuesday
Wednesday: EMS for Children Day
Thursday: Save-a-Life Day (CPR & Stop the Bleed)
Friday: EMS Recognition Day
Each of these days are centered around a different cause that is designed to help spread awareness about EMS professionals and their importance.
You can spread the word during EMS appreciation week by sharing posts about these topics on social media and participating in activities in your local community if they are available.
Thank You EMS Workers!
Saber Healthcare would like to say thank you to all those who are a part of the EMS workforce. Our communities would not be able to function properly and safely without you all.
To learn more about Saber Healthcare, Click Here.
Saber Healthcare is an organization dedicated to providing consultant services to long term care providers. This article is for informational purposes and is not meant to be seen as professional advice. Please consult with a medical expert before relying on the information provided.
"National EMS Week." National Association of Emergency Medical Technicians, naemt.org. Accessed May 14th, 2021. https://www.naemt.org/initiatives/ems-week.
"EMTs and Paramedics." U.S Bureau of Labor Statistics, bls.gov. April 9th, 2021. Accessed May 14th, 2021. https://www.bls.gov/ooh/healthcare/emts-and-paramedics.htm
"What's the Difference Between an EMT and a Paramedic?" University of California Los Angeles, UCLA Center for Prehospital Care. Accessed May 14th, 2021. https://www.cpc.mednet.ucla.edu/node/27#:~:text=The%20biggest%20difference%20between%20them,between%201%2C200%20to%201%2C800%20hours.
"How to Become a Paramedic/EMT: Paramedic Schools and EMT Training." Red Ventures, LearnHowToBecome.org. Accessed May 14th, 2021. https://www.learnhowtobecome.org/paramedic-emt/.