Commitment + Clinical Leadership = Better Outcomes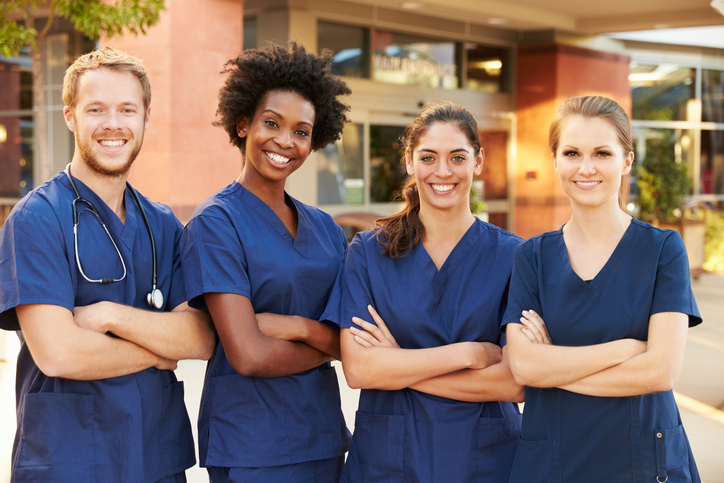 How Nurses Help Others in the Community
May. 6th, 2021
May 6th is National Nurses Day, which is a day to celebrate nurses and everything that they do. There are many roles nurses have in our communities, from being caregivers to educators to advocates.
Nurses are dedicated to helping not just the patients they serve in their role but the people in their lives. Here is how nurses help the community inside and outside of their job.
Nurses Listen to Others
One soft skill many nurses possess is empathy, which is the ability to understand and listen to the feelings of others.
Empathy is an important skill for nurses to have because the people they work with have a variety of medical conditions. Empathetic nurses are able to talk to their patients and help them through their challenges, especially since many of them are adjusting to a change in their life.
Nurses support the people that they help by listening to them each day and encouraging them to take actions that will better their health. They are the biggest cheerleaders of the people they work with and always listen to how they are feeling.
Nurses Support Family Members
Keeping in touch with family members and being able to understand their feelings is another way how nurses help the community. Oftentimes, nurses are the ones who have to deliver the news to someone about their family member's status and give them regular updates.
Nurses effectively communicate to someone about their loved one by explaining how they are doing, reassuring them next steps in their care. They will oftentimes offer support through listening and understanding, and will answer any questions that someone may have about their loved one.
Nurses Teach Healthcare Topics
Nurses are knowledgeable about many different healthcare topics, from illnesses to vaccines to living a healthier lifestyle. They use this knowledge every day in their roles as they strive to deliver high-quality care to their patients.
Whenever people have questions about different medical topics, many in the community look to nurses for advice. Nurses often play the role of educators, answering healthcare related questions even when they aren't on the clock.
Nurses Advocate for Patients
Nurses advocate for their patients and work to improve the quality of care they receive. They check and monitor the progress of the people they serve, monitoring their needs and finding services or programs that will help them improve.
Nurses are some of the first people to notice if one of the people they care for is in need, whether that is a new medication or immediate medical attention. They act as a voice for those who cannot advocate for themselves and will work with others to ensure that everyone is receiving quality care.
Nurses are Involved in the Community
Nurses are heavily involved in activities outside of their job, according to a survey by Policy, Politics, and Nursing Practice. Of the 315 nurses surveyed, 80% helped people outside of a healthcare setting in ways such as volunteering, checking on their neighbors, serving on boards, and fundraising for different causes.
The results of this survey show that nurses help shape our communities by staying actively involved through volunteer work and education. They are willing to lend a hand to people in need and help whenever they can, which are a few of the many ways how nurses help the community.
The survey also shows that nurses are willing to advocate for others to improve their lives. By fundraising and working with local government authorities, nurses are actively bringing awareness to different causes and implementing positive change.
Thank You Nurses!
Today, Saber Healthcare thanks nurses all around the country for their sacrifice and dedication to the community. We recognize how nurses help the community and the time and effort that they put in each day to help save lives and improve their patients' medical conditions.
If you know a nurse in your life, give them a huge thank-you for the work that they do. Nurses are true healthcare heroes that are always there to help the community.
To learn more about Saber Healthcare and the skilled nursing care that we offer, click here.
Saber Healthcare is an organization dedicated to providing consultant services to long term care providers. This article is for informational purposes and is not meant to be seen as professional advice. Please consult with a medical expert before relying on the information provided.
Sources
Fishman, Nancy. "How Nurses are Caring for Their Communities." Red Wood Johnson Foundation, RWJF.org. Published May 8th, 2017. Accessed May 4th, 2021. Link: https://www.rwjf.org/en/blog/2017/05/how-nurses-are-caring-for-their-communities.html#:~:text=Nurses%20everywhere%20help%20improve%20community,efforts%20for%20health%2Drelated%20causes.