Commitment + Clinical Leadership = Better Outcomes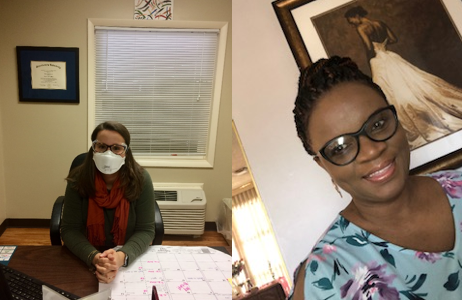 How to Become a Social Worker
Mar. 28th, 2021
Photo, left to right: Sara Campa, Vinnette Love
Social Workers are the glue of healthcare organizations because they help the staff, families, and residents stay connected. If you've ever thought about going into social work as a career option, you might be wondering what is required to enter the field.
We interviewed Sara Campa, Director of Social Services at Julia Ribaudo Extended Care Center, and Vinnette Love, Director of Social Services at Suburban Woods Health and Rehabilitation Center, to learn more about what it takes to become a social worker.
Campa graduated in 2010 with a degree in social work, and she went straight into working for long-term care. Campa joined Saber Healthcare in 2017, where she traveled and assisted different buildings that needed a social worker. Today, Campa is a Director at Julia Ribaudo and works to help our families and residents as the social worker at the community.
"With the pandemic, there have been challenges as a social worker. There is not just one thing that we do, and we are the department that helps people when they don't know where to go. We wear many hats and I find myself wearing 250 in a day. We are a decent team and we work together. We try to flow as one," Campa stated.
Love is an immigrant who started her healthcare career as a home healthcare assistant. She developed a passion for helping seniors in healthcare and pursued higher education. Love graduated in 2016 from Chestnut Hill College with a Bachelor's of science in Healthcare Management and Social Gerontology. Love started as the Social Services Director at Suburban woods in 2019 after being a long term care Ombudsman in Philadelphia.
"Social work is exactly what the name says: work. You have to find the important aspects within the patients you assist and recreate the model to help them become one with themselves. You have to guide someone as a social worker to develop their skills, and the way you do this is by caring and understanding," Love said.
What qualifications do you need to work in social work?
Nursing homes with more than 120 beds are required to employ a full-time social worker with at least a bachelor's degree in social work or "similar professional qualifications." Facilities with 120 beds or fewer must still provide social services, but do not need to have a full-time social worker on staff. Although federal nursing home regulations have a general requirement that facilities use licensed personnel, this regulation has not been enforced in the case of social work.
"In order to do social work in a nursing home, you need an education based on the State, the agency, and the population or need," Love said.
Love mentioned she was currently pursuing her Master's in Clinical Social Work, and will be finishing this summer.
Campa told us she began her journey at a community college and then transferred to a university, where she enrolled in a social work program.
"Some degrees are only a bachelor's of science, but I received a bachelor's in social work. I had to take classes toward the degree."
Campa also shared that an aspiring social worker who desires to work in long term care will need to complete field work in a nursing home or senior center. Many of these come in the form of internships.
What opportunities are in the field for those with different degrees or experiences?
Social work is a broad field, and social workers can be found in many different settings including government organizations, police departments, children's services, hospitals, prisons, foster care, domestic violence, and more.
"I focused on my interest in working with elderly populations who reside in nursing homes," Campa said. "One piece of advice I can give to aspiring social workers in college is to experience different settings and gear yourself for what you like best."
Campa strongly suggests that people who want to be social workers find their niche and what interests them. Different fields will require different skills, and social workers will need to be able to work well within the setting that they choose.
"Social workers are needed everywhere. This is such a wide and fulfilling field, and you get to work one-on-one with each person at a time," Love said.
Love also shared that the people she helps make her job fulfilling and interesting. Every day, social workers spend their time talking to others and working through their cases with them.
What character traits should a social worker have?
"You have to be willing to help others," Campa said. "Many people need help and they can't speak for themselves in a nursing home setting, so you have to advocate for your patients."
Everything social workers advocate for should always be in the best interest of the patient. Campa listed that some discussions include when patients should go home, financial abuse, and misappropriation. She said her team values her opinion and assessment, and being a social worker requires a team effort to help people.
"You have to listen to the other person from within you," Love said. "You have to hear the other person's passion and laughter. Being able to listen and understand others is important."
Some other qualities Love said social workers need is the ability to be empathetic and caring towards the patients. Social workers need these skills in order to connect to the people they work with and help the team understand each resident's situation.
What are some skills that social workers should possess?
"You always have to drive everything because there is something new each day, and you never know what tomorrow will bring," Campa said.
She told us that being a social worker requires strong organizational skills because there is a long to-do list, and many times she will go off-schedule as patients come and go. Campa told us she has a structured work schedule from Monday through Friday and communicates to the staff and residents so that way everyone can work together.
"I believe that a social worker has to be professional at all times. You should also be able to care for others and give them the added support that they need," Love said.
Love mentioned that having strong communication can help a social worker be successful in their role. She said that social workers communicate with everyone, whether it is a client or the staff.
How does someone know if social work is the right field for them?
"I think you develop it by what you're good at, and you might not know on the first day of your role. I also believe it will depend on how much you like working with others," Love said.
Love also mentioned that there are many cases and assessments in the social work field. Primarily, social workers will work with each person individually, and someone will find out how much they are interested in a social work career as they experience it.
"Deciding on whether or not a career in social work is for you takes thoughtful consideration. For me, I had a passion for social justice and an interest in helping others. I knew I wouldn't be making millions but that didn't bother me," Campa said.
She stated that someone who shares the same interests as her when it comes to helping other people may enjoy the field of social work. Social workers should have a passion and drive for assisting others.
What advice can you give someone who is aspiring to go into the social work field?
"Always continue to push forward, no matter what life throws at you and the challenges," Campa said.
She said that social workers enjoy helping people and advocating for what they are entitled to. Social workers are also a source of education for others in the community.
"Be open-minded, ready to see a different side of others, and diversely adequate. You will learn so much as you go along each day," Love said.
Love mentioned that she has been seeing younger people coming into nursing homes, which is different than it used to be. She said that anyone who wants to be a social worker can't expect everything to be the same.
What is one positive impact being a social worker has had on your life?
"Being a social worker in long-term care has really helped me to grow in my experiences and role. I started as a social service coordinator, and being the Director of Social Services at Julia Ribaudo has been rewarding. I continue to grow and learn every day and I am thankful for that," Campa said.
Campa mentioned that being able to make an impact on patients' lives has been rewarding. Social workers work with diverse groups of people, which makes each day different. Campa also believes that her degree has shaped her to become a parent and taught her to juggle everything thrown at her.
"When the younger population finds us in a nursing home or a hospital, they need us for direction on health insurance and resources that are available. Helping them, seeing the smiles on their faces, and watching them discharge is rewarding," Love said.
She stated that the entire team at her building works together to stabilize the patients who walk through the door. The team is able to care for patients by listening and understanding their problems, and they work to help them get better.
Saber Healthcare appreciates our social work team!
Here at Saber Healthcare, we appreciate the work our social workers do each and every day for our residents, staff members, and families. Social workers help keep our teams running smoothly as they interconnect everyone with their strong communication skills and passion for caring.
If you are a social worker considering joining our team, check out our career opportunities.
Saber Healthcare is an organization dedicated to providing consultant services to long term care providers. This article is for informational purposes and is not meant to be seen as professional advice. Please consult with a medical expert before relying on the information provided.