Commitment + Clinical Leadership = Better Outcomes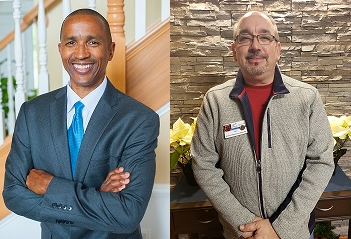 How to Have a Successful Interview for a Healthcare Position
Jan. 20th, 2021
Photo, from left to right: Gerald Cox, Jim Planera
When it comes to interviews, in healthcare or any other field, there are many questions prospective employees may have.
What should you expect? What can you do to be prepared? How can you be successful and move onto the next step?
To answer these questions, we decided to talk to some employees from Saber Healthcare's Human Resources team. We wanted to find out how candidates can best prepare when taking the first step in finding a career in healthcare.
We interviewed Gerald Cox, Human Resources Generalist at Saber Healthcare Group Community Support and Development, and Jim Planera, Human Resources Director/Payroll Manager at Caring Heights Community Care and Rehab.
Tell us about yourself
We asked Cox and Planera to tell us a little bit about themselves and how they got to where they are today.
Cox began his career in education as a teacher, was later promoted to the principal, and eventually became a director in the school district. He later on transitioned into marketing at Saber Healthcare before eventually landing his current role as a Human Resources Generalist.
Planera worked as a Business Office Manager with hospice prior to his current job. He has now been with Saber Healthcare for thirteen years. He began working at Caring Heights Community Care and Rehab doing Administrative work, and now handles Human Resources and Payroll.
What can someone expect in a healthcare interview?
People might wonder what they should be expect as they anticipate their interview.
We asked Cox and Planera if there is anything interviewees should expect when going into an interview, especially in healthcare.
What do you look for?
Depending on the organization or the job, professionals conducting an interview will have different qualities and answers they are looking for.
For example, a Human Resources representative may be interested as to whether or not the interviewee researched the company they are interviewing for. This shows someone is interested in the company and took time to learn about the culture and vision.
"It's nice to have someone who has insight as to what we do," Planera said.
During an interview, the HR representative is interested in knowing who has the heart for the industry, versus someone who just needs a job.
"I think it's important to know their mindset and if they're willing to take care of others and put others' welfare before their own," Cox said.
The interviewer will also want to know what a candidate's interests are and what they're passionate about. HR representatives also want to know your strengths and weaknesses, not just what makes you qualified. They're looking to find more about your character and what makes you unique.
What is something people may not realize?
When preparing for an interview, there are many things to consider. Here are some things Planera and Cox said that people may not be aware of when going into an interview.
"Appearance matters," Cox stated. "Although people may deny it, your first impression matters a lot. How you look says you cared enough about this interview and position."
This is the first impression the interviewer has of you and when they make a decision about whether or not to hire you.
If inappropriately dressed, Cox said it can distort the interviewer's image of your character and impact the outcome of the interview. He believes that the effort that is put into appearance will stick with the interviewer for the rest of the conversation.
Planera and Cox also said that preparation is extremely important. Take the time to learn about the company, what they do, or the missions and values. This is critical when deciding if you want to work there.
"First impressions are important, so try not to be nervous," Planera said. "The person giving the interview is probably just as nervous."
What do you consider a successful interview?
We asked Cox and Planera what they believe makes a successful interview.
"I consider it a successful interview when someone is willing to talk about themselves," Planera shared.
When going into an interview, you should be comfortable with talking about yourself and your experiences. One suggestion was sharing something about yourself they might not see on your resume. Some examples including telling the interviewer about your passions and future goals.
"When I think of a successful interview, I think of a person who exudes care," Cox stated. "You can determine based on the interview if this person genuinely cares about residents and providing quality care."
In an interview, be yourself. It is necessary to be genuine and authentic. Human Resource representatives want to see who you are and if you're willing to provide what the job demands.
What is the best part about what you do?
Cox and Planera both shared that meeting people is their favorite part about interviewing.
"I like when they tell me about themselves," Planera said. "It's interesting."
"Interviewing is a way to engage in conversation with people. I enjoy opportunities like that," Cox stated.
Cox and Planera both enjoy interviewing individuals for Saber Healthcare. They get to greet them, give tours, and talk about the company.
What other aspects do you enjoy about Human Resources?
Individuals with a career in Human Resources tend to have a lot of great experience to share. They have the opportunity to interact with people and make a difference in lives daily.
"I want everyone to feel comfortable coming to me. I like helping them solve their problems," Planera shared. "Being with the employees is my favorite part."
Planera and Cox are always available to help their employees. They have a passion for helping people, problem-solving, and communicating.
"Whether I have an answer to the question or I have to point them to someone else, we do it together and nothing makes me feel better than that," Cox said.
Planera also shared with us that he cannot imagine working anywhere else.
"Saber as a whole is a really good company to work for. Our staff here is top of the line and we all help each other out," Planera said.
Do you have any advice?
Once we covered all the basics of an interview, we wanted to seek advice from the professionals themselves. Cox and Planera shared some great advice for both healthcare interviews and interviews in general.
One piece of advice they gave was to decide if you really want to do what you're interviewing for. Make sure you are putting time and effort into something you really want.
Another key piece of advice is to be honest about your qualifications and experience. People may feel the need to embellish or omit significant information as they're seeking a job, but it is best to be transparent.
Human Resource Representatives look for honesty in the job process, and if you're found to leave something off or add false information to your application, it could hurt your future employment.
Saber Healthcare Appreciates our Human Resources Professionals
Saber Healthcare is extremely grateful for our Human Resources professionals and the role they play in our company each and every day.
Thank you, Gerald Cox and Jim Planera, for sharing your knowledge with us. We hope this can help anyone who is preparing for an interview, whether it may be in healthcare or another field.
Are you interested in applying for a career at Saber Healthcare Group? Check out our available positions here.
Saber Healthcare is an organization dedicated to providing consultant services to long term care providers. This article is for informational purposes and is not meant to be seen as professional advice. Please consult with a medical expert before relying on the information provided.