Commitment + Clinical Leadership = Better Outcomes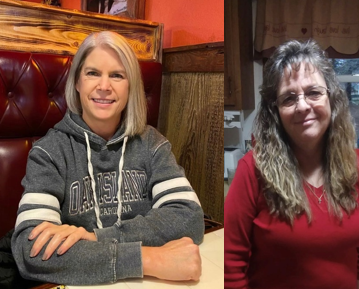 Learning about HR with Mailani Boyer and Lorie Back
Jan. 15th, 2021
Having a great Human Resources department is key to building a strong team in any organization. Here at Saber Healthcare, our HR professionals help our residents by recruiting compassionate staff members who will help give them the care they need.
But what does HR in the healthcare field entail on a daily basis? To learn more about Human Resources, we interviewed Mailani Boyer, HR Payroll at Autumn Care of Salisbury, and Lorie Back, Payroll Clerk at Shenandoah Nursing & Rehab.
Boyer has been with Saber Healthcare for over eleven years. She told us she started her journey by working in communications in the Navy, then she moved to North Carolina and began her career at Saber.
"I'm very detail-oriented about my work, and I make it a point to have strong attendance. I've only missed one day since I've been here, and it was because of the flu," Boyer said.
Back has been working for Shenandoah for over twenty-eight years and has been working in payroll for twenty-four of them. She was a CNA for the first four years. She also has had excellent attendance until she got cancer, but since then she has been working hard to beat it.
"I've been here for a long time and I'm very diligent. I always want my job done right the first time," Back told us.
Can you tell us a little about HR?
We asked Boyer and Back to tell us a little bit about the life of an HR representative. They both stated that their job is primarily to hire and work with employees, as well as help them with anything that they may need.
"One important aspect of our job is making sure that we have good employees that are reliable and dependable," Back said. "We want to find people that will care for our residents the same way we would want our parents taken care of."
Another aspect of HR is payroll. It's important that they check the time clock sheets and make sure that employees are being paid for the hours that they worked.
Other duties include being knowledgeable about company policies and procedures, COVID-19 testing, coordinating paid time off, keeping up with the Payroll Based Journal for the state, and reporting.
"I always take advantage of the community broadcast messages we are able to send out and remind people of anything HR related, as well as make sure everything is correct," Boyer stated. "My team can rely on me."
What is Something Most People Don't Know About HR?
"What it entails and how busy it truly is," Boyer said. "My employees enjoy me and appreciate the work I do for the facility. Here at Saber, I can ask someone a question or if I need help with something and they direct it to the right person and I never have any doubts about finding anything. I've always loved working with numbers and people, so I fit right into the payroll aspect of it."
"It's very time consuming and you have to be very detail oriented," Back told us. "I'm a very humble person and don't like to brag, but I love my job and think it is a great field. I make sure that I find employees that are reliable and dependable."
What does your job entail on a daily basis?
To learn what a day in the life of a Human Resources representative is like, we asked Boyer and Back to tell us what they do on a day-to-day basis.
Boyer said that when she comes in, she checks the attendance sheets to see who came to work and who is tardy, as well as who receives bonuses. She also completes reports, helps employees with orientation, keeps up with insurance information, and enters PTO. Boyer also mentioned she helps her community with COVID-19 testing three times a week by entering all results into our payroll system.
"The employees know if they need me, my door is always open for them," Boyer said.
Back mentioned when she comes in she also checks the attendance sheets. She also takes care of checking employee's references, drug test, criminal backgrounds, and keeping everything on file for pre-hiring. Back also ensures that her community has everything it needs for when the state surveyors come.
"On a daily basis, it's making sure you have information on employees to make sure they are paid correctly and finding good candidates for the facility," Back said.
How is HR in healthcare different than HR in any other industry or field?
While there are similarities between HR in healthcare and other fields, there are also a few differences.
For one, in the healthcare industry, employees are required to complete continuous health and safety training. For Saber Healthcare, this training is done through Relias.
"I've worked for a glass and a construction company before. There is more to keep up with in the healthcare field, but I like it," Boyer said.
Do you have any advice for someone who is pursuing a job in HR?
"You have to be very diligent on what you're doing and make sure everything is done correctly. If you are a good HR person, do your job timely and correct. There is very little supervision," Back said.
"If you don't like sitting in front of a computer, you probably won't like this job. You should enjoy working with numbers and paying attention to detail, if not you could mess up a lot of things. Always stay on top of your work and be nice to everyone," Boyer said.
Saber Healthcare Appreciates our HR Team!
Here at Saber, we know all of the hard work our Human Resources professionals put in day in and day out. From hiring employees to helping them succeed in the workplace, our HR team gives the resources our staff needs to be successful.
If you're interested in joining the Saber team, check out our careers website.
Saber Healthcare is an organization dedicated to providing consultant services to long term care providers. This article is for informational purposes and is not meant to be seen as professional advice. Please consult with a medical expert before relying on the information provided.