Commitment + Clinical Leadership = Better Outcomes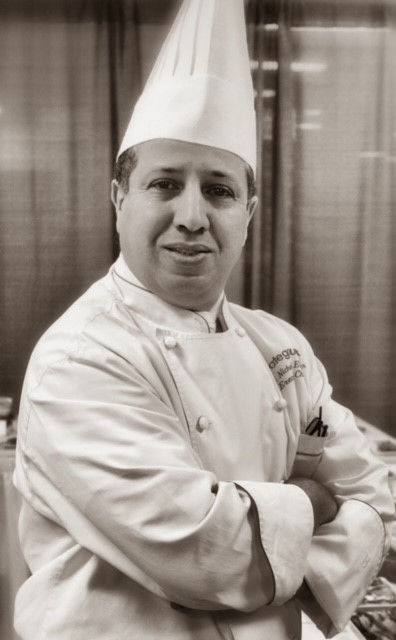 Meet Chef Moe
Oct. 5th, 2020
This week is Healthcare Foodservice Workers Week, and we wanted to take the time to honor all of our foodservice employees!
As we begin this week of celebrations for our workers, we are thrilled to introduce our new Executive Director of Culinary, Moe Nicholas Elmaher!
Elmaher has been working in the culinary industry for 30 years. He brings outstanding experience along with numerous awards for his creations. Let's take a look at his exciting beginnings and what brought him to Saber Healthcare Group!
Background
Elmaher earned Le Grand Diplome de Gastronomy at Le Cordon Bleu in Paris, France in 1987, which focused on French Classical Cuisine, Moroccan Cuisine, Mediterranean Cuisine, and Middle Eastern Cuisine.
He then concluded his education by earning a Master's degree in Political Science in 1990.
After earning his Master's degree, Elmaher began his career by working in Las Vegas, Nevada as an Executive Chef. Later on, he became a Corporate Executive Chef with the Airlines industry.
Elmaher was named a Certified Executive Chef by the American Culinary Federation in 2006.
Experience
Elmaher has an extensive background of credible cooking and kitchen experience. At only twenty-seven years old, Elmaher was the youngest Executive Chef in Nevada.
During this time, Elmaher managed hotel culinary operations for special events and banquets. He supervised thirty chefs in different departments such as buffets, French dining rooms, Italian dining rooms, working with sommeliers, and negotiating with vendors.
Elmaher worked as a Corporate Executive Chef with the Airlines industry in the 2000s. He traveled throughout the Gate Gourmet network to work on menu development and to help with kitchen improvements for quality, production, and presentation.
This included all international major carriers such as British Airways, Air France, American, Continental, Emirates, Qatar Airways, Iberia United, and more.
Elmaher later worked for the Garimaldi Royal family in Monaco as a private cook, where he served special cuisine for the Princess, Grace Kelley.
Awards
Elmaher received an award for the Best Ethnic Dish in Las Vegas in 1998 at The Mandalay Bay, which is organized by the Las Vegas newspaper. He submitted Moroccan Lamb Tagine with dried fruit couscous and Saffron broth.
Elmaher was the winner of the IFSA Airlines Iron Chef in 2009. He won first prize, which included two first class airplane tickets, hotel accommodations, an embroidered chef jacket, and a monetary prize.
He was also a Member of La Chaine Des Rotisseurs, which is a club for international chefs. Elmaher had to pass a test to qualify and be admitted. Through this club, he has been able to learn from the best chefs in Europe.
Saber Healthcare Welcomes Chef Moe
Elmaher has joined Saber Healthcare Group with thirty years of experience, numerous awards, and outstanding talent.
Elmaher, also known as Chef Moe at Saber Healthcare, is now recognized as the Executive Director of Culinary and will work to enhance quality assurance and advance the resident experience.
He will be in charge of menu development and culinary training just to name a few of his many exciting duties. Elmaher will also establish systems and practices to monitor the menu performance across facilities. This will proactively address gaps in experience, quality, or key performance metrics based on results.
Elmaher's mission is to evolve product innovation while leveraging industry trends such as delivery solutions, customization, new platforms, new proteins, beverages, health and wellness, and sustainability.
We look forward to having Chef Moe on our team, and we cannot wait to share some of his amazing recipes!
Saber Healthcare is an organization dedicated to providing consultant services to long term care providers. This article is for informational purposes and is not meant to be seen as professional advice. Please consult with a medical expert before relying on the information provided.