Commitment + Clinical Leadership = Better Outcomes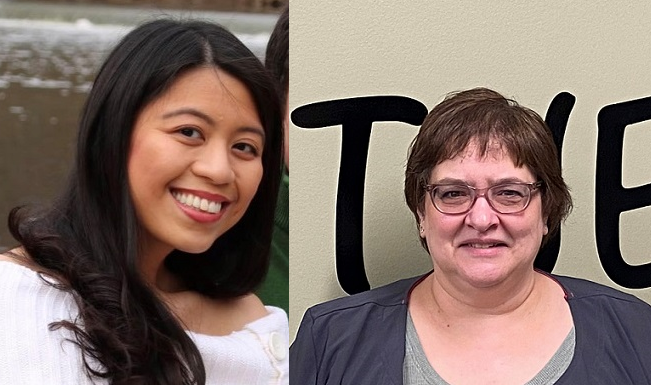 Celebrating Our Occupational Therapists
Apr. 15th, 2022
Photo, left to right: Paula Borja and Mary Ellen Vincent
April is Occupational Therapy Month, which is a time to celebrate our occupational therapists, their profession, and all they do for our residents.
Occupational therapists are responsible for helping their patients reach their goals and regain their skills they had prior to an incident that impacted their abilities.
To learn more about occupational therapy and what a normal day looks like, we talked to two of Saber Healthcare's occupational therapists: Mary Ellen Vincent at Diplomat Healthcare and Paula Borja at Statesman Health and Rehabilitation Center.
What is Occupational Therapy?
Vincent and Borja explained in their own words what the occupational therapy profession is.
"We work with people to help them regain their daily living skills, whether they're suffering from a stroke or medical problem" Vincent said. "We help them re-learn life skills so they can become independent or how they can compensate if they can't use certain parts of the body. We also give recommendations on how patients can adjust their homes to make it safer and allow for more independence after therapy."
"We help patients get back to what they were doing before their incident or time in the hospital," Borja shared. "We help them with daily activities such as getting dressed, being able to walk a certain distance, or returning to work if that is their goal."
Borja and Vincent discussed that occupational therapists work with all age groups in many different settings including pediatrics, hospitals, schools, nursing homes, home health services, and outpatient clinics.
How Did You Decide to Become an Occupational Therapist?
"Growing up, my brother was diagnosed with ADHD and because of that, he went to speech and occupational therapy sessions. This exposed me to occupational therapy and I became interested in the field," Borja shared. "When I decided to get into occupational therapy, I realized there's so much more to it than what I witnessed at his sessions."
Borja is from the Philippines and she discussed that her program to become an occupational therapist took 5 years. Then she discovered a company that was recruiting occupational therapists to work in the United States, and she decided to move here. She's had experience working in a school setting and geriatrics.
"I was looking into different careers and occupational therapy sounded very interesting to me," Vincent said. "I volunteered at a hospital and saw what the occupational therapists did, and I knew I wanted to be able to help people after their injuries or illnesses become independent again."
Vincent graduated from Cleveland State University and began her career at a large teaching hospital where she learned about different diagnoses and worked with orthopedics, geriatrics, and spinal cord injuries. Then she began working in long term care with residents.
What Does a Day in Your Job Look Like?
Vincent mentioned that her day involves evaluations for new residents and current residents who are long term. Her job also involves communicating with the other therapy staff, social workers, and residents' families.
"Our job really focuses on treatment plans for residents to help them regain independence or whatever their needs may be," Vincent said.
Borja said that there is no normal day in occupational therapy.
"You have to be prepared for anything," Borja mentioned. "To be an efficient occupational therapist, you have to be resourceful. It's more client-centered."
What's a Positive Experience You've Had Recently?
"I just evaluated a resident last week and her goal was to go home early," Borja shared. "She was very grateful to be going home sooner than we expected. Seeing that happen is very fulfilling."
"When you have patients who are bedbound and you're able to help get them into a customized wheelchair so they can sit up, it is a positive experience," Vincent discussed. "Then their family can interact with them more and take them outside."
Saber Healthcare Appreciates Our Occupational Therapists
Thank you to Vincent, Borja, and all the other occupational therapists who work with our residents and help them achieve their goals. The work you do each day makes a huge difference in the lives of our residents and their families. We appreciate you!
Saber Healthcare provides skilled nursing and rehabilitation services to more than 115 buildings across the states of Ohio, Pennsylvania, Virginia, North Carolina, Indiana, Delaware, and Florida. To learn more about our company and the services we provide, click here.
Saber Healthcare is an organization dedicated to providing consultant services to long term care providers. This article is for informational purposes and is not meant to be seen as professional advice. Please consult with a medical expert before relying on the information provided.