Commitment + Clinical Leadership = Better Outcomes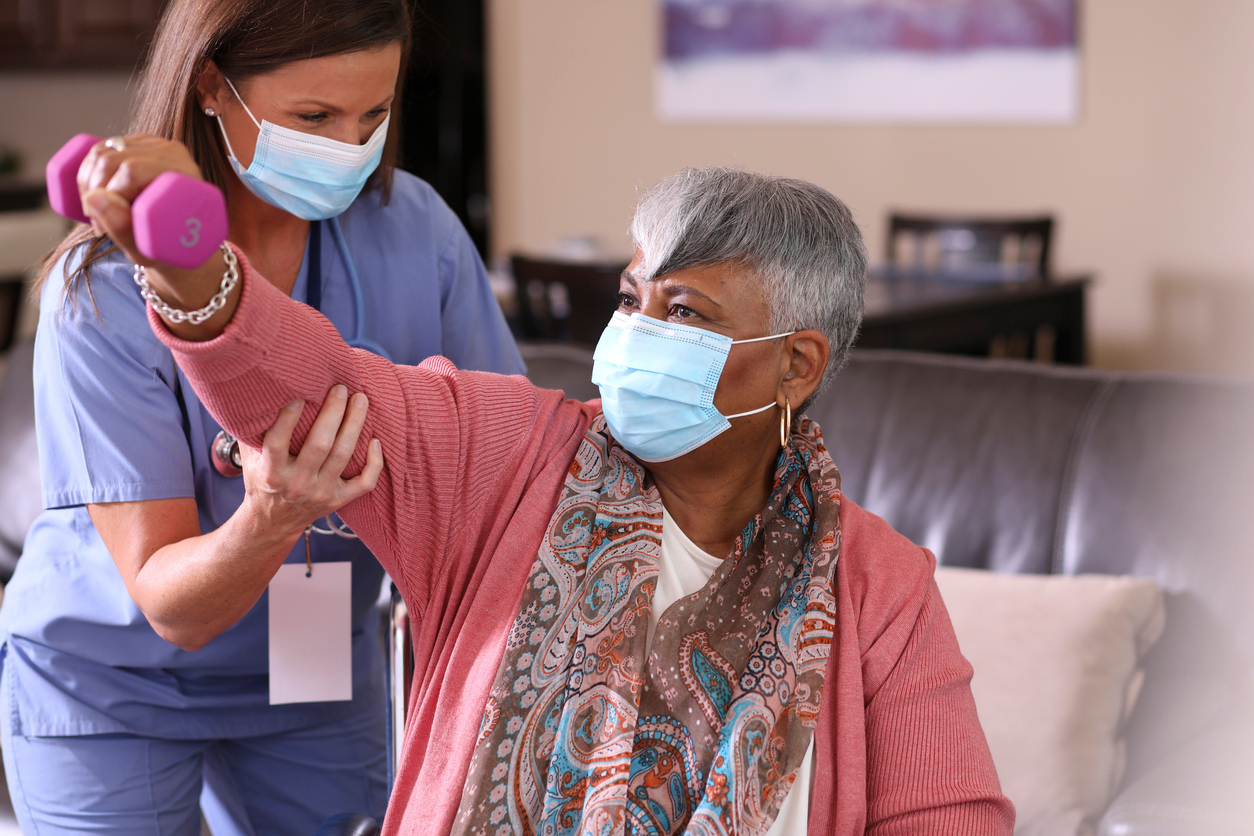 Physical Therapy in Long Term Care
Oct. 18th, 2021
The main purpose of physical therapy is to restore an individual's function and quality of life.
October is National Physical Therapy Month, and we wanted to highlight some of Saber Healthcare's Physical Therapy professionals.
We talked to Greg Davis and Pia Blanton, two of Saber Healthcare's Regional Directors of Rehabilitation Services. Davis and Blanton gave an overview of their roles and shared some of their expertise after working in the field and gaining extensive experience.
What Does Physical Therapy Look like in Long Term Care?
Davis and Blanton described what our physical therapists do for the residents in Saber Healthcare's communities, whether they are in short term rehabilitation or long term care.
"For short term residents, the goal is to help them return home. We work with the patient and family to address a resident's prior capabilities and how we can get them back to that," Davis said. "For long term residents, we are trying to maintain their highest level of function. If they have a decline, we're trying to get them back to being as independent and functional as possible."
"We work with patients, families, and staff to achieve the residents' goals," Blanton explained.
What Does a Typical Day Look Like?
Blanton and Davis also discussed what a normal day may look like as a physical therapist in one of Saber Healthcare's communities.
As physical therapists, they work as an interdisciplinary team alongside the social workers and nurses to ensure they're helping the residents meet their goals.
"For long term residents, we perform quarterly screens to see if there's been any change in their functioning so we can prevent a decline in their mobility," Blanton said. "We work on walking, transfers, lower body, strength, balance, pain management, wheelchair positioning, and mobility."
"The main focus is patient care. The physical therapists evaluate and treat patients, but the case load can vary," Davis shared. "A typical day is mostly working hands-on with the patients."
What is Required to Become a Physical Therapist?
"A physical therapist has to graduate from an accredited Physical Therapist program and pass a national licensing exam," Davis said. "Each state has different requirements when you pass the exam, and you're issued a license for the state you apply in."
"A physical therapist has to graduate from a doctorate program," Blanton shared. "There is also the option to become a Physical Therapist Assistant, who helps execute treatments for patients. This role requires an associate's degree."
Individuals with a degree in Physical Therapy are able to take on a wide variety of job opportunities in different sectors including assisted living, skilled nursing, outpatient, hospitals, pediatrics, and sports medicine.
What Does Your Job Entail on a Daily Basis?
Davis and Blanton shared a bit about what their job as a Regional Director entails on a daily basis.
"I consult with the Director of Rehabilitation at each community to keep them updated on changes, discuss clinical issues, and manage staffing," Davis said.
"I do site visits, go to different communities, and review policies with the rehabilitation staff," Blanton shared. "I help with treatment ideas, chart audits, and make sure the residents are receiving the services they need."
What is Something Most People May Not Know about Physical Therapy?
"People associate Physical Therapy with an exercise program or going to the gym, but really we're focused on function and functional mobility instead of one particular muscle group or joint," Blanton said.
"Physical therapists don't treat the problem, they treat the symptoms of the problem," Davis explained. "We're not treating the stroke, we're treating the results of that and the effects it has on an individual."
Advice for Aspiring Physical Therapists
Blanton and Davis shared some great advice for aspiring physical therapists and those considering going to school for physical therapy.
"Seek out opportunities to observe physical therapists in various settings," Blanton said. "Also, to be successful, you need to be able to look at the whole person and what is important to them."
"If you're thinking about going to school, work hard. It's going to be difficult at times but it's worth it," Davis shared. "I believe the patient interaction and the difference you can make in a person's life – it's worth it just for that."
Saber Healthcare Appreciates our Physical Therapy Professionals
Here at Saber Healthcare, our rehabilitation teams work together to provide the best solution and outcome for each and every resident. Thank you, Greg Davis and Pia Blanton, and all others who successfully lead our rehabilitation teams.
If you're interested in a career as part of one of our rehabilitation teams at Saber Healthcare, click here to view available opportunities.
Saber Healthcare is an organization dedicated to providing consultant services to long term care providers. This article is for informational purposes and is not meant to be seen as professional advice. Please consult with a medical expert before relying on the information provided.