Commitment + Clinical Leadership = Better Outcomes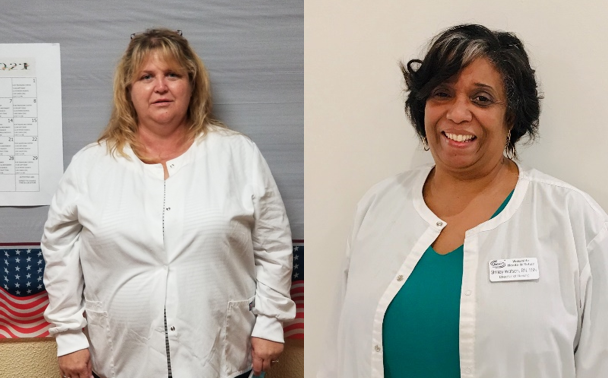 The Life of a Nurse
May. 18th, 2021
Kim Barnett on the left, Shirley Watson on the right
Nurses play an important role in our society, from providing care to their patients to giving healthcare advice to people in the community.
But what is the life of a nurse like? To find out more, we interviewed Shirley Watson, Director of Nursing at Waterside Health and Rehab, and Kim Barnett, Director of Nursing at Springfield Health and Rehab.
Why did you decide to become a nurse?
There are many different ways that people find their calling as a nurse. Watson and Barnett shared their stories of how they discovered that they wanted to become nurses.
"I had an aunt who was a LPN in long-term care. Her grandmother was in the same nursing home that I worked at. Growing up, I had a lot of experience being around seniors and watching the nurses work. After a while, it seemed natural for me to go into the field," Watson said.
Watson shared a little bit about her history as a nurse. She has been on board since the first day Waterside Health and Rehab was acquired by Saber Healthcare.
"I went through the transition, and Waterside is a great building with a lot of potential in the community. We are one of the only places that services the population that we do."
Barnett also shared a little bit about how she discovered that nursing was her passion.
"When I was 16, I became a nursing assistant because I was young and needed a job. This was my first introduction to nursing and how I learned more about the field. When I started, I enjoyed working with the patients and people. I loved my job and stuck around in the long-term care setting, and now I'll be 50 this year," Barnett told us.
Barnett also mentioned that she officially earned her LPN license when she was 28. She also used Saber Healthcare's tuition program to earn her RN license.
"I like what I do and my patients, and I think I can learn from many people and situations," Barnett said.
What does it take to become a nurse?
"To become a nurse, it takes a caring disposition. I love to see improvement in myself as well, and this can be as simple as getting a resident to smile," Watson said.
"It mainly takes heart. You have to care about what you're doing and listen to what the residents and families are saying to you. Just because someone has the same disease doesn't mean everyone's situation is the same. You have to listen to people and treat them as individuals," Barnett said.
What advice do you have for aspiring nurses?
Many people are thinking about possibly entering the nursing field every day. We asked Watson and Barnett what they would tell someone if they said they aspired to become a nurse one day.
"It's not a 9-5 job, and sometimes you think about the resident that you are caring for during the day. You want to make sure that you have a compassionate heart and give more than just physical care. Our residents need psychological support and so do their families," Watson said.
"If you care about people and put others first, it can be a good career. Nurses tend to put themselves last and everyone else first. I think nursing is a great job because we help people every day. It's a great opportunity if someone cares about others," Barnett said.
How do you organize your day as a nurse?
Watson and Barnett agree that nurses have to make sure that they find time to see their patients and make sure that all of their tasks are completed. That means nurses have to stay organized and focus on what they need to accomplish before the day ends.
"The first thing that I do is check on my staffing when I'm leaving at the end of the day. I also check the staffing for the next day. I always want to make sure our staffing is okay and that I give them the resources they need," Watson said.
Watson also mentioned another one of her tasks is checking how her residents have been doing during the 24-hour period. Then, she compiles a list of people she needs to focus on for the day.
"I meet with the nursing administrative team. When COVID-19 hit, our building implemented walk-in rounds with the administrator. We get a report from each nurse, and also use that to inquire what people need. I also have physicians make rounds with me and speak to every licensed nurse on the shift so that way we don't miss anything," Watson mentioned.
"Personally, I've worked in many different settings, and it's hard to organize your day. But we do make a plan and I work to address resident concerns with my team. From my experience, you always want to take an immediate problem and adjust around that," Barnett said.
Barnett also mentioned that nurses have many different tasks, such as helping with admissions or a discharge. She also works with staffing and told us that she can sometimes make a busy list of items for the floor nurses.
"The other part about our role is many different things will come up when talking to our patients. Sometimes, we have to take twenty minutes to talk to them and help them," Barnett said.
What is one thing people don't know about nurses?
"Nurses do more than resident care and clean the equipment. We are the guardians of the equipment that we use, and we have to make sure everything is functioning at all times," Watson said.
"Most of us work through our lunch break, and we don't take long breaks. We are always working one way or another. Most nurses also stay after shifts and constantly think about their jobs at home. People don't realize how much time a nurse puts into their job," Barnett said.
What are key skills that a nurse needs?
There are many different skills that nurses use every day in their role, but Watson and Barnett shared the ones that they felt were the most important.
One skill Watson mentioned was having good communication. Nurses are expected to speak to many different people, from the residents to the physicians to the family members.
"You also need to be able to work in a field that changes often. Sometimes the dynamics go from one extreme to another," Watson said.
"I think nurses must have good time management skills. It is important to manage your time well, especially with everything we have to do in a day," Barnett said.
One skill both Watson and Barnett mentioned was that they think nurses need to have critical thinking skills. Nurses are expected to adapt as their environment changes, and critical thinking is important in allowing them to be able to perform their job well.
How has nursing positively influenced your life?
"I've had the blessing of knowing a lot of different people. I used to work in Washington DC and know nurses and residents from all over the world. I also learned how people's perspective of healthcare can be different than mine, but we always are trying to work and adjust things for the community," Watson said.
"Nursing has made me view the world in a different light at different levels. You have seen it or lived it or viewed it. In my role I have cared for a variety of patients. Even though we are a long-term care building, one time we took care of a baby. You see the world in a different way when you are a nurse and often learn through other people," Barnett said.
Thank you Nurses!
Saber Healthcare appreciates the dedication of our nurses and thanks them for the care that they provide to our residents every single day. Nurses play a key role in making sure that their team strives to meet the needs of each person, from monitoring them to making sure that their voices are heard.
"The field is very rewarding, and from a social standpoint it is worth joining, especially if you are a person that likes to be around people. You build skills you can use not just in the work environment, but also your home life," Watson said.
"Many nurses don't give themselves credit for the things that they do, and most nurses are not looking for a pat on the back or praise for what they've done. However, nurses have influenced people in the kind things that they do for others, and I believe they should be given credit for that," Barnett said.
To join Saber Healthcare's nursing team, apply to one of our nursing roles.
Saber Healthcare is an organization dedicated to providing consultant services to long term care providers. This article is for informational purposes and is not meant to be seen as professional advice. Please consult with a medical expert before relying on the information provided.