Commitment + Clinical Leadership = Better Outcomes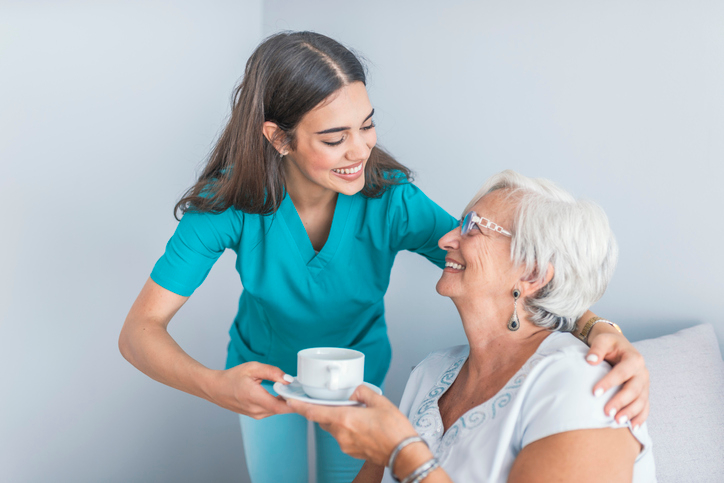 The Positive Impact Nursing Assistants Make
Jun. 22nd, 2021
Each and every day, CNAs and STNAs work tirelessly to make sure that their patients are taken care of. Nursing Assistants are often the first to step in when a resident needs help, and they are always ready to assist them with everyday activities.
To learn more about the positive impact CNAs and Nursing Assistants make every day in the lives of those they serve, we interviewed Tamika Coleman, STNA at Diplomat Healthcare, and Doris Salido-Holly, a CNA at Autumn Care of Cornelius.
Coleman is very dedicated to her role as an STNA and has been in the field for over 21 years, working mostly in long-term care. The last five years she has had the opportunity to work with residents who have dementia.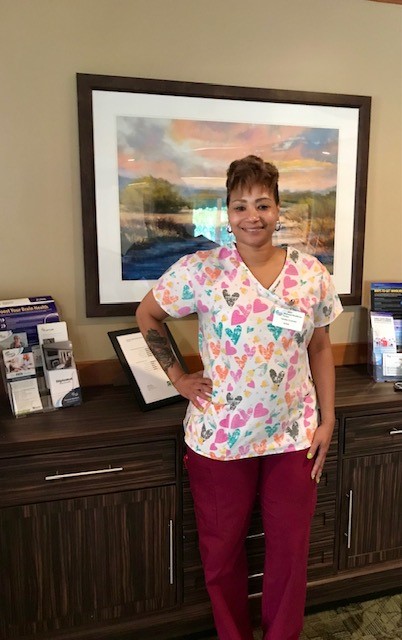 Picture of Tamika Coleman at Diplomat Healthcare
"Even though there are challenges, it takes a heart of gold to help the residents through the medical changes in their life," Coleman said.
Salido-Holly's career has spanned over 30 years. She has had the opportunity to work in many different facilities and meet people of all backgrounds, which has helped to strengthen her passion for the field.
"I look up to elderly people because I feel that they have a lot of wisdom and insight. I take pleasure in being around them," Salido-Holly stated.
What is Required to Become a CNA/STNA?
Both Coleman and Salido-Holly had to take classes in order to become nursing assistants in the field.
The CNA courses can last anywhere from 8-10 weeks. The students in the classes learn how to take vitals, blood pressure, and oxygen.
There are also classes about how to assist residents in their everyday tasks because nursing assistants are responsible for making sure everyone they work with is able to live their everyday life.
Other things CNAs learn is how to provide the best care. They are also taught how to ensure that the residents live a good quality life while they are learning to cope with their new medical conditions.
How do CNAs have a positive impact on the community?
There are many ways in which CNAs help the patients and families that they work with. Here are a few ways Coleman and Salido-Holly see their role as making a positive impact on the residents in the community.
"Nowadays, we don't help just the elders. I've had the chance to work with many different age brackets throughout my career," Coleman said.
One of the ways in which Coleman makes an impact on the residents is by being the licensed cosmologist and beautician at Diplomat. She mentioned this was something she always wanted to do, and now she is able to help the residents in her community look and feel their best.
Salido-Holly believes that when family members and friends know that their loved ones are well taken care of, then CNAs are helping the community.
"Many people have to go to work during the day, so I'm happy that they believe in what we do and how great we are with the residents. It gives them something to feel good about," Salido-Holly mentioned.
What are 2 traits that CNAs/STNAs need?
Coleman believes that one of the most important traits nursing assistants need is patience. Many of the residents deal with conditions like dementia, and it might take some time for them to adjust to their new routine.
"Another thing all STNAs need is a caring heart," Coleman said. "You deal with all different types of people on the job."
Salido-Holly believes that having good character and personality is the most important part of being a nursing assistant. Nursing assistants need to be respectful at all times while not being a burden on those they are trying to help.

"You need to be able to take on the residents' problems in this role. That means you need to bring positive energy," Salido-Holly said.
How do CNAs work as a team to give residents the care they need?
"The CNAs at Diplomat are able to come in and get training on everything they need to know," Coleman said.
She said every day, the nursing assistants go to the nurses' station and receive a report from the overnight STNAs. She also mentioned that there will be a schedule that has their assignments for the day. The team will check in with the residents on the unit and then get them ready for breakfast.
"We have residents that can take care of themselves, but also some that may need more attention," Salido-Holly said.
She said that the group will come together and make sure that the CNAs have good energy. The team will work together with their passion to care for the seniors.
What is one thing most people don't know about CNAs?
"One thing the community may not know is that we deal with a lot because people can be stressed out sometimes. We have to always prepare for the challenges we might face," Coleman said.
"When there is a mistake or something that unintentionally happens where a CNA gets fired or loses licensure, people need to know that we truly have a heart for this and that nothing is intentional. A lot of the time, people don't see behind a mistake. We care above and beyond," Salido-Holly said.
What is one positive memory or experience that you had in the last year?
"I became the beautician at Diplomat," Coleman said. "It was a lifelong dream of mine, and something that I always wanted to do."
"During the pandemic, a lot went on, but I took the initiative to be here with the residents. I put on a suit and goggles, and worked with them diligently in good spirit. We are here to get the job done," Salido-Holly said.
What is your favorite part about your job?
"The residents," Coleman stated.
"Whenever I put a smile on the residents face when they need it," Salido-Holly mentioned. "I can make their day by simply giving them a hug or listening to them."
Saber Healthcare Appreciates Our Nursing Assistants!
Here at Saber Healthcare, we appreciate the time, effort, and dedication of our nursing assistants. Every day, our nursing assistants are here for the residents, helping them with everyday tasks, and being the first to get them what they need.
Thank you, CNAS!
To learn more about our company and the services we provide, click here.
Saber Healthcare is an organization dedicated to providing consultant services to long term care providers. This article is for informational purposes and is not meant to be seen as professional advice. Please consult with a medical expert before relying on the information provided.