Commitment + Clinical Leadership = Better Outcomes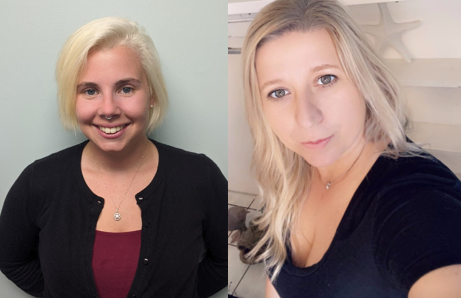 What does it take to become a Nurse?
May. 21st, 2021
This month, Saber Healthcare is celebrating National Nurses Month by recognizing all of our dedicated and hard-working nurses.
Nursing is a challenging yet fulfilling career. Nurses work every day to help their patients achieve the level of care that is needed while also providing them with emotional support and connecting them to their families.
To learn more about what exactly it takes to become a nurse, we talked to Emily Baldwin, Director of Nursing at Currituck Health and Rehab, and Tabaitha Ray, Director of Nursing at St. James Health and Rehab.
"Being a nurse takes a lot of dedication," Ray shared. "I personally think my work ethic stands out more than my personality, but I'm warm hearted and caring."
"You have to have patience," Baldwin said. "You need the mental fortitude to know when to step back."
What is Required to Become a Nurse?
We asked Baldwin and Ray to share what requirements are needed to become a nurse and what steps they took to complete them.
Baldwin began her career by going through a Certified Nursing Assistant (CNA) program in high school. She worked clinical hours at Currituck Health and Rehab during this time. She continued working at Currituck Health and Rehab while attending night school to become a Registered Nurse.
Baldwin gained experience in a variety of roles, working as a RN, Floor Cart Nurse, and a Clinical Manager, then made the decision to go back to school for her Bachelor's and Master's degrees.
Once Baldwin completed school, she accepted the Director of Nursing (DON) position at Currituck Health and Rehab. She started out as a temporary DON, but eventually decided to take the job full time.
Ray has been in long-term care for over 14 years at Saber Healthcare. She started her career by going to nursing school alongside her sister-in-law and became a Licensed Practical Nurse (LPN). She worked in this role for thirteen years.
After working with Saber Healthcare for a while, Ray was presented with the opportunity to further her education. She went back to school to become a Registered Nurse and later became the Director of Nursing (DON) at St. James Health and Rehab.
"I had a lot of support from my company," Ray stated." "I wouldn't be where I am today if it wasn't for them."
What did your Career Path Look Like?
Ray and Baldwin had a similar career path to becoming a nurse, both of which led to their current position as Directors of Nursing. They discussed the effort and dedication it took to get to where they are today.
Ray described that she was working two full-time jobs while going through school to become a nurse. She added that she was in her thirties at the time and was not thoroughly prepared to go back to school.
"It took a lot of support from my family," Ray said. "It takes a lot of focus."
Baldwin shared that she has been back to school three separate times to further her education and get to where she is today in her role. She pursued her bachelor's degree online while working full-time.
After completing her bachelor's degree, Baldwin went back into school immediately to earn her master's, which she completed in a year.
"There is always room and ways to grow, but you have to be willing to work for it," Baldwin said.
What Skills and Character Traits Should Nurses Have?
Nurses have the unique ability to help others through extremely hard times, both physically and mentally. Baldwin and Ray shared what kind of skills and character traits are necessary for nurses to have.
Baldwin opened up about nursing being a challenging job. She said nurses may see people at their worst, and mentioned that it can break you down after a while.
"The most important thing is to have the ability to put yourself in someone else's shoes," Baldwin shared.
Baldwin added that there will always be things that are out of your control. She said being able to turn these situations around and lift someone's spirits is a good skill to have.
"To be a nurse you have to be focused, self-motivated, and organized," Ray stated. "Those are the three most important things."
Ray also said that confidence is a crucial character trait. When you're confident, your staff will in turn have the confidence to follow you.
What Does a Day as a Nurse look like?
Ray and Baldwin discussed what an average day as a Director of Nursing looks like.
"I do a lot of customer service. It's all about how your staff feels, the morale, and the type of management skills you have," Ray said.
Directors of Nursing are in charge of the nursing staff, including hiring and making sure they feel supported on the floor. They consistently monitor quality measures to make sure they are performing their jobs safely and efficiently.
"I see my role as being the person to support my residents and staff. I am person behind the scenes to make sure everything run smoothly," Baldwin stated.
Overall, Baldwin and Ray both described the love they have for what they do.
"My favorite part of my job is being able to see the improvement in patients' and employees' satisfaction," Baldwin stated.
"My residents and staff are my favorite part about my job," Ray said.
Advice for Aspiring Nurses
Ray and Baldwin shared some advice for anyone aspiring to be a nurse or hoping to grow in their career.
"Be humble. I don't like to boast whether I am a DON or not, I try to be very humble about where I am in life," Ray said.
Baldwin suggested for anyone interested in the medical field to become a CNA first.
"It gives you the ability to learn how to work with patients because you're with them day in and day out," Baldwin stated.
Saber Healthcare Appreciates Our Nurses
Saber Healthcare is extremely grateful for our nurses. We understand that it takes a lot of dedication and commitment to work as a nurse.
Join us in celebrating all nurses this month!
Saber Healthcare is an organization dedicated to providing consultant services to long term care providers. This article is for informational purposes and is not meant to be seen as professional advice. Please consult with a medical expert before relying on the information provided.