Commitment + Clinical Leadership = Better Outcomes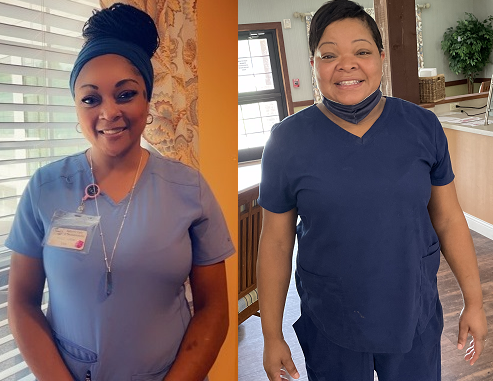 What Does it Take to be a CNA?
Jun. 18th, 2022
Photo, left to right: Tracy Hinds, Patrina Moring
June 16th through June 22nd is CNA Week, and we're celebrating our certified nursing assistants and all they do for our residents. In honor of this week, we wanted to share what it takes to be a CNA.
We spoke with two of Saber Healthcare's nursing assistants: Tracy Hinds, CNA at Autumn Care of Mechanicsville, and Patrina Moring, CNA at Autumn Care of Fayetteville. Hinds worked with adults with disabilities for 18 years prior to becoming a nursing assistant, and Moring has worked as a nursing assistant for 26 years. Moring and Hinds both bring a great amount of expertise and experience to our communities.
"We make a positive impact on long-term care communities," Moring shared. "We really are at the forefront. We are their family, friend, and companion."
"We're extremely involved in the residents' lives," Hinds stated. "We're with them every day, talking to them and comforting them."
What Character Traits are Necessary for CNAs to Have?
Hinds discussed that nursing assistants should possess a positive attitude, as well as the ability to care for others and love what you do.
"Your residents need you more than anything. We're family, not just healthcare workers," Hinds stated. "We created a home for them at this community and make them comfortable."
Moring added that empathy is the most important character trait for nursing assistants.
"Even when I'm going through something, I come to work still smiling," Moring shared. "I also let the residents know that their dignity is put first."
What is Your Greatest Strength as a CNA?
We asked Moring and Hinds what they believe is their greatest strength as a certified nursing assistant.
"My personality and my spirit are my greatest strengths," Moring said. "I try to bring laughter to them and their day."
"Going in, putting a smile on my face, and making sure my job is complete before I walk out the door is the most important part to me," Hinds stated. "I like to know that I've done something for someone."
What's a Positive Experience You've Had in the Past Year?
"I truly feel that this is my calling to take care of people. It touches my heart," Hinds shared. "I love taking care of people. Some residents call me an angel and say that God sent me. That's always a positive."
"The residents and the joy they give," Moring stated. "A lady recently told me she was praying for me and my hands because I have healing hands."
Advice for Future CNAs or Long-Term Care Workers
"This job is not for everybody. My biggest piece of advice is to put yourself in their shoes," Moring discussed. "It could be any one of us. If you were a resident, how would you like to be treated? The answer is with empathy and respect."
"Make sure your heart is in it and that you can care for people and treat them right," Hinds shared. "Love the residents like they're your own family. They need attention and love."
What Does Your Future Look Like?
Hinds says that she hopes to see more growth and opportunities in the future.
"I'm proud of myself," Hinds stated. "I'm proud I became a CNA to show that I care, and I'm ready to keep moving forward."
Moring discussed that she hopes to go back to nursing school and further her education.
"I'm proud of the care that I give to the residents. I see them all as equal human beings and I give them all the same level of care."
Saber Healthcare Appreciates Our CNAs
Saber Healthcare is extremely thankful for our CNAs in all communities and the work they put in daily to support and care for the residents.
Saber Healthcare is an organization that provides services to more than 115 buildings across the states of Ohio, Pennsylvania, Virginia, North Carolina, Indiana, Delaware, and Florida. To learn more about our company and the services we provide, click here.
Saber Healthcare is an organization dedicated to providing consultant services to long-term care providers. This article is for informational purposes and is not meant to be seen as professional advice. Please consult with a medical expert before relying on the information provided.