Commitment + Clinical Leadership = Better Outcomes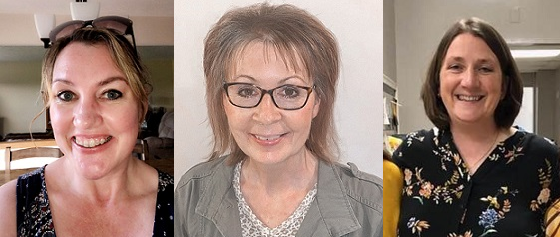 Working in Respiratory Therapy
Oct. 30th, 2020
Photo, from left to right: Brigid Canon, Terri Spray, Rebekkah Myer
As we continue to celebrate National Respiratory Care Week, we wanted to know what it's like to work as a Respiratory Therapist with our residents at Saber Healthcare.
We interviewed Rebekkah Myer, a Respiratory Therapist at Centerburg Respiratory, Brigid Canon, a Respiratory Therapist at Bath Manor, and Terri Spray, a Respiratory Therapist at Centerburg Respiratory.
How did you get started in this career?
We asked Myer, Canon, and Spray how they began their career in Respiratory Therapy.
Myer said once she completed high school, she began a respiratory therapy program at a community college. She graduated at twenty years old and started working at Centerburg Respiratory in June 1999. Myer has been at the same facility ever since.
Canon has been working as a Respiratory Therapist since 2007. She began as a student at the hospital, and continued to work there for eleven years. Canon then decided she wanted to work somewhere with a different pace, and that's when she found Bath Manor.
Spray has been working at Centerburg Respiratory since the eighties. She began as a Licensed Nurse Practitioner, then decided she wanted to go to school for Respiratory Therapy. She completed the program and continued working at Centerburg Respiratory as a Respiratory Therapist.
What is it like working as a Respiratory Therapist?
We asked the therapists to explain what it's like working as a Respiratory Therapist.
"Work is like life, it never goes according to plan," Spray said. "You just have to roll with the unexpected."
Canon said that a Respiratory Therapist has to be ready to critically think. They have to be willing to adapt to change.
Respiratory Therapists start their day with a report from the therapists on the previous shift that informs them of what they need to know regarding their patients, such as any updates.
The therapists then make rounds to their patients and listen to lungs and check oxygen levels. They make sure to check residents who are weening off of ventilators. Some patients are off ventilators during the day and then they are put back on a ventilator at night.
Myer said they make sure no residents are having difficulties breathing. They administer breathing treatments to residents when needed. They also perform any extra work that may help the aides and nurses throughout their shift.
What do you love most about your job?
Myer, Canon, and Spray all discussed their love for this career. They talked about how much they enjoy getting to know the residents.
"I love to bring a smile to their eyes," Spray said. "When they're not just forcing a smile, but when we can engage them and you make a genuine connection."
Myer said she likes to make sure they're comfortable and tries to find a common ground with them.
"I like to know the resident," Myer said. "I like to make sure they feel comforted."
Canon added it's nice to get to know the residents because most of them are long-term care residents.
"Our patients are great," Canon said. "You develop a relationship with them and they trust you."
What challenges do you face in your job?
The therapists mentioned a few challenges they may face on a normal day.
"At any time something could go wrong and you have to know exactly what to do," Myer said. "You are the one who has to figure out what the problem is if something drastically changes."
Myer also mentioned that it's hard when residents can't see their family. She said they become family to their residents.
Spray said the biggest challenge is the unexpected. Sometimes the unexpected can be positive, but it can also be negative.
Canon shared that it may be difficult if there's a crisis and another therapist is not currently available. She said being the only one there at the time requires a great amount of responsibility.
What's an interesting fact about Respiratory Therapy?
We asked the therapists what's an interesting fact about this field that most people might not know.
People may think Respiratory Therapy is only based on someone's breathing, but it truly deals with the entire body. The lungs, heart, and kidneys all work together.
"If something is wrong with any internal organ, it's going to lead back to the lungs," Myer said.
Respiratory Therapists spend time not only treating patients, but educating them as well.
What's your favorite part about working for Saber Healthcare?
Canon mentioned she loved working with her coworkers and residents.
Myer talked about her experience working with Saber Healthcare. Centerburg Respiratory previously owned by another company before Saber Healthcare. Myer said the transition between the two companies was a smooth one.
"I love coming to a facility where I know what is expected of me," Myer said. "Saber has been a great company to work for."
Spray feels positive about Saber and the leadership.
"You're one big work family and Saber joined in," Spray said. "They've taken care of us."
Saber Healthcare is Thankful for our Team!
Thank you Rebekkah Myer, Brigid Canon, Terri Spray, and all of our other Respiratory Therapists! Saber Healthcare appreciates everyone who is a part of our respiratory team and the work they do for our residents.
Saber Healthcare is an organization dedicated to providing consultant services to long term care providers. This article is for informational purposes and is not meant to be seen as professional advice. Please consult with a medical expert before relying on the information provided.