Saber Healthcare Blog & Newsroom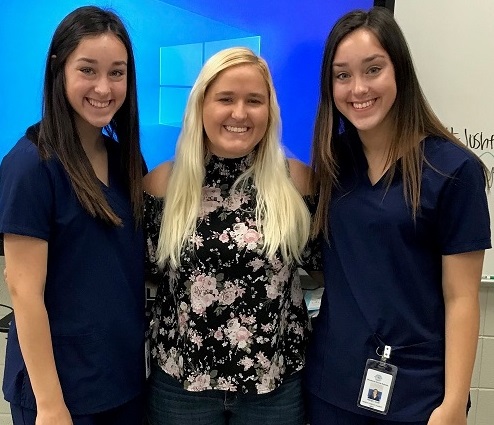 Saber Healthcare Partners with Brunswick County Schools
Sep. 16th, 2022
Autumn Care of Shallotte Establishes Internship Opportunities for Students
Shallotte, North Carolina –Brunswick County's CTE Newsletter recently featured Saber Healthcare for partnering and offering internship opportunities to students who are part of the Allied Health program within the North Carolina school system. These internships are an opportunity for Saber Healthcare's teams to connect with and support future healthcare workers who are interested in making a difference in the lives of others.
Sarah Whitesel, Director of Respiratory Programs & Saber's Student Success Program, told us that Brunswick County Schools reached out to her to create a partnership designed for students to gain experience in the healthcare field. The idea was to create a program where students can apply to work at a Saber community, receive exposure to long term care, and earn clinical hours necessary for their degree.
"We were really excited when they reached out to us with this opportunity," Whitesel stated. "We felt like bringing them on as employees would allow them to feel included as part of the Saber family."
As part of the internship program, students applied under their school program to work for Autumn Care of Shallotte. As an intern at Autumn Care of Shallotte, students participated in Personal Care Assistant (PCA) training and gained hands-on experience, all while being paid.
Bethany Davis, Administrator at Autumn Care of Shallotte, explained how the students chose to remain as employees after completing their internship. These students will continue to work as PCAs until they become certified nursing assistants.
"This program greatly helped us," Davis explained. "We've gotten amazing feedback from the school, and we want to do it again this year."
We are excited to help students grow and continue their success by giving them access to real world experience in healthcare. Our partnership led the Saber Healthcare team to create a pre-apprenticeship and apprenticeship programs for CNAs, LPNs, and RNs in North Carolina.
These new programs will allow school tuition to be paid for as the students continue working with Saber Healthcare. Students who participate will gain experience and training while in school so they're better equipped to join the healthcare field.
Saber Healthcare believes in helping our employees expand their knowledge and reach their goals to allow them be successful in providing quality care to those they serve. If you are interested in learning more about our Student Success Program and checking out future opportunities with Saber, click here.
About Saber Healthcare Group: Established in 2001, the Cleveland-based company has grown from two skilled nursing facilities to more than 115 skilled nursing and assisted living facilities in seven states (Ohio, Indiana, Pennsylvania, Delaware, Virginia, North Carolina, and Florida). Saber's "On the Cutting Edge of Healthcare" philosophy has spurred its growth and the company to implement greater healthcare knowledge and technologies to serve residents and patients in better ways.