Saber Healthcare Blog & Newsroom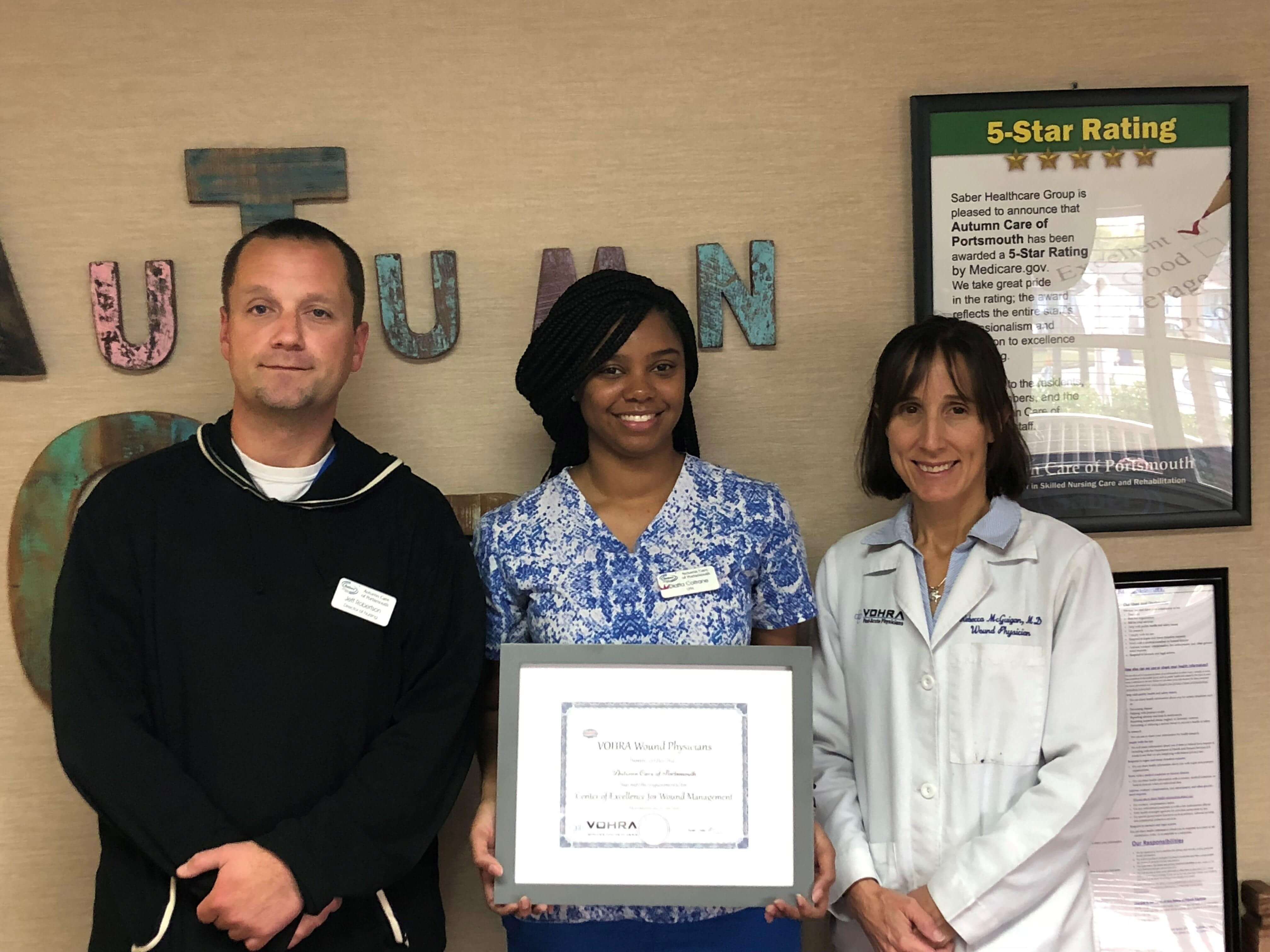 Autumn Care of Portsmouth certified as a Vohra Center of Excellence
Nov. 14th, 2018
For the second consecutive year, our Autumn Care of Portsmouth facility has been certified as a Vohra Center of Excellence for Wound Management.
Pictured L to R: Jeff Robertson, Director of Nursing; Diatta Coltrane, Vohra Certified Wound Nurse; Vohra Physician Dr. Rebecca McGuigan, MD
The certification process begins with a Director of Nursing or Administrator applying online in order for the facility to qualify for eligibility. The application is then received by a panel of support staff at Vohra Wound Physicians, as well as a panel of physicians and senior executives, and reviewed for the following criteria:
Designated, accountable VOHRA Wound Certified Nurse(s) seven days a week

A verified outcomes-focused, VOHRA Physician Specialist-led Wound Care Program

A wound-related hospitalization rate of less than 1%

Regular team meetings with a focus on Quality and Process Improvement (QAPI).
We want to thank you all for giving us the support we need so that achievements such as this are possible! We take wound care and treatment at Autumn Care of Portsmouth extremely seriously. While we have an undoubtedly outstanding wound care nurse and Vohra Physician here, we also know that the biggest role in our wound care program is prevention and that role is played by all staff.
Education on turning and repositioning combined with the stop and watch tool has been one of our "best practice" prevention techniques.