Commitment + Clinical Leadership = Better Outcomes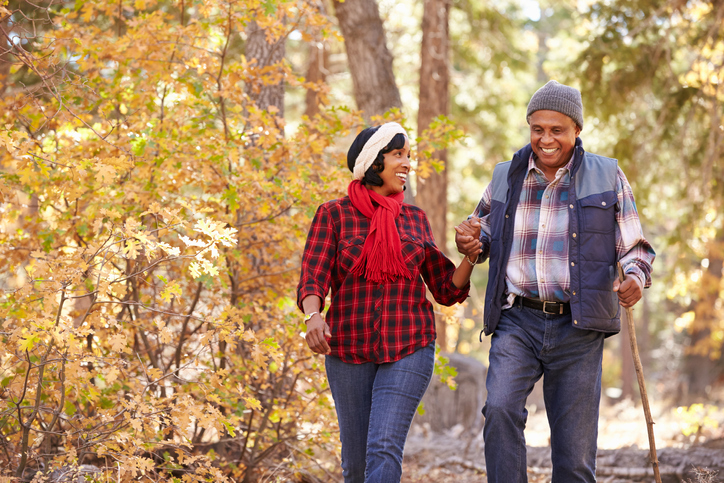 Autumn Safety Tips for Seniors
Sep. 7th, 2021
As the leaves start changing to beautiful reds and golds, many seniors are excited to enjoy autumn and the weather that comes with the season.
It's important for seniors to prepare for the fall by staying aware of the safety hazards that come with the chillier weather.
Here is a list of 9 autumn safety tips to help prepare your loved one for the fall season.
Protect Against Illnesses
As the weather becomes chilly, cold and flu season begins. Seniors should be prepared by stocking up on hand sanitizer, tissues, antiseptic wipes, and prescribed antibiotics. Old medications and prescriptions should be discarded and replaced.
Seniors are especially at risk for developing severe complications from the flu virus because their immune system may have changed or weakened with age. The CDC estimates that 70-85% of flu season related deaths occur in adults 65 and older. They also estimate that 50-70% of severe hospitalizations occur in this age bracket.1
It's important for seniors to protect themselves by getting their annual flu shot. If your loved one received the flu shot in the past, encourage them to get a new one because their immunity may wane as the virus mutates over time.
Rake the Leaves
With the autumn season, the leaves will create a scenic gold and orange landscape. However, leaves that go unraked can be a hazard for seniors because they might slip and fall on them.
Take time to clean up the yard of all leaves, debris, sticks, and anything else that could be hazardous to a senior.
You should also install handrails and non-skid carpets/surfaces on the stairs outside to help prevent your loved one from falling on the leaves or snow.
Test and Replace Light-Bulbs
Daylight savings usually occurs in the fall time, meaning that it will become darker earlier in the day. A well-lit home is essential for helping a senior navigate their house and stay safe when it becomes dark outside.
You should test and check all of the light bulbs in the house to ensure that your loved one doesn't face a situation where they can't see. Many seniors may struggle to screw in lightbulbs because they have arthritis, making it dangerous for them to try to change a light bulb by themselves in the dark.
One idea to help your senior loved one is installing smart lights that turn on when they sense motion. You can also install voice-activated lights so your loved one can always turn on the lights no matter where they are in the house.
Keep Warms Clothes & Blankets In the House
With the chillier weather, it's essential that your loved one has the proper wardrobe to stay warm and prevent colds.
Do a check on your loved one's wardrobe and make sure that they have enough sweaters, pants, and long sleeved shirts to make it through the season. Throw out any articles that are old and worn out and replace them with new ones.
You should also give your loved one enough blankets to store around the house. Blankets can help keep a senior warm on colder nights.
Keep the Home Well Heated
It's important for a senior's home to be well heated throughout the fall and winter season. You should check your loved one's heater or furnace annually to ensure that it still works because these units can wear out over time.
You will also need to check the windows and doors to shut and seal them from potential drafts outside. Old windows and doors should be replaced to help keep the chilly weather outside and heat inside.
Another way you can keep your senior loved one's home well heated is by installing a fireplace plug. Fireplace plugs are an inexpensive way to ward off drafts when a fireplace isn't in use. This can prevent cold air from coming into the home.
Prepare the Car for the Fall
If the senior you know still drives, you should help them prepare their car for the fall season.
Help your loved one take their car to get checked. An annual car check-up will help your loved one ensure things such as the brake pads, oil, and defrost systems are all in working order, which can help prevent accidents or breakdowns.
If you live in an area where snow falls around this time, help your loved one change their tires for the season. Winter tires are better able to maneuver over heavy snow and ice, and can help keep your loved one safe during inclement weather conditions.
Program a Thermostat
Another way to help keep older adults warm during the autumn season is installing a programmable thermostat. Thermostats should be accurate with their batteries updated to ensure your loved one can always adjust the temperature.
Some smart thermostats allow you to automatically adjust the temperature at different times, which can help you stay cost effective. For example, since it's usually colder at night, you can set the temperature to be warmer at night and cooler during the day.
Organize the Garage/Shed
With summer ending, it's time to move all of the summer items to the back of your loved one's garage or shed. You should place belongings such as rakes, shovels, snow blowers, and ice scrapers in a place where your loved one can easily access.
This is also an opportunity to clean out any old items that might be molding or no longer used. You should remove any liquids that can potentially freeze over and cause a hazard in the future.
Help set up a cell phone or computer
As the weather becomes colder, people tend to stay indoors and therefore are less social. However, your loved one will still want to be able to talk with their family and friends frequently.
Set up the older adult in your life with a phone or tablet that can help them do facetime or video calls. You should plan on calling them regularly to check in on how they're doing.
If your loved one isn't familiar with using technology, help them learn or enroll them in a class.
Saber Healthcare Welcomes the Fall!
Here at Saber Healthcare, we're excited for the seasons to change. The fall time is when our residents can enjoy the beautiful leaves outside as well as the fun activities that come during this time of year.
To learn more about the nursing and rehabilitation care that we provide to our residents, click here.
Saber Healthcare is an organization dedicated to providing consultant services to long term care providers. This article is for informational purposes and is not meant to be seen as professional advice. Please consult with a medical expert before relying on the information provided.
Sources
"Flu & People 65 Years and Older." Centers for Disease Control and Prevention. 6 May 2021. 23 August 2021. Link: https://www.cdc.gov/flu/highrisk/65over.htm