Commitment + Clinical Leadership = Better Outcomes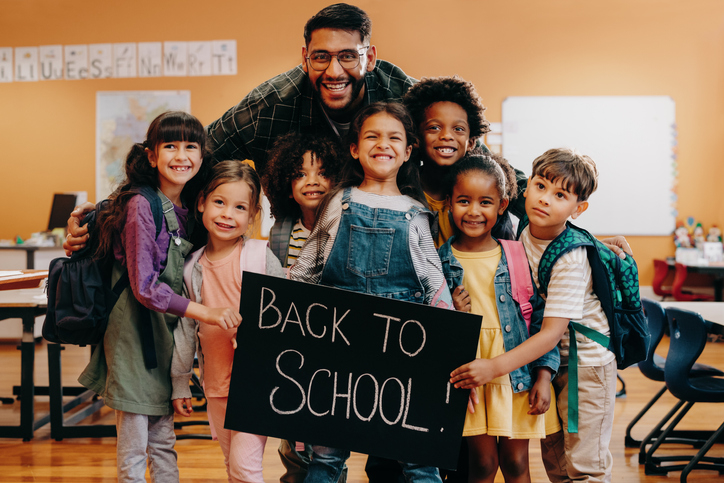 Complete Back To School Guide & Safety Tips
Aug. 17th, 2023
The back to school season is exciting: it's a time when kids will be going back to school to learn and hang out with their friends. However, you should also take precautions to keep your kids safe and healthy throughout the school season.
Here is a complete back to school guide with advice, safety tips, and information.
Back to School Guide and Tips
Health Tips for School
Teach your kids to wash their hands before and after they eat
Visit the doctor's office for a checkup to ensure your child is healthy and caught up on all vaccinations
Put your kids to bed at the same time every day and wake them up in the morning at the same time
Help your child manage allergies through medications and doctor instruction
Inform your kids about the importance of hydration and give them a refillable water bottle to take to school
Encourage your kids to eat breakfast in the morning, and always provide healthy breakfast options
Enroll your kid in activities such as sports or take them to the park a few times a week to keep them active
Get a vision check for your children at least once a year
Regularly check your kids to make sure that they don't have a fever, head lice, or another health condition
Make a meal plan for the week. This includes packing a healthy lunch for your child every day or planning to let your child buy meals at school
Inform the teacher and nurse of any health conditions your child might have and give them instructions on what to do in case an emergency arises
Tips to be Successful in School
Prepare for school ahead of time. Get all of the books, supplies, clothes, and materials your child will need before the big day
Start your child's daily routine two weeks before school starts. This will help them get used to waking up when they are supposed to for school
Give your kids a planner and teach them the importance of organization
Give your child a designated place to do their homework each day. This could be a study room, a trip to the library, or a spot at the kitchen table.
Help your child get in a habit of reviewing notes to help them remember information for their test
Teach your child how to make quiz cards to help review for tests
Help your child review their essays, papers, and assignments before turning them in
If your child gets a bad grade, teach them the importance of learning from it and work with them to study for the next big test
Encourage your child to get into a regular habit of reading. This will improve their writing and grammar skills over time
Social Tips for Back To School
Encourage your child to make friends on the playground, at lunch, and in extracurriculars
Help your child deal with difficult problems such as bullying by talking with them. You should also inform the teacher if these issues continue to happen at school
Plan days with other parents to take your children to fun events or places such as the park
Help your child meet new people by attending community service events at places such as local shelters, nursing homes, churches, and organizations that help others
Teach your child about the importance of kindness and giving back to others
Give your child the opportunity to meet like-minded children by taking them to places and events where they can explore their talents
Find times to have the family "un-plug" from phones, computers, and other devices to spend time together
Online School Safety Tips
Teach your kids the importance of protecting their passwords and devices
Tell your kids to never give their personal information online to a stranger
Keep your children safe by monitoring what they search and do online. A good way to keep an eye out is to have the home computer in a place where you can see what they are doing
Give your kids lessons on spam emails from suspicious websites and inform them to always ask an adult if they are unsure where an email is coming from
Teach your kids to never download files off the internet such as pictures, videos, etc. that they do not know where they are coming from
Monitor your children while they play games online and be aware of the content inside of the games
Use parental controls on devices to help keep your children safe
Tips For Clothes and Supplies
Make sure that your child has clothes that fit for the season before it begins. You should take them shopping if they outgrew many of the items that they used to wear.
Check the school dress code before buying clothes. You'll want to make sure your child is compliant with the code and won't be sent home to go change
Inspect all of your children's school supplies. Buy them new items that might be old or worn out, such as crayons, pencils, etc.
Make sure your child has a backpack that properly fits. The wrong backpack could cause back pain and strain the back at an early age
Other Safety Tips
Review with your children the importance of crosswalks and crossing the street after looking both ways
Teach your children the importance of not believing everything they see on television or the internet
Inform your child on what steps to take in case they experience an unexpected allergic reaction, such as a bee sting
Teach your child the importance of not trusting strangers and what to do in scenarios regarding people they don't know
Are you ready for back to school season?
Now that you have our back to school guide, you can start preparing for the back to school season. Take the time to keep your child safe and healthy this school year!
Saber Healthcare
Saber Healthcare is an organization that provides services to more than 115 buildings across the states of Ohio, Pennsylvania, Virginia, North Carolina, Indiana, and Delaware. To learn more about our company and services, click here.
Saber Healthcare is an organization dedicated to providing consultant services to long-term care providers. This article is for informational purposes and is not meant to be seen as professional advice. Please consult with a medical expert before relying on the information provided.