Commitment + Clinical Leadership = Better Outcomes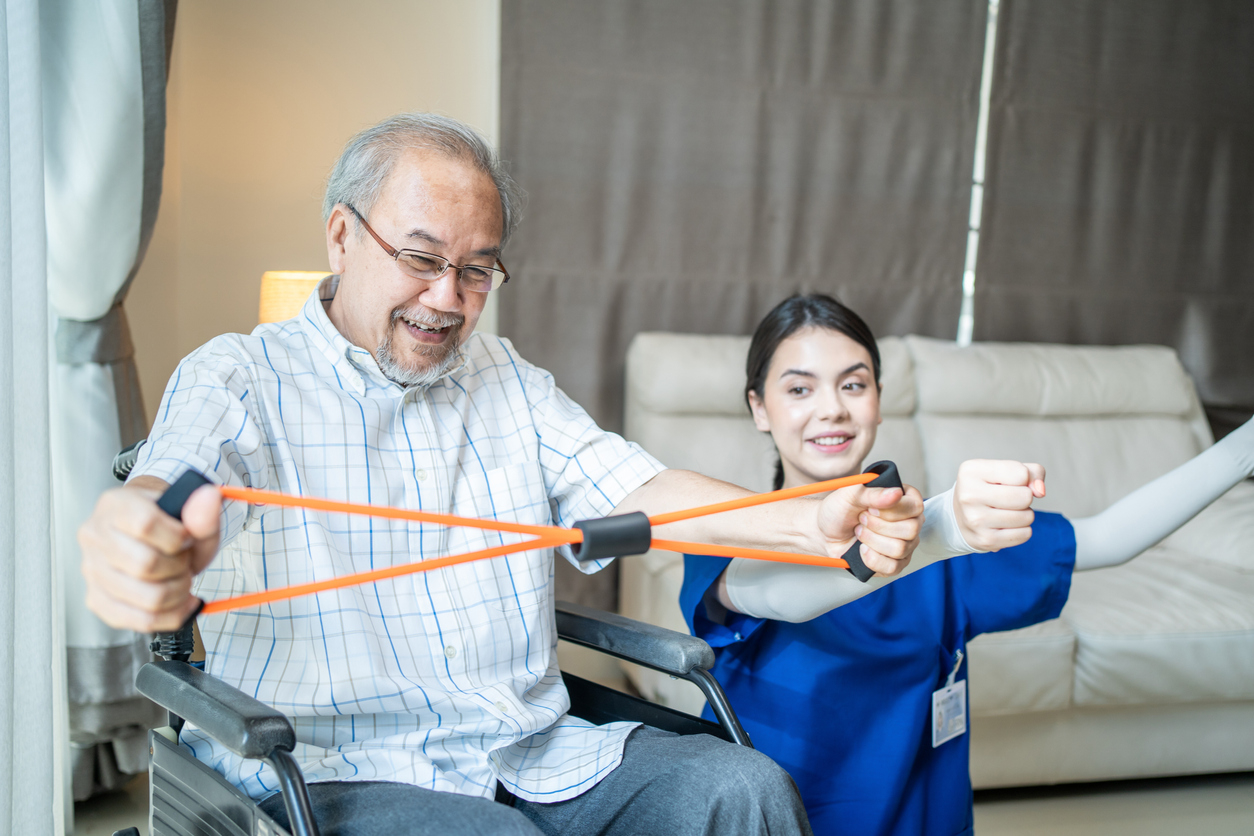 Benefits of Physical Therapy
Sep. 8th, 2022
Physical therapy is a medical practice that helps patients with immobility or impaired movement through various activities, care plans, and patient education. Physical therapists create a specialized treatment plan for each patient to help them reduce their pain, restore their range of motion, or prevent disability.1
Physical therapists work with people of all ages and help those with injuries, surgeries, joint pain, disabilities, life changes, and health conditions achieve their goals. Each case is assessed and diagnosed individually and the physical therapist will work with their patient throughout the process to restore movement and prevent mobility concerns.
Physical therapy involves many different aspects including, but not limited to: physical examinations, discussion of goals, exercise, stretching, hot and cold therapy, and electrical stimulation.
When is Physical Therapy Needed?
Some of the most common instances when physical therapy should be considered include2:
Pain relief
Prevention or recovery from a sports injury or accident
Recovery following a surgery
Rehabilitation following a stroke or health incident
Improved balance to prevent falls
Recovery following child labor and birth
Adapting to an artificial limb
Learning to use assistive devices like a cane
Controlling bowel movements or bladder
Where Do Physical Therapists Work?
Additionally, physical therapists can be found in many different settings such as:
Outpatient offices
Home health
Sports
Rehabilitation centers
Hospitals
Schools
Occupational settings
Benefits of Physical Therapy
There are many benefits of physical therapy:
Reduced pain
Improved mobility
Restored function after injury
Avoid surgery or recover from surgery
Stroke recovery
Benefits of Physical Therapy for Seniors
Mobility challenges are a common health concern that many older adults face, and they might find themselves unable to enjoy the activities they once did.
Physical therapy can help seniors stay active, prevent them from falling, and teach them how to move around safely.
Here are some of the benefits of physical therapy for seniors4:
Physical therapy can improve balance and prevent falls. Many seniors begin to lose their balance as they age, with ¼ of Americans estimated to be at risk of falling. Physical therapy allows older adults to improve their balance during daily activities and helps them learn more about limitations.5
Physical therapy can promote independence. As you age, you may not be able to move around as quickly and efficiently as you once could. You may even need assistive devices to help you move around. Physical therapy can help seniors maintain their independence by teaching them how to safely perform everyday tasks.
Physical therapy can help manage pain. Many seniors suffer from health concerns such as arthritis, osteoporosis, and muscular conditions. Physical therapy can help seniors manage the pain of these conditions and give them the support they need to strengthen their joints.
Physical therapy can help control symptoms of certain health conditions. Health conditions commonly managed with physical therapy include pelvic floor dysfunction, multiple sclerosis, Parkinson's disease, and hip or knee replacements. A senior who experiences one or more than one of these conditions should consider physical therapy to improve their quality of life.
Choosing a Physical Therapy Program
Deciding on a physical therapist and goals can be difficult and strenuous to navigate alone. If you or a loved one needs short or long term physical therapy, there are steps you can take to find the right support:
Choose a physical therapist or rehabilitation center that aligns with you or your loved one's goals and needs.
Find a program that is covered by your insurance plan.
Research the cost and create a payment plan if needed.
Support your loved one by attending appointments with them or offering words of encouragement.6
Learn More Today
Saber Healthcare utilizes our exclusive Progressive Approach to Home (PATH) program. PATH includes customized treatment plans for each patient to further ensure a comfortable, safe, and successful return home. Our physical therapists work with residents to regain strength and balance, prevent falls, increase range of motion, decrease pain, and regain functional mobility.
Saber Healthcare is an organization that provides services to more than 115 buildings across the states of Ohio, Pennsylvania, Virginia, North Carolina, Indiana, Delaware, and Florida. To learn more about our company and services, click here.
Saber Healthcare is an organization dedicated to providing consultant services to long-term care providers. This article is for informational purposes and is not meant to be seen as professional advice. Please consult with a medical expert before relying on the information provided.
Sources