Commitment + Clinical Leadership = Better Outcomes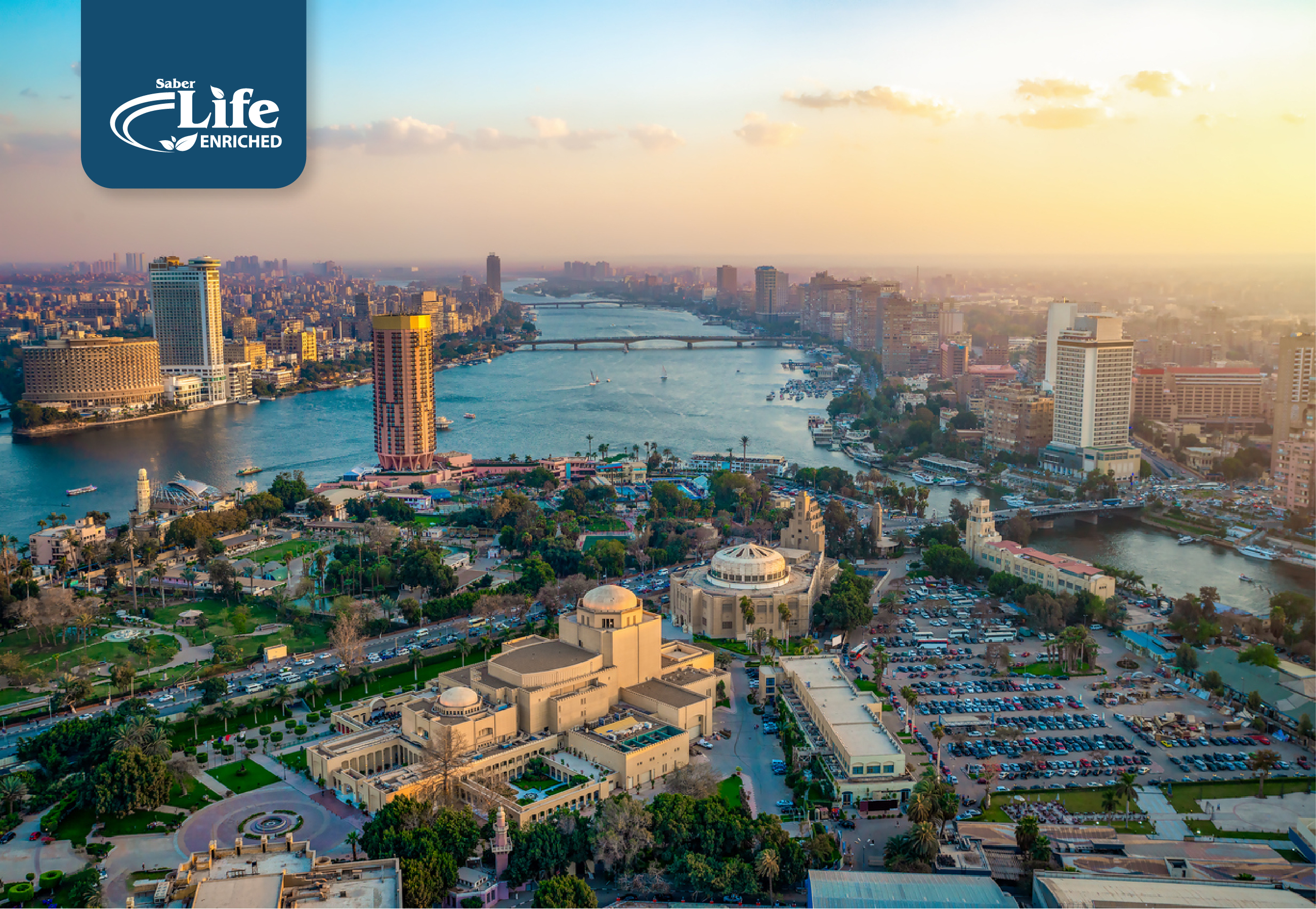 Port of Call: Discovering Cairo
Jun. 13th, 2023
Here at Saber Healthcare, we offer a Port of Call program to the communities we serve. These monthly Port of Call programs serve as an opportunity for collaboration between our Life Enrichment and Dietary departments.
As part of this unique experience, residents of participating communities will take a trip to a different port to enjoy food and activities related to each destination and its culture. In June, we're taking our passports to Cairo to enjoy the rich culture of Egypt!
About Cairo
Cairo is the capital of Egypt and rests on the banks of the Nile River. Cairo is currently home to 10 million people and is one of the largest cities in Africa.
Cairo is known for its ancient history that attracts many tourists, with more than 400 registered historic monuments.
Things to Do in Cairo
Cairo is a historic, ancient city with many activities the whole family can enjoy. There are many tourist attractions in or close to Cairo, including the Pyramids of Giza, the Egyptian Museum, Islamic Cairo, the Citadel of Saladin, and Coptic Cairo.
Additionally, Cairo has what is known to be one of the world's oldest open-air markets, Khan El-Khalili, which has many different foods, spices, antiques, and shopping available. If you're interested in trying authentic Egyptian cuisine, there are many local restaurants to stop in and eat throughout the city, as well as street vendors.1
There are also sightseeing activities, such as sailing the Nile River or a desert safari ride, if you want to be more adventurous.
Weather in Cairo
Cairo, Egypt has a desert climate, which consists of hot days and cool nights. The Spring season, from March to May, is thought to be one of the best times to visit Cairo, as the weather averages around 70 degrees Fahrenheit.
Cairo has hot summers, with temperatures often exceeding 95 degrees. It also gets humid due to Cairo being located close to the Mediterranean Sea. The Autumn season has warm days and cool nights.
Winter in Cairo typically has temperatures that reach 68 degrees, but it can occasionally get cold. Rain is rare in Cairo's climate, but it's more common in the winter months.
History of Food in Cairo
Food in Egypt is varied and mildly-spiced. Many of the flavors and cuisines have been influenced from other areas of the world, such as Rome and India. Egyptian cuisine relies heavily on poultry, vegetables, legumes, and fruit from Egypt's Nile Valley and Delta.2
Hummus, falafel, shawarma, and kebab are all famous Egyptian dishes. Lamb, beef, and chicken are common meats used in meals. Additionally, bread is a staple that is baked several times a day and consumed at almost all Egyptian meals.3 Mezze, Egyptian dips/tapas, are usually served with bread before the main course. It's also common for a meal to consist of various plates.4
Cheese is a popular food group in Egypt. It's thought that cheese was being made in Egypt over 5,000 years ago, during the First Dynasty of Egypt, since remnants of cheese were found in ancient alabaster jars.5
Tea is the national drink of Egypt. Egyptian tea is black and sour, and sometimes served with milk. Tea is a common etiquette in Egypt and is typically drank in the morning and after lunch.6
Port of Call at Saber Healthcare
Our Menu
The dietary department puts together a menu for each Port of Call. Here is what's on the menu for Cairo, as well as the directions on how you can make these delicious recipes at home. These recipes serve 10.
Egyptian Tossed Salad
6 cups canned chickpeas, rinsed and drained
1 cup green pepper, diced
1 cup sundried tomato, julienne cut
1 cup green olives
1 cup black olives
1 cup cherry tomatoes, cut in half
1 TSP salt
1 TSP ground black pepper
3 TBSP olive oil
3 TBSP vinegar
Method
Combine all ingredients and mix well. Cover and refrigerate until serving.
Chicken Shawarma
5 cups chicken strips, raw or tenders
2 cups red onion, sliced thin
2 cups red bell peppers, julienne cut
2 cups green peppers, julienne cut
5 TBSP olive oil
1 TSP salt
1 TSP ground black pepper
1 TBSP paprika
1 TBSP ground cumin
4 TBSP lemon juice
2 TBSP cilantro, chopped
1 TSP dried thyme
Method
In a large sautee pan, heat up the oil, then slowly add chicken strips or tenders for 5 minutes. Cook until golden brown.
Transfer chicken into a side container and set aside. Add all vegetables to the sautee pan and sautee for 3 minutes. Return chicken to sautee pan and slowly combine the ingredients together.
Continue cooking for an additional 3 minutes. Season with seasonings and herbs. Drizzle lemon juice over for flavor.
Turmeric Rice
4 cups rice, parboiled
1 TBSP ground turmeric
2 TBSP unsalted butter
2 TBSP olive oil
2 cups yellow onion, diced
1 TSP salt
1 TSP ground black pepper
7 cups chicken broth
2 TBSP cilantro, chopped
Method
Sautee onion in olive oil and butter until translucent, then add turmeric and rice. Sautee for 5 minutes.
Add seasonings and broth and bring to a boil. Lower heat and simmer for 30 minutes covered.
Remove from fire, and keep covered for 10 minutes before serving. Garnish with cilantro.
Egyptian Basbousa
5 cups cornmeal flour
1 cup melted butter
2 TBSP honey
1 cup granulated sugar
1 cup plain yogurt or sour cream
1 TSP baking powder
1 cup shredded coconut, unsweetened
2 TBSP tahini
1 cup whole almonds, peeled
1 cup almond milk
Syrup
1 cup granulated sugar
1 cup water
1 TBSP lemon juice
2 TBSP honey
1 TBSP vanilla extract
3 cardamom pods
1 TBSP rose water
1 cinnamon stick
Method
Preheat oven to 350 degrees. Combine all ingredients in a mixing bowl and whisk well. Spread mix on a greased shallow pan. Garnish with sliced almonds.
Bake for 20-25 minutes. Cool at room temperature.
Make syrup by combining ingredients in a saucepan and whisking well. Bring to a boil, then simmer for 5 minutes.
Cut into 2"X2" squares, then pour syrup over.
Activity Plans for the Port of Call
For our Port of Call program, the Life Enrichment teams create activities that allow our residents to explore the culture. For Cairo, here are some of the fun and exciting activities taking place in a few of the buildings we offer services to:
Amberwood Manor: Amberwood has a fun craft planned that includes making hieroglyphics out of homemade salt dough, writing names in hieroglyphics on the dough, and baking it. Once finished, they'll be stone-hard! They will also be dressing up in the colors of the Egyptian flag and enjoying an Egyptian-inspired meal.
Cortland Healthcare: For this month's Port of Call, the Life Enrichment team at Cortland will be sharing a virtual tour with the residents to show them the city of Cairo. They will also be making pyramid crafts.
Caring Heights Community Care and Rehabilitation Center: Caring Heights plans on having the residents enjoy a travel video on Cairo, and serving KAHK cookies, an Egyptian treat. They will have a pyramid backdrop for pictures, and Egyptian flags and sphinx for décor. There will also be trivia and discussion among residents!
Bath Creek Estates: Bath Creek is hosting a Cinema and Dine for their residents with an Egyptian movie and Egyptian dessert! They will also enjoy music and Port of Call cooking, including fresh bread and hummus.
Grey Stone Health and Rehab: Grey Stone's residents will be playing a fun trivia game they are incorporating with their morning exercise! They will enjoy a port of call meal, and also do a painting activity and paint pyramids.
About Saber Healthcare
Saber Healthcare is proud to offer our distinctive Port of Call program each month. We hope the residents enjoy Cairo and everything it has to offer!
Saber Healthcare is an organization that provides services to more than 115 buildings across the states of Ohio, Pennsylvania, Virginia, North Carolina, Indiana, Delaware, and Florida. To learn more about our company and services, click here.
Saber Healthcare is an organization dedicated to providing consultant services to long-term care providers. This article is for informational purposes and is not meant to be seen as professional advice. Please consult with a medical expert before relying on the information provided.
Sources