Commitment + Clinical Leadership = Better Outcomes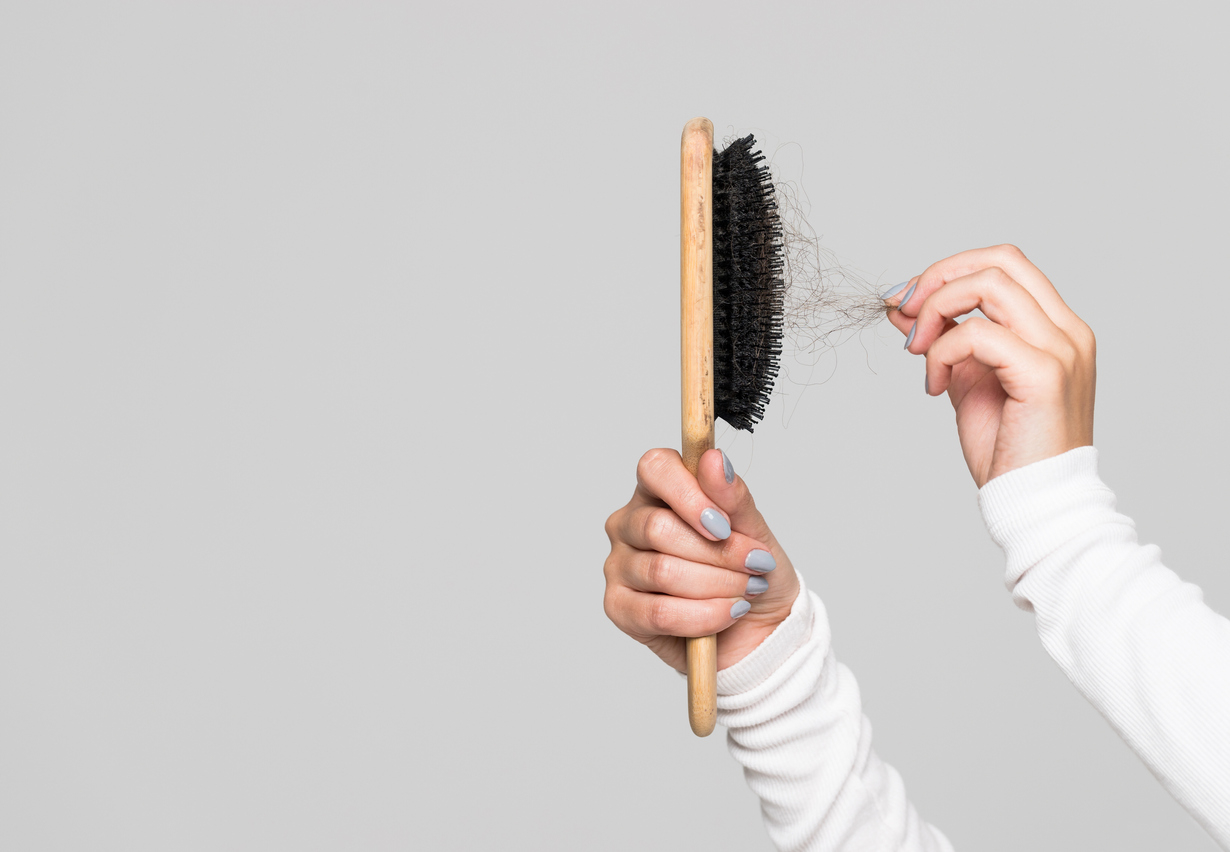 What Causes Hair Loss?
May. 23rd, 2022
Hair loss is a common occurrence among many people. Although older adults are more likely to experience hair loss from the natural aging process, it's also a side effect of many different health conditions.
If you're experiencing hair loss, you may be curious what's causing it and when to seek help from your doctor. Here are different health conditions that are commonly associated with hair loss, as well as treatment options and prevention.
What Can Cause Hair Loss?
It's completely normal to lose hair daily. However, if you see a noticeable difference, that could mean there's an underlying issue.
Here are some signs to look out for:
Receding hairline
Bald spots/patches
Extensive loss of hair after washing or brushing
Itching on the scalp1
Here are some common causes of hair loss that do not relate to any specific health concern:
Aging
Family history/hereditary
Hormonal changes
Stress
Hairstyles or hair treatments
Medications2
Although not all causes are preventable, if you believe you're struggling with hair loss due to certain medications or stress, talk with your doctor.
Aside from the common causes above, numerous health conditions can contribute to hair loss.
Thyroid Disorders
Thyroid disorders such as hypothyroidism, hyperthyroidism, or thyroid disease can cause hair loss. The thyroid hormone is essential for hair follicle development.3 When the thyroid is impacted due to one of these conditions, hair loss is common.
Lupus
Lupus is an autoimmune disease that causes inflammation and pain throughout different parts of the body.4 The inflammation from Lupus can spread to the scalp, which can lead to hair thinning and hair loss. Lesions may also develop on the scalp, which can scar the hair follicles and cause permanent hair loss.5
Diabetes
People with diabetes may experience hair loss. Diabetes can interrupt the hair growth process, and it can also cause more hair loss than normal. Those with diabetes are also at risk for alopecia areata, which is when the immune system attacks the hair follicles and causes hair loss on the head or other areas of the body.6
Polycystic Ovary Syndrome
Polycystic ovary syndrome (PCOS) is a common hormonal disorder among women.7 Hair loss is a symptom of this disorder. Those with PCOS experience hair loss because excess androgenic hormones are present.8
Psoriasis
Psoriasis is an autoimmune condition and chronic skin disease that causes inflammation throughout the body, rashes, and scaly skin.9 Psoriasis can cause hair loss if the scalp is impacted. The lesions that appear with this autoimmune disorder can cause breakage or affect the scalp where the hair follicles are.10
Crohn's Disease
Crohn's disease is an inflammatory bowel disease that causes inflammation in the digestive tract.11 Crohn's can affect the body's ability to digest nutrients. If someone becomes malnourished because of this, hair loss is common. Medication for Crohn's may also be a cause of hair loss.12
Prevention
In some cases, such as the medical conditions mentioned above, hair loss is inevitable or extremely difficult to prevent. However, here are some tips to take good care of your hair and hair follicles, and potentially prevent permanent hair loss.2
Be gentle with your hair when brushing
Avoid coloring or dyeing hair
Refrain from using hot tools too often
Protect your hair from hot tools with a heat protectant
Ask your doctor or a trusted professional about hydrating or soothing hair treatments/masks
Ask your doctor about medications that may be affecting your hair
If you have a health condition that affects the hair and causes hair loss, talk with your doctor about the best treatment plan. In most cases, medications and treatment for some of these conditions can help treat symptoms such as hair loss.
Learn More Today
If you or a loved one experience excessive hair loss, talk with a doctor. You can discuss your hair loss condition and work together to identify the underlying cause.
Saber Healthcare is an organization that provides services to more than 115 buildings across the states of Ohio, Pennsylvania, Virginia, North Carolina, Indiana, Delaware, and Florida. To learn more about our company and services, click here.
Saber Healthcare is an organization dedicated to providing consultant services to long term care providers. This article is for informational purposes and is not meant to be seen as professional advice. Please consult with a medical expert before relying on the information provided.
Sources