Commitment + Clinical Leadership = Better Outcomes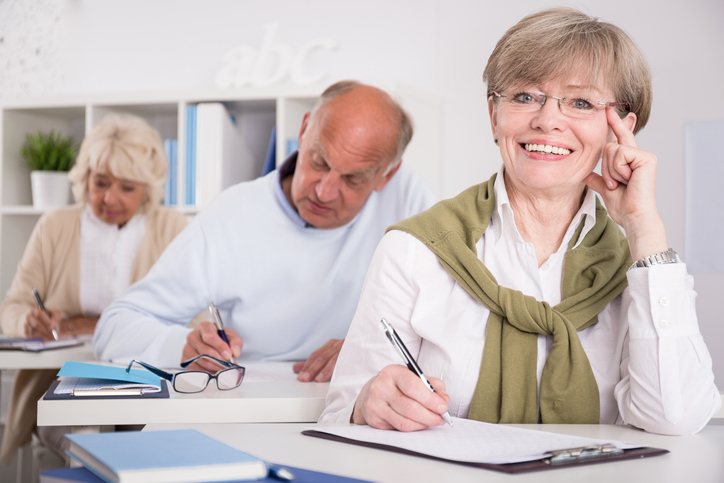 How Continuing Education Classes Can Benefit Seniors
Aug. 3rd, 2022
It's back-to-school season, and students of all ages are preparing to attend classes. Now is a great time for seniors to consider enrolling in a continuing education class where they can dive into a topic they've always wanted to learn!
The Benefits of Continuing Education for Older Adults
Many seniors pursue continuing education for a variety of reasons, including:
Learning a new talent or skill
Starting a secondary career
Meeting like-minded people
Getting out of the house and having fun
There are many mental and social benefits of continuing education classes for senior citizens. Some benefits of continuing education classes include:
Learn new skills. Classes can give seniors the opportunity to explore a skill they may have never gotten the chance to try. Whether they've always wanted to learn more about cooking, art, music, fitness, history, or technology, they can find what they're passionate about and develop a new talent.
Socialization. Did you know that more than 40% of seniors regularly experience loneliness, according to a study by the University of California in San Francisco? Continuing education classes can give seniors the chance to socialize and meet others interested in the same hobbies.1
Improve cognitive functioning. People who participate in activities throughout their lives keep their brains active and engaged. According to the Alzheimer's Association, activities involving learning can decrease the risk of Alzheimer's and dementia. Some activities that keep the mind active include arts, crafts, music, books, writing, and languages.2
Boost mood. Education can help give seniors a sense of purpose and improve their mood. Continually engaging in different activities and classes makes someone less likely to experience depression or anxiety because they can channel their energy into learning a skill.
Helps seniors stay up-to-date with the times. What an older adult learned back when they were a child is different from what is being taught now. Seniors can stay up-to-date on their chosen topic of interest by taking continuing education classes.
How to Find Continuing Education Classes
There are plenty of courses that are available in the community or online. Many classes are free, but seniors can enroll in courses that fit their budget and schedule.
Seniors should consider what environment they best thrive in before enrolling in a continuing education course. Some may find that they can focus better at home while others prefer an in-perosn social environment.
Community College Classes
Many community colleges offer classes for older adults that are a great way for seniors to socialize, make friends their age, and stay engaged.
Some different options for community college classes include:
Arts and crafts classes. There are many arts and crafts that older adults will enjoy, such as painting, drawing, sewing, knitting, ceramics, and floral design.
Cooking classes. If an older adult enjoys cooking, a cooking class is a great way to keep them up-to-date on the best recipes! Cooking courses can help seniors develop their cooking talents and allow them to meet others who share the same love of food.
Fitness classes. If a senior likes to stay active or has a recommendation to exercise by a doctor, fitness classes are another fun option. Fitness classes range from easy to intense and can include activities such as water aerobics, yoga, or Pilates.
Film classes. There are many classes that revolve around studying films from different time periods. These classes can also help seniors get creative while they learn to shoot their own film.
Coding classes. For older adults who enjoy working with technology, there are coding classes available to help them learn the basics of web design. HTML, CSS, and Javascript are some of the basics of coding that can be learned at a community college.
University Classes
There are seniors who may have never finished earning their degree or never went to college. Some seniors wish to pursue an entirely new field during retirement, whether it's a skill they want to learn or a passion they are interested in. Many seniors will find time to attend university classes during their retirement.
Many colleges and universities offer continuing education programs to help seniors achieve their goals. Some programs for seniors at universities are free and welcome older adults to come learn on their campus. Additionally, some universities will even provide senior discounts.
Online Classes
Online classes are an opportunity for seniors to join an online community and learn a skill virtually from home. Seniors can search for free courses they're interested in online. Some online resources for classes include LinkedIn Learning, Skillshare, Coursera, and Udemy.
If an older adult is unfamiliar with the internet, there are technology courses they can take to learn more about using their computer and mobile phone. Many of these classes will walk through the basics of technology and give seniors a basic understanding of the internet.
Local Groups
Some places will offer classes or mind-enriching activities in a group setting. For example, many libraries will have groups dedicated to book studies or writing. There are also fitness centers that offer senior fitness activities where seniors can meet and learn how to safely exercise as they age.
Some courses are public while others are specifically designed for those living in long-term care or assisted living communities. Local groups can help seniors find people who are passionate about the skill they want to learn and join the group.
Some places that will have continuing education groups include:
Senior centers
Libraries
Churches
Local business
Volunteer organizations
Saber Healthcare Encourages Seniors to Continue Their Education
No matter how old you are, we encourage you and your loved ones to continue pursuing educational opportunities. Continuing education programs allow people at any age to learn new skills where they can find their passion and talents.
To learn more about Saber Healthcare and the nursing and rehabilitation we provide, check out our locations and services we offer.
Saber Healthcare is an organization dedicated to providing consultant services to long-term care providers. This article is for informational purposes and is not meant to be seen as professional advice. Please consult with a medical expert before relying on the information provided.
Sources
"One is the Loneliest Number: Combating Senior Isolation." Stonegate. Accessed 29 July 2022. "Link: https://stonegatesl.com/one-is-the-loneliest-number-combating-senior-isolation/#:~:text=More%20than%2040%20percent%20of,death%2C%20the%20UCSF%20researchers%20find.
"How to reduce your risk of Alzheimer's and other dementias." Alzheimer's Society. 25 November 2022. Accessed 29 July 2022. Link: https://www.alzheimers.org.uk/about-dementia/risk-factors-and-prevention/how-reduce-your-risk-alzheimers-and-other-dementias#5