Commitment + Clinical Leadership = Better Outcomes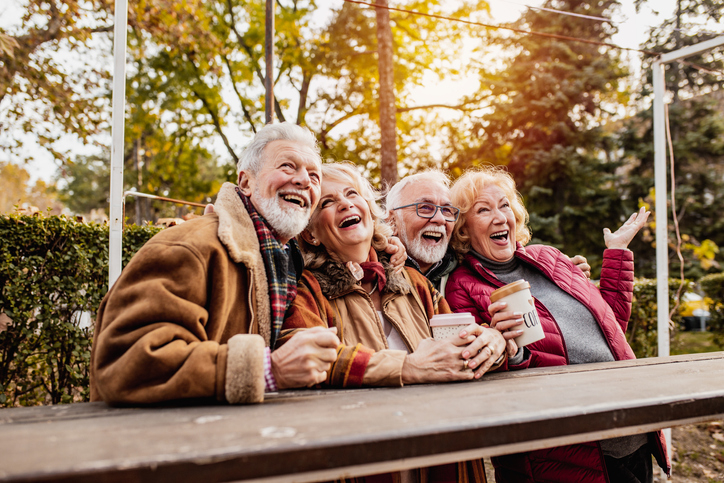 2023 Fall Activity List for Older Adults
Sep. 12th, 2023
Now that fall is here, it's the season for enjoying the beautiful colored leaves and pumpkin spice everything.
There are also many fun activities associated with the season that will be coming up, such as hayrides and pumpkin picking.
We've compiled a list of 22 fall activity ideas that seniors can enjoy with the family to help you and your loved ones celebrate the season!
Bake a Pie
Pies are a big part of the autumn season, especially ones that are made with apples or pumpkins. One fun idea for an activity that you can enjoy is pie baking, especially if your senior loved one likes cooking food.
The best part of making pie together is enjoying the finished dessert outside on the patio as you and your loved one look at the autumn colored leaves!
Go for a Hike
There are many beautiful scenic changes that come alongside the fall scenery. The landscape will begin to turn golden, and wildlife can be seen preparing for the upcoming winter.
Going for a nature hike can be one way you and your loved one bond together this fall. If your loved one likes to take photos, this is an opportunity for them to capture some of autumn's unique scenery on camera.
Apple Picking
Apple picking is another fun activity that older adults can enjoy. There are many local farms that will allow you to pick apples directly off the trees, and the apples they offer will vary by the time of year.
After you go apple picking, you and your loved one can bake a pie, cook apple fritter, make applesauce, or squeeze apple juice. This can be a fun way to spend quality time together during this season.
Pumpkin Picking
Pumpkin picking is another fun activity that people of all ages can enjoy. With the harvest, pumpkins are ripe and ready to be picked at the farms.
You and your older loved one can visit a pumpkin patch to find the pumpkins that fit your needs. Once you have the pumpkins, you can bake fall treats or turn them into Halloween decorations.
Pumpkin Carving or Painting
Carved pumpkins are a popular way for people to decorate their porches. Pumpkin carving is a creative activity where you and your loved one can use your artistic skills to create fun designs.
However, if your older loved one struggles with arthritis or doesn't feel comfortable carving a pumpkin, consider painting the pumpkins instead. This is a way to enjoy the fun of decorating pumpkins without worrying about injuries.
Have a Backyard Campout
Camping in the backyard is a great way to enjoy the cooler weather while spending time together. You can set up a backyard campout complete with a tent, bonfire, and snacks right at your own house!
Some ways you can make your family campout memorable include sharing ghost stories and watching the stars. You can also gather everyone around the campfire and play a game together!
Decorate For Halloween
If your older loved one likes the spooky season, you can help them decorate their home for Halloween. There are many fun decorations that you can shop for together, including items with skeletons, witches, black cats, and ghosts.
Once you come back home with the decorations, you can help your loved one put them up around the house. You can share Halloween stories while you decorate and discuss your favorite childhood memories of the holiday.
Watch Scary Movies
Scary movies are another popular way you can celebrate the autumn season. Gather your family around the couch and marathon some of your favorite scary movies together.
You can also share some fun snacks together such as popcorn, cookies, and chips while you enjoy the movie.
Visit a Haunted House
Haunted houses are a great way to enjoy this season, especially if your older loved one admires the art of spooky Halloween decorations.
There are different levels of haunted houses depending on your family's scare tolerance. Search for the perfect haunted house experience in your town to celebrate the chillier weather and Halloween!
Go to a Corn Maze
Corn maze challenges are a popular autumn activity where you have to navigate your way to the exit. There are many corn maze challenges that pop up around this time of year. Each maze is a different size and difficulty depending on your skill level.
If you and your loved one want a challenge, find a corn maze near you where you can test your ability to find the exit.
Go on a Hay Ride
Hay rides are a fun outdoor activity for seniors because they can enjoy the fall scenery. There are many hay rides available at different farms and festivals that can take you through the breathtaking autumn landscape.
Some hay rides will be offered at autumn festivals or events. Your family can also take photos of the scenic views that you can later turn into a scrap book.
Have a Friendsgiving
If your family has a lot of friends, throwing a Friendsgiving is one way that you can enjoy the season with people you care about. A Friendsgiving is similar to a Thanksgiving where you enjoy a meal together, except it will only include your family's closest friends. Seniors will enjoy a Friendsgiving because it will give them a chance to reconnect with their friends, especially those that they may not have spoken to in a while.
Reach out to your loved ones and ask them if they're interested in having a Friendsgiving. Everyone can pitch in and bring their favorite seasonal dish to help make the experience memorable.
Have a Fall Picnic
A fall picnic is the perfect way to spend time with your loved ones while enjoying the beautiful orange and red colors that come with autumn. You can plan a family picnic at the park or in your own backyard this year.
Make sure that you bring an autumn-themed picnic blanket along with a basket for the food. You can hand out your favorite fall treats with one another as you share stories of past Thanksgivings and Halloweens.
Bake Seasonal Treats
If your senior loved one enjoys cooking or eating food, making seasonal treats can be a fun activity you can do together this year. Fall is notorious for treats that are pumpkin and apple flavored.
Some ideas for fall treats include cookies, candy apples, s'mores, pies, cheesecakes, and cupcakes. You can swap your favorite recipes or discover a brand new family tradition together.
Have a Tailgate Party
Tailgate parties are a popular way people celebrate football during the fall. A tailgate is a party that is thrown in the parking lot of a football stadium before a big game.
However, your family doesn't need to necessarily go to the big game to have a tailgate party. You can create one in your own home and invite your friends to come watch the game. Even people who don't like sports will go to tailgate parties to see their families and friends.
Enjoy a Board Game Night
Board games are a great way for you and your loved one to bond together on chilly autumn nights. You can invite the entire family to sit around and enjoy a game together.
Some fun board games to play with seniors include Monopoly, Catan, Battleship, Scrabble, Clue, Chess, and Axis & Allies.
Make Homemade Pumpkin Spice Lattes
Pumpkin spice lattes are a popular treat many people enjoy throughout the autumn season. If your loved one enjoys pumpkin spice lattes, consider making your own at home to celebrate the changing leaves.
There are many recipes for pumpkin spice lattes available on the internet. You can mix your coffee with pumpkin, vanilla extract, milk, sugar, and spices to make your own latte.
Play Digital Games
Many seniors love games such as trivia and Sudoku, and you have the opportunity to play these digitally with them. Digital games are a great way for seniors to keep their mind active on colder days while learning technology.
If your loved one isn't familiar with how to use a phone or Ipad, consider taking steps to teach them the ropes.
Do an Autumn Puzzle
If your senior loved one enjoys doing puzzles, there are many puzzles available at the store that center around the autumn scenery. You can go to the store together and choose a puzzle that you would like to make the picture of.
Puzzles are a great way for older adults to keep their brain active while spending quality time with the family. You can choose a puzzle that suits their skill level and assist them with putting the pieces together if needed.
Visit the Farmer's Market
The farmer's market is a great way to support your local farms while getting some much-needed items for cooking up your family's fall treats. At this time of year, many farmers are excited to sell their harvests to help families make seasonal meals.
Some items you can look for at a farmer's market include fresh fruits, vegetables, meats, jams, spices, pastas, and breads. You can find a farmer's market near you and make a list of items that you can use to create some of your favorite autumn recipes.
Go Shopping for Fall Attire
Fall is the season for warm sweaters, cozy slippers, and stylish scarves. If you or your loved one needs new fall attire for this season, take a shopping trip together to pick out some items for the upcoming colder weather.
You can visit your favorite stores or make it a day trip to the mall. As you look for clothes, you can give each other suggestions and see what looks best with each outfit.
Knit a Scarf, Hat, or Sweater
If your loved one is creative and likes to knit, making an autumn themed scarf or sweater can be a fun activity that you can enjoy together. You can go to the store and choose materials in oranges, yellows, grays, and reds that match the leaves outside.
Knitting is a great way for you and your loved one to learn a new skill while spending time together. You will also have something to remember this year by when you're done!
Make Fall Wreaths
Making fall wreaths with autumn-colored decorations such as leaves, pumpkins, flowers, leaves, and pinecones is one way you and your senior loved one can get creative this year.
You can go shopping and choose out the items that you'd like to make the wreaths with. Then, you can spend time putting them together and creating one for each door. When you're done you can hang them up as seasonal decorations.
Rent a Cabin
If your loved one enjoys the outdoors, consider going on a trip with them where you can stay in a cabin. This is a great opportunity to enjoy the beautiful scenery while spending time together.
During the day, you and your family can take nature hikes, fish, and enjoy outdoor activities. There are many camping sites that offer cabins for people to rent during this season, as well as places that are designed for vacationers to stay.
Plant a Garden
Many seniors love gardening, and this is the time of year where you can help them plant flowers that will bloom in the spring.
Some plants you and your loved one can add to the garden include tulips, violas, turf grass, and daffodils. When the spring season comes around, these plants will bloom and create a colorful look in the yard!
Saber Healthcare is Excited for Fall!
Here at Saber Healthcare, many of the staff and residents at our communities are excited for the fall season. Our Life Enrichment department always works to provide fun, seasonal activities that our residents can enjoy throughout the year. In the past, our buildings have had fall craft days and served seasonal foods that our residents enjoyed.
To learn more about Saber Healthcare and the services that we provide, click here.
Saber Healthcare is an organization dedicated to providing consultant services to long term care providers. This article is for informational purposes and is not meant to be seen as professional advice. Please consult with a medical expert before relying on the information provided.