Commitment + Clinical Leadership = Better Outcomes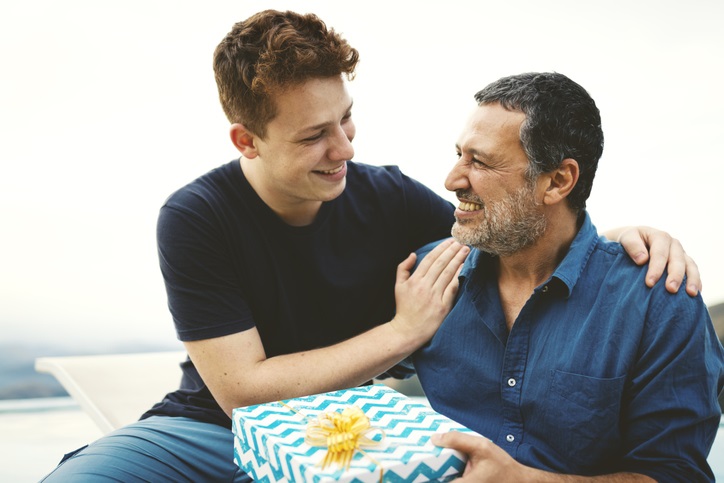 Father's Day Gift Ideas
Jun. 13th, 2022
Father's Day is a day to remember the love and care that our dads have shown over the years. Many dads work hard to provide for their families while caring for their children. The work that dads do each day does not go unnoticed!
If you're looking for a list of Father's Day gift ideas, you've come to the right place. Here's a list of gift ideas you can buy for dad to say "thank you" this year!
Food Ideas
A trip to a restaurant
Does your dad have a favorite place he likes to eat? Take him out to his favorite restaurant for Father's Day!
Food/dessert delivery
If you don't live in the same town as your dad, you can always have food delivered to him this Father's Day! Various services can cater meals on special holidays and gift him a treat that's Father's Day themed.
Mugs
Every dad needs a great mug to sip from while watching their favorite sports team. You can find a mug that is special to him, whether it's homemade, from his alma mater, represents his favorite team, or has a pattern he enjoys.
A new grill
Grilling is a popular pastime for many dads who enjoy cooking. A new grill can be a way for your father to rediscover his love for his favorite meals!
Pizza oven
Who doesn't love pizza? If your father enjoys creating homemade pizza from scratch, there are pizza ovens that are perfect to help cook the dough evenly. You can even try making a pizza recipe together while using the oven!
Stainless steel bonfire pit
Does your dad enjoy camping and making food over the fire? There are portable stainless steel bonfire pits that allow you to bring the fun of camping anywhere. He can set it up in his backyard or use it whenever he goes out camping.
Home ideas
A new lawnmower
Does your dad take care of the yard work? Make it easier on him by getting him a new lawn mower! This can help make his job each week more manageable and allow him to focus on other tasks.
A new toolbox
Is your dad the one who fixes everything in the house? His tools may be starting to get old and rusted. Consider buying him a new toolbox complete with brand-new tools to help make his fixer-upper jobs less of a hassle.
Wheelbarrow
Wheelbarrows are great for moving mulch, leaves, and other debris that can be found in the yard. Gifting your dad a brand-new wheelbarrow can allow him to move things easier and get the yard work done.
Entertainment ideas:
Bluetooth speaker
A bluetooth speaker is a great gift because it can allow your dad to listen to his favorite music, podcasts, and radio stations no matter what he's doing. Bluetooth speakers come in all sizes and prices, meaning you can find one that is the quality your dad needs while staying within your budget.
Movies
Does your dad have a favorite movie? Or perhaps he's a big fan of a certain genre, such as horror. You can find a movie and gift it to your father, or enjoy this gift by having a family movie night!
Game day tickets
If your dad has a favorite sports team, you can get him a trip to go and cheer them on! Oftentimes there will be games on Father's Day you can attend, but you can also get him passes to future events if his favorite sport isn't in season.
CDs
Does your dad currently listen to a favorite band? Or perhaps there was a group he enjoyed back in his youth. You can get him a CD to let him listen to all of his favorite tunes wherever he goes.
Books
If your dad enjoys reading, you can find him a set of books to enjoy this summer. You can find fiction or nonfiction books in his favorite genre, and many bookstores will offer different editions of classics to pick from.
Sports Posters
Does your dad have a favorite baseball, basketball, or football player? Or maybe he enjoys several sports teams and the people on them. You can purchase your dad sports posters that he can use to decorate his office!
Television
If your dad enjoys watching television, a brand-new TV will allow him to enjoy his favorite shows and sports in the comfort of the living room. There are many televisions to pick from, and you can even teach your dad to use the apps on it if he's unfamiliar with them.
Clothing Ideas
A new dress shirt
Dress shirts are a great gift for dad because they can be used for work, church, outings, and formal events. You can pick out a nice dress shirt that fits your dad's style and tastes.
Ties
Ties are an accessory that can be mixed and matched with many different outfits. You can buy your dad a tie or set of ties that match his personality, from fun to formal.
Slippers
Slippers make a good gift to help your father stay comfortable at home. Some slippers are made of beads and nonslip materials that can help prevent your dad from falling.
Customized sports apparel
There are many shops at different malls that allow you to create customized sports apparel. Many of these include creating jerseys and hats, which can often be customized to a specific sports team. If your dad likes to represent his favorite team, consider getting him a custom sports shirt or hat he can wear to the game.
Homemade Gifts
Homemade card
If you're feeling crafty, make your dad a homemade card this Father's Day. You can use your creativity to make the card, such as drawing a picture or using fun stickers and other items to make it special.
Custom Scrapbook
Does your family have photos from vacations, sports games, family outings, and fun events? Consider making your dad a custom scrapbook containing photos of his favorite memories to help him relive the magic over and over again.
Pillows
You can hand-make a pillow that will allow your dad to rest up after work each day. You can embroider his name or a picture onto it that you know he'll love!
Coasters
Coasters are easy to make and can be crafted from a variety of materials, including wood and corkboard. You can design custom coasters and give them to your dad as a gift this Father's Day!
Fitness Ideas
Gym membership
Does your dad currently enjoy working out? Or perhaps he aspires to and has talked about it for a while. You can help your dad stay healthy by getting him a gym membership at a local gym.
Home workout videos
If your dad doesn't have time to go to the gym, consider purchasing him a set of home workout videos. He can use these to work out at his own pace in the comfort of his house.
Workout equipment
Another great gift idea for a dad who likes to be active is to buy workout equipment. You can get him a set of dumbbells or a treadmill depending on his fitness level and goals. Other items such as yoga mats and exercise balls can also be excellent gift ideas for someone who wants to stay in shape.
Step counter or watch
A step counter will allow your dad to keep track of how much progress he makes each time he goes out for a walk or run. You can buy watches that have step counters in them or a device that is specifically designed to count steps.
Workout clothes
Your dad needs to have the proper workout clothes whenever he decides to be active. You can check his closet and buy replacements for old or worn-out items.
Happy Father's Day!
Here are Saber Healthcare, we're giving a shout out to all of the dads out there and the hard work they do each day! We appreciate everything fathers do for their families, friends, and loved ones in the community.
Saber Healthcare is an organization that provides services to more than 115 buildings across the states of Ohio, Pennsylvania, Virginia, North Carolina, Indiana, Delaware, and Florida. To learn more about our company and services, click here.
Saber Healthcare is an organization dedicated to providing consultant services to long-term care providers. This article is for informational purposes and is not meant to be seen as professional advice. Please consult with a medical expert before relying on the information provided.