Commitment + Clinical Leadership = Better Outcomes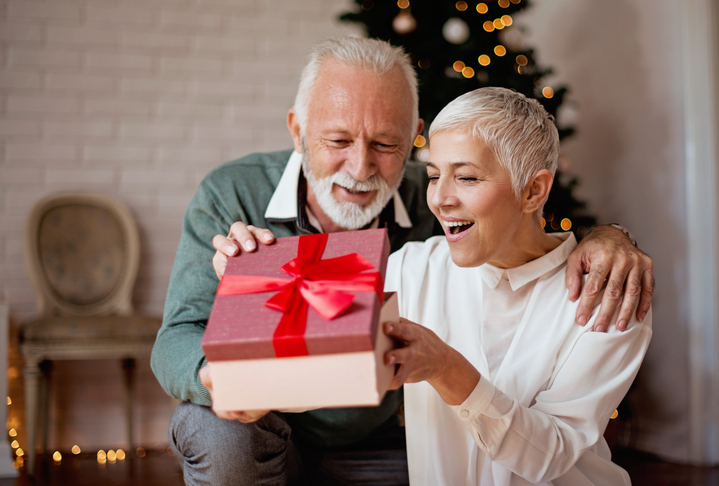 30 Unique Gifts Ideas for Seniors
Dec. 10th, 2020
Buying a gift for a senior can be challenging: sometimes they don't want anything, and other times they seem to have everything.
With Christmas upcoming, you still want to give your loved one a thoughtful present. We've compiled this list of thirty gift ideas for seniors to help get you started.
Take a look and find the perfect gift for the special person in your life.
1. Puzzles
Puzzles are a great way for someone to actively engage their brain. After all, it takes thinking and effort to successfully complete a good puzzle. Puzzles with thousands of pieces can take hours to complete, making this gift perfect for a person who's looking for a fun brain activity.
Find a puzzle with a picture that your special senior will enjoy. You can also give them the gift of doing the puzzle with them
2. A New Comfy Blanket
Another gift idea for an older individual is to purchase them a brand new blanket. While they probably already have one, over time a blanket will lose its fluff and will wear down with age.
Buying your family member or friend a new cozy blanket gives them something brand new to keep themselves warm. Besides, who doesn't love the feel of a new fluffy blanket?
3. Slippers
Slippers make a great gift for anyone who spends a lot of time walking around their house. This is a great gift idea for someone, especially if they always tell you that they're cold.
Consider buying slippers as a gift for your special family member or friend this Christmas. There are many different colors and styles, so you can find the perfect pair of slippers.
4. A Home Cooked Meal
If the person you are shopping for enjoys eating, then another idea might be to cook them something special this Christmas. If they have a favorite meal, why not give them the gift of food?
You can plan with your family members to prepare the meal and divide up who brings what for dinner. This can be a memorable Christmas dinner everyone can enjoy!
5. Jewelry
Does the person you want to purchase a gift for like wearing jewelry? Maybe they'd love a brand new pair of earrings or a necklace with their favorite gem.
If you know the senior you are shopping for uses and appreciates jewelry on a daily basis, this may be a great Christmas option. Purchase a thoughtful piece of jewelry you know they'll cherish for years to come.
6. Chocolate
Who doesn't love chocolate? It's creamy, delicious, and always makes for a great dessert after meals. Chocolate is one of the best gifts for senior loved ones because there are many different flavors and brands to choose from.
If you know the person in your life enjoys chocolate, buy them a box of their favorites as a gift. This sweet treat is sure to make them smile!
7. Reading Glasses
Old age can sometimes make it harder for someone to read or see smaller objects. Consider gifting a pair of reading glasses to help them see better.
Even if they already have a pair of reading glasses, this item can still be easily lost or misplaced. Giving a senior a pair of reading glasses ensures they'll always be able to have them in reach.
8. Soap or lotions
Everyone needs personal hygiene products, including the person you are looking to shop for. Think about giving them a soap, lotion, or other personal care product this Christmas.
If you know they have a favorite brand, even better: get them their go-to scent so you'll know that it'll be used to the last drop.
9. Coloring Books
Coloring books have grown in their popularity over the years due to the fact they are a relaxing activity that allows people to get creative. That makes coloring books one of the best gifts for an artistic person, especially if they enjoy drawings.
Buy the loved one in your life a coloring book and a pack of colored pencils to go with it. You'll be amazed how coloring can help expand their mind and bring joy into their life.
10. A handbag or purse
If the older person you know has a purse that has seen better days, you might want to think about purchasing a bag this Christmas. After all, everyone can use something to help store important items that can be easily misplaced.
A handbag or purse is one of the best gift ideas for someone because you can find one that is the right size and budget. With many different options, you'll be able to make their Christmas special.
11. Sewing Materials
Does your family member or friend like to make their own clothes? If so, sewing materials might make a great gift this Christmas!
You can buy them something they need (such as a new sewing machine) or a sewing kit to keep them busy throughout the holidays. Consider gifting sewing materials this holiday season!
12. A stuffed animal
Stuffed animals can make a great gift for a senior, especially if they love a certain animal or creature. After all, they might not be able to take care of a real pet in their old age.
Consider buying your senior a stuffed animal to give them happiness and joy. Stuffed animals can also bring comfort into their life and give them something to sleep with.
13. Music from their Childhood
If the person you are shopping for enjoyed a favorite band or group as a kid, chances are they'll appreciate a CD of their music. You can gift them a CD or album of their favorite musicians.
This will allow them to remember their cherished childhood memories. They can also listen to the CD over and over again, making this gift something they can use every week.
14. Socks
A great, simple gift you should consider buying for your senior is a pair of socks. Socks not only are a necessity, but you can choose a pair that suits their color and style preferences.
The great part about socks is you can find all different kinds: fluffy, silky, or just plain. Buy someone the gift of comfort this Christmas.
15. A sweater
Sweaters make a nice present, especially when there's snow and ice on the ground. A warm, cozy sweater might be just what the person you are shopping for needs this winter.
You can also choose a sweater that matches their unique personality: from patterns to fun designs, you'll be able to find the perfect present for someone this Christmas.
16. Flowers
If you don't know what to buy for an older person, consider giving them a bouquet of their favorite flowers. They'll appreciate the thought and enjoy them for the short season.
Flowers are also a great gift because they can brighten up any room. Think about coupling the flowers with a vase so they don't have to scramble to find something to display them in.
17. DVDs or Blu-ray discs
Everybody has a favorite movie or television show, so consider buying someone their favorites.
They'll be able to watch them over and over again, especially if they aren't technologically savvy when it comes to Netflix. You can even watch these with them!
18. Battery Operated Candles
Battery operated candles are always a nice Christmas idea because they are a great addition to any room. They come in many shapes and sizes, giving you the perfect opportunity to choose one that they will enjoy throughout the holiday season.
You can even add a matching candle holder to help your loved one enjoy the gift to the fullest!
19. Pajamas
Pajamas are a staple in everyone's closet, especially if you live in a colder region. Think about gifting your older family member or friend a pair to keep them warm throughout the night.
The best part about pajamas is you can find the ones that fit your loved one's style as well as your budget. Take the time to find the pair of PJs they can use this winter.
20. A Bird Feeder with Seeds
Bird feeders make a great gift for those who love nature and the outdoors. The smell of the food attracts all different kinds of birds.
Consider purchasing a bird feeder with some seeds if you know the special person you are shopping for likes to sit outside and watch animals.
21. A pill organizer
As people age, they oftentimes have to take pills to stay healthy. If your loved one has to take certain medications, give them a pill organizer this Christmas to help keep them organized.
Pill organizers come in different designs and colors, so choose the one that fits their needs best.
22. Something Homemade
Another idea to make the Christmas of an older individual is to make something for them. After all, if they have everything or don't need much, they'll be happy that you took the time to make something special for them.
Some ideas include cards, a scrapbook, cookies, or something to display in their home.
23. Lip Balm
If your senior family member or friend has dry lips, lip balm makes a great gift! You can buy lip balm in any shape, size, and color, and they can keep it in a purse or bag.
This is a great essential that's relatively inexpensive and can help spread a little holiday cheer into someone's life.
24. Foldable Cane
If your senior loved one has trouble moving or needs assistance, consider buying them a foldable cane. This item can be readily transported with them and help support their balance whenever they need it.
A foldable cane may be a necessity if your senior loved one has trouble balancing. Give them the gift of being able to better balance themselves this year.
25. Automatic Can Opener
If your senior no longer has the strength to open canned goods, then another Christmas option is an automatic can opener. Give the person in your life the ability to open the foods they want to enjoy on a daily basis.
Bonus if you include one of their favorite canned food items with the gift!
26. A Favorite Book
Another unique gift idea for a senior is a nice copy of their favorite book. Chances are, if the book is still in circulation, there are different colors and editions to choose from.
Take the time to find a copy you know your loved one will enjoy reading over and over again.
27. Art Set
If someone is creative, an art set might be perfect for them! Paints, colored pencils, yarn, or other crafting materials are great for keeping their mind active all day.
Consider putting art supplies under the tree this Christmas.
28. A Watch
Maybe they don't use technology to tell time, making a watch an excellent Christmas present! Watches can be found in many superstores as well as online, so you can find a watch that suits your loved one's style.
Gift your family member or friend a watch that will last them throughout the years.
29. A DNA Test
If your senior enjoys history or tracing back their roots, a DNA test kit might be perfect for them. This fun gift will allow them to learn more about their heritage and who they are.
Purchase a DNA test if you know someone interested in their ancestry.
30. A Card Holder
If someone receives and cherishes many holiday cards, another present idea for Christmas is a card holder. This can be a way to store and cherish all of the cards that have been given over the years.
A card holder can help a person enjoy the memories this holiday season!
Saber Healthcare Encourages Preparing for the Holidays!
Here at Saber Healthcare, we encourage our families, staff, and residents to be thoughtful about the gifts they buy their seniors for the holidays. It's important to think about how what you do for others can bring some holiday cheer this season.
To learn more about Saber Healthcare, click here.
Saber Healthcare is an organization dedicated to providing consultant services to long term care providers. This article is for informational purposes and is not meant to be seen as professional advice. Please consult with a medical expert before relying on the information provided.