Commitment + Clinical Leadership = Better Outcomes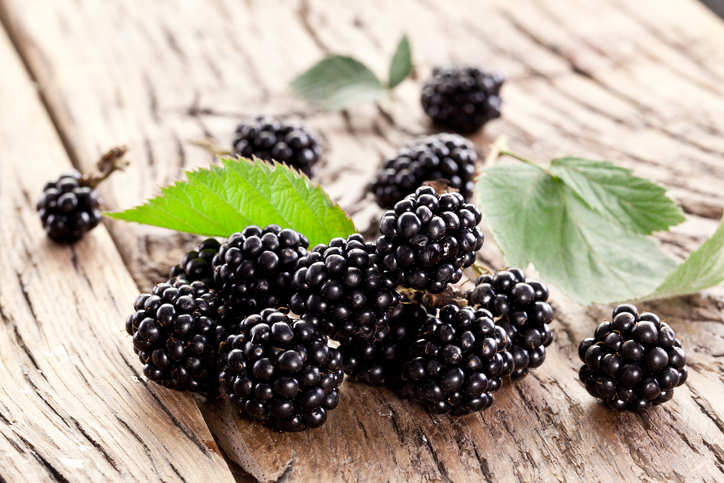 6 Health Benefits of Blackberries
Sep. 19th, 2022
Blackberries are a sweet, tart fruit enjoyed throughout history in many different cultures, from ancient Europe to Greece. It is estimated that there are over 375 species of blackberries and that they might have originated either from Asia, North America, South America, or Europe. In the United States, Oregon produces the most blackberries in a breed called the marionberry.1
Today, Americans eat blackberries in desserts, fruit salads, drinks, and syrups. Blackberries can be a great addition to different recipes given their small size and distinct flavor profile.
Here are 6 health benefits of blackberries you can get from adding more of this fruit into your diet.
Contains Vitamin C
Vitamin C, also known as ascorbic acid, is a nutrient that plays a role in skin, bone, and blood health. Vitamin C aids in your body's healing process and helps the skin stay youthful. Vitamin C can also protect the body against free radicals, which are unstable molecules that can cause heart disease, cancer, and other illnesses.2
A cup of raw blackberries is estimated to have 30.2 milligrams of vitamin C, which is half of the daily recommended value. This makes blackberries a great way to meet your daily recommended vitamin C goals.3
Improves Brain Health
Research suggests that berries such as blackberries, blueberries, and strawberries may protect the brain from memory changes caused by age. Berries might also prevent memory loss and prevent conditions such as Alzheimer's, dementia, and cognitive decline.
One way that berries might protect the brain is they contain antioxidants that can prevent damage caused by free radicals. Berries also change the way the brain's neurons communicate and can improve inflammation that damages cognition and fine motor skills.4
Contains Manganese
Blackberries contain manganese, a trace mineral that helps the body form connective tissue, build bones, control blood clotting, and maintain hormonal balance. Manganese has been found to play a role in brain and nerve function, as well as helps in the formation of collagen, which keeps the skin youthful.5
Blackberries are high in manganese, with one cup estimated to contain 40% of the daily recommended value.6 However, it's important to note that too much manganese might be toxic to the body when deciding on the portions of blackberries you include in your recipes.
May Aid in Oral Health
One unique blackberry health benefit is this fruit can protect the mouth from the bacteria that causes gum disease. A study looked at the effects of blackberries on 10 different oral bacteria, and the researchers found blackberries have antibacterial and anti-inflammatory abilities that can protect your gums and teeth.7
Gum disease can lead to tooth loss because it slowly destroys your mouth's tissues. The bacteria that causes plaque makes it more difficult to clean your teeth over time as you forget to brush, floss, and rinse. Blackberries might be a natural way to help fight oral bacteria on top of a good oral hygiene regimen.
Improves Digestion
Blackberries are a great source of insoluble fiber, which helps regulate your bowel movements. This makes insoluble fiber play a role in your colon's health, which can prevent colorectal cancer.8
Fiber is also an important part of a healthy diet because it regulates your body's blood sugar levels and reduces your cholesterol. It is estimated that blackberries contain roughly 8 grams of fiber per cup, making this fruit a great way to improve your digestive health.2
Maintain Weight
Another benefit of eating blackberries is they can help you maintain and lose weight. Blackberries are low in calories, with a cup of blackberries estimated to contain roughly 62 calories.9 This makes blackberries a great addition to meals you've prepared because they won't contribute to the overall calorie count.
Additionally, the fiber found in blackberries can help your body feel fuller for a longer period of time. This can help prevent you from snacking or overeating throughout the day.10
How to Add More Blackberries to Your Diet
If you're interested in reaping the many health benefits of blackberries, try adding some to your diet! Here are some ways you can eat more blackberries:
Add blackberries into your cereal
Make homemade blackberry jam
Add blackberries to your yogurt
Make blackberry syrup for your pancakes and waffles
Create a fruit salad with blackberries
Make homemade juice with blackberries
Make fruit juice popsicles with blackberries
Use blackberries in your smoothies
Bake blackberry muffins, pies, and other treats
Add blackberries into your lemonade mixtures
Create a snack bag with granola and fruits, and include blackberries
Eat More Blackberries Today!
Now that you're informed on some of the best blackberry health benefits, try adding more of this fruit to your diet. Blackberries can be a great addition to some of your current recipes, and you can try using blackberries to add a new flavor to your meals.
Here at Saber Healthcare, we believe in taking steps to make sure the residents at the buildings we offer services in meet their nutritional goals. Our dietary teams consistently work to develop and create menus that contain delicious food that meets our residents' daily vitamin and mineral needs.
To learn more about Saber Healthcare and the services we offer, click here.
Saber Healthcare is an organization dedicated to providing consultant services to long term care providers. This article is for informational purposes and is not meant to be seen as professional advice. Please consult with a medical expert before relying on the information provided.
Sources