Commitment + Clinical Leadership = Better Outcomes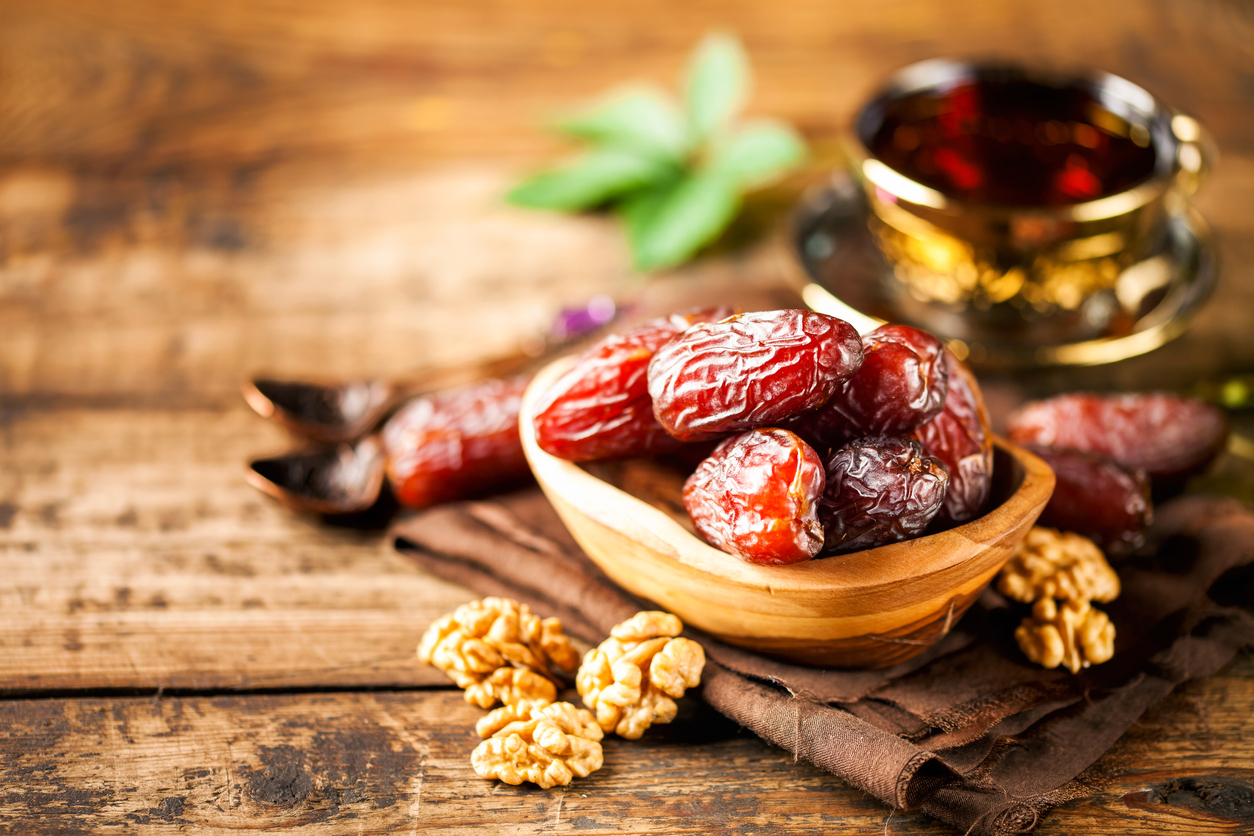 6 Health Benefits of Dates
Aug. 22nd, 2022
Dates are a fruit that come from the date palm tree. These trees grow in many different tropical regions throughout the world, and dates are imported to supermarkets all over today.1
Many people describe dates as sweet and chewy. Most people eat dried dates, which resemble raisins in texture and taste.2 However, fresh dates are also widely available as well. Dates contain many essential nutrients and there are many health benefits of eating dates.
Here are 6 health benefits of dates, as well as how you can incorporate them into your diet.
Health Benefits of Dates
Dates contain essential nutrients
One of the health benefits of eating dates is the nutrients that you consume.3 There are a variety of vitamins and minerals found in dates, including:
Dates are high in fiber
One fourth of a cup of dates contains 12% of the daily recommended value of fiber. Fiber helps you to feel full longer and it also aids in digestion.8
Healthy digestion can improve other aspects of your health as well, such as better nutrient absorption, improved kidney health, and enhanced liver health.9 One study found that those who consumed dates daily over a few weeks had improved bowel movements.10
Dates may protect the brain
Another one of the health benefits of dates is the compounds that protect your brain health.11
Regular consumption of dates has been linked to improved cognitive performance, especially in older adults.12 One study found that dates can combat inflammation and oxidative stress that occurs in the brain. This could be significant to protect against Alzheimer's disease and other brain disorders.13
Dates are high in antioxidants
Dates contain numerous disease-fighting antioxidants. Antioxidants can help protect your cells from free radicals, which are unstable cells that can cause damage, illness, and aging.14
The antioxidants found in dates can protect your cells from these free radicals, as well as reduce your risk of different diseases.
Some of the antioxidants found in dates include:
Flavonoids. Flavonoids are antioxidants that help reduce inflammation. It's been studied as a potential way to reduce diabetes, Alzheimer's, and certain cancers.
Carotenoids. These antioxidants promote a healthy heart and can reduce eye-related disorders.
Dates may improve bone health
Another one of the health benefits of eating dates is that they may improve bone health. Dates contain copper, magnesium, selenium, and manganese, all of which are essential in keeping your bones strong and healthy.12
Dates also contain calcium and phosphorus, which helps your bones benefit from absorbing more minerals. These nutrients can help to prevent bone conditions, as well as treat disorders such as osteoporosis.15
Dates can help control diabetes
Diabetes is one of the most common diseases, especially among older adults. Dates have been proven to reduce blood sugar and fat levels, which can help those with diabetes.9
One study found that type 2 diabetics who consumed dates had decreased levels of LDL or "bad" cholesterol, as well as the ability to maintain healthy blood sugar levels.16
Dates can also increase insulin production while reducing the rate that glucose is absorbed, which can help reduce your risk of getting diabetes.
How to Eat Dates
There are many different ways you can eat dates, such as eating them fresh or dried.17 Here are some ideas on how to eat dates:
Eat fresh or dried dates as a snack
Chop dates and add them to salads
Blend dates into your smoothie
Chop dates and make them into "no bake" energy or protein balls
Make homemade granola or granola bars with dates
Bake dates into a fruitcake
Bake dates into bread or scones
Chop dates and add them into your yogurt or on top of ice cream
Stuff dates with cream cheese and nuts, or any of your favorite condiments and toppings, for an appetizer
Wrap dates in bacon or prosciutto as an appetizer
Stuff dates with peanut butter and dark chocolate for a sweet treat
Try Dates Today
If you're interested in the health benefits of eating dates, try some today! There are many different ways they can be eaten and recipes they can be added to.
Here at Saber Healthcare, we prioritize our residents and offer services to help them meet their nutritional goals. Our dietary teams work hard to develop and create menus that are not only delicious, but also meet residents' daily needs.
To learn more about our company and services, click here.
Saber Healthcare is an organization dedicated to providing consultant services to long-term care providers. This article is for informational purposes and is not meant to be seen as professional advice. Please consult with a medical expert before relying on the information provided.
Sources