Commitment + Clinical Leadership = Better Outcomes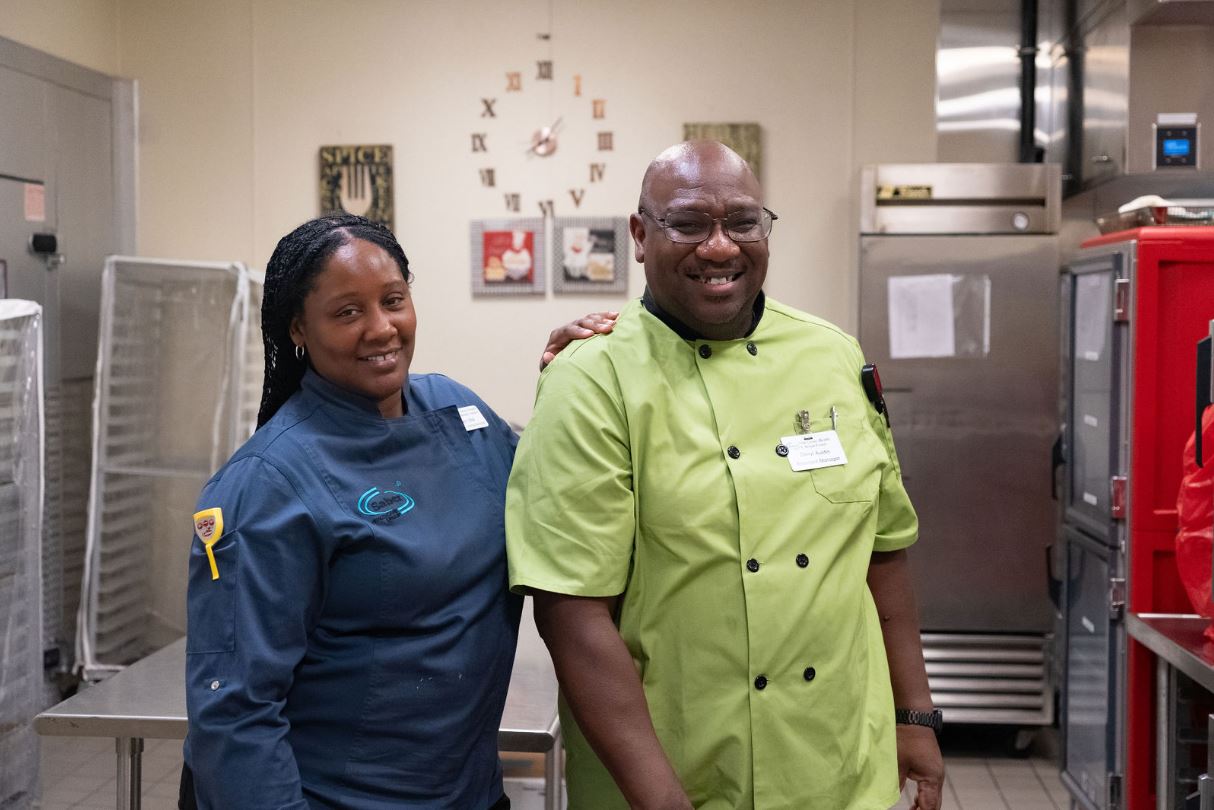 How Oak Grove's Dietary Team Benefits the Lives of Residents
Oct. 6th, 2023
National Healthcare Food Service Week is celebrated from October 1st through October 7th. During this week, Saber Healthcare Group is highlighting the hard work and dedication of our dietary teams.
Oak Grove Health and Rehab's dietary team works each day to serve nutritious and tasty cuisine to their residents and staff. We interviewed Joven Weir, Director of Dining Services at Oak Grove, about how she and her team create meals for their residents.
What goals does your team have when creating menus and meals for the residents?
When it comes to meals, there are menus for all of the seasons. Weir and her team tweak the menu to better fit the residents and their needs and wants.
Weir mentioned, "We are in the south, so the residents really like southern cuisine. Our residents rave over the shrimp and grits. We always make sure to get approval from the dietician to make sure that our meals serve the nutritional value that they need to be at. I think that we work well together when we need to brainstorm some simple tweaks for our menus."
How do you make meals for the staff and residents with your bistro?
At Oak Grove Health and Rehab, both the staff and residents can use the bistro. There is a selection of items offered each day, and Weir works to help ensure that there is always delicious food served. Weir believes the bistro is a huge benefit for residents, staff, visitors, and their community as a whole.
"Our bistro was designed with the schedules of the nurses in mind," Weir told us. "Many of our nurses work hard to provide care for the residents, and offering a nutritious meal on-site helps them to refuel on their break." When it comes to meals and the menus, Weir said she creates them with the help of Saber's Corporate Dietary team.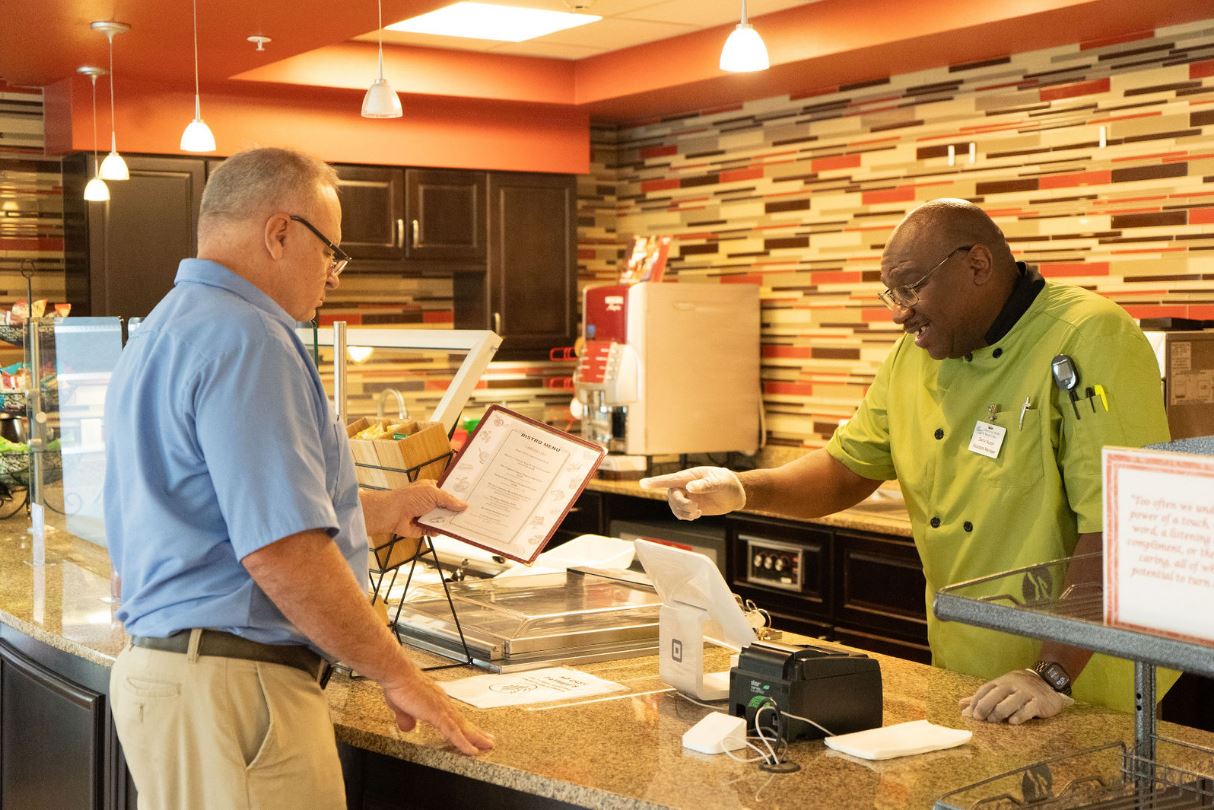 "To start off, Saber's corporate dietary team created a template menu for breakfast, lunch, and dinner," Weir explained. "Eventually, my team developed additional meals based on the menu and nutritional guidelines to give our residents some variety throughout the month. For example, we added a banana griddle sandwich to their breakfast meal, something the residents really enjoy."
Can you tell us about the Fresh Bread program and your team's journey to setting it up at Oak Grove?
Weir and her team completed a 12-week program led by Saber to learn how to bake fresh bread. This training showed Weir and her team a basic bread recipe that used only a handful of ingredients. With the help of Saber's corporate dietary team, Weir was able to master and tweak the recipe to suit her residents and community.
Weir said, "I learned how to appreciate baking from scratch as I practiced making sweet rolls and sliced bread. We often serve cinnamon rolls and dinner rolls alongside our meals as well."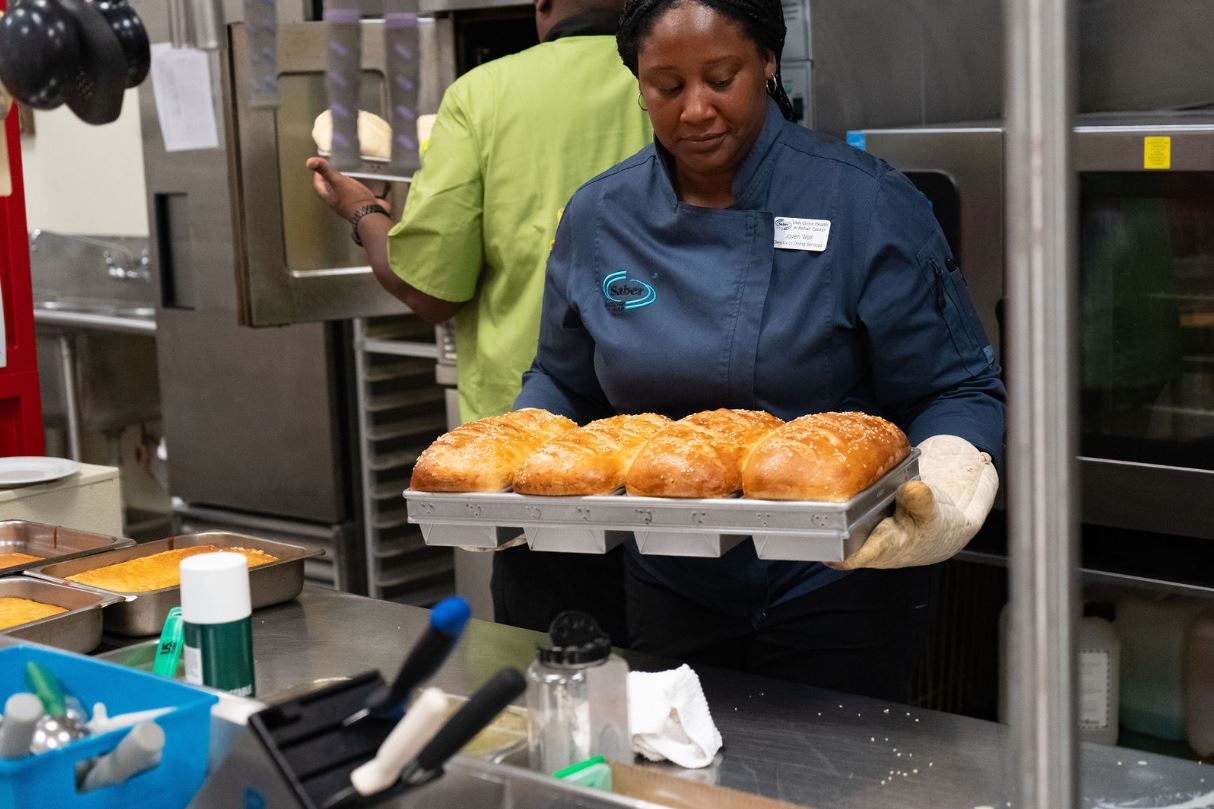 Weir mentioned that after implementing the Fresh Bread program, she believes in what it does to improve the nutrition of the residents.
"I think it is better to have fresh products rather than buying them from a store. We can ensure what the residents are getting nutritionally, and we always have more than enough for everyone at our community."
What is your favorite part of working at Oak Grove Health and Rehab?
"I would have to say it's the residents and the kitchen. The main kitchen is fabulous, and personally I think it is the best environment to work in. Also, I enjoy the feel of the kitchen and the aesthetic. The residents keep me on my toes all the time. I'm all about pleasing them."
What is one fact about working in food service that most people would not know?
"When it comes to food, it's not just placing food on the plate; nutrition goes a very long way in terms of health. It is not always known first hand, but dietary plays a role in the recovery process, day to day, and comfort for the residents as well," Weir explained. "Many of our residents are coming to an environment like Oak Grove Health and Rehab for the first time. We want to give them a taste of home to help them feel like they belong."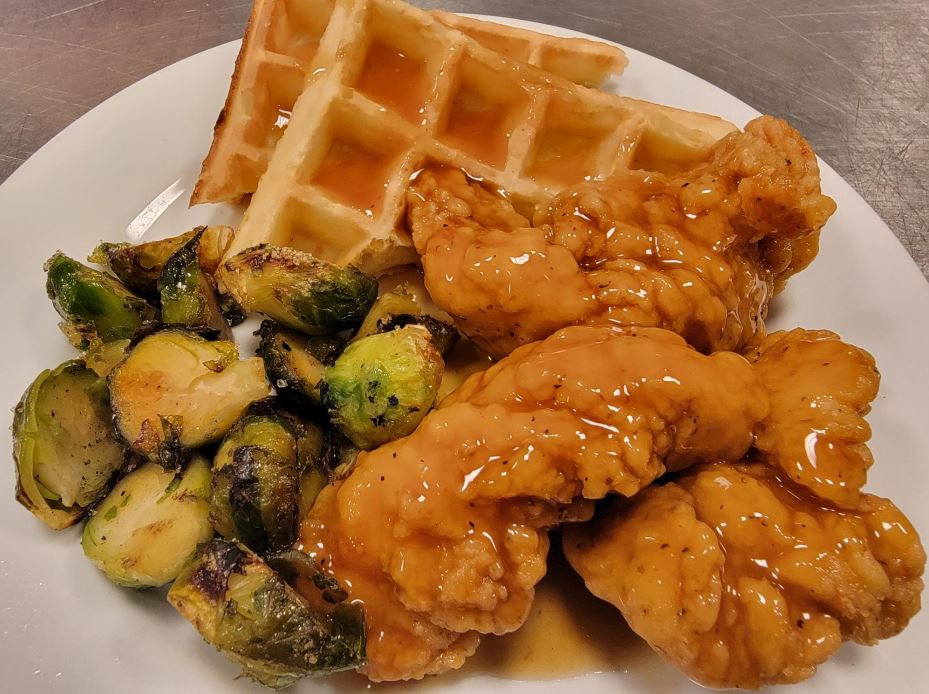 What advice would you give someone aspiring to work in the healthcare dietary field?
"Cooking is a passion of the mind," Weir said. "Some people will start out in this job and believe that they need to be compensated by climbing the ladder or receiving higher payments. However, I believe that working in the healthcare food industry is a calling. You have to really love what you do, and have the mindset that you want to first and foremost cook to help other people."
Saber Healthcare celebrates Healthcare Food Service Week
Saber thanks and congratulates Joven Weir and her culinary team for all of the thought and dedication they put into each meal they prepare for the residents. Day in and day out, our dietary teams work behind the scenes to bake and create meals from scratch to give our residents delicious and nutritious food.
"My group here at Oak Grove is a solid team. Everyone works with each other and loves working here," Weir commented. "We all genuinely want to come in to work because we have a passion for what we do and enjoy helping others."
Saber Healthcare is an organization that provides services to more than 130 buildings across the states of Ohio, Pennsylvania, Virginia, North Carolina, Indiana, and Delaware. If you want to join one of our passionate dietary teams, click here to search for jobs.
Saber Healthcare is an organization dedicated to providing consultant services to long-term care providers. This article is for informational purposes and is not meant to be seen as professional advice. Please consult with a medical expert before relying on the information provided.