Commitment + Clinical Leadership = Better Outcomes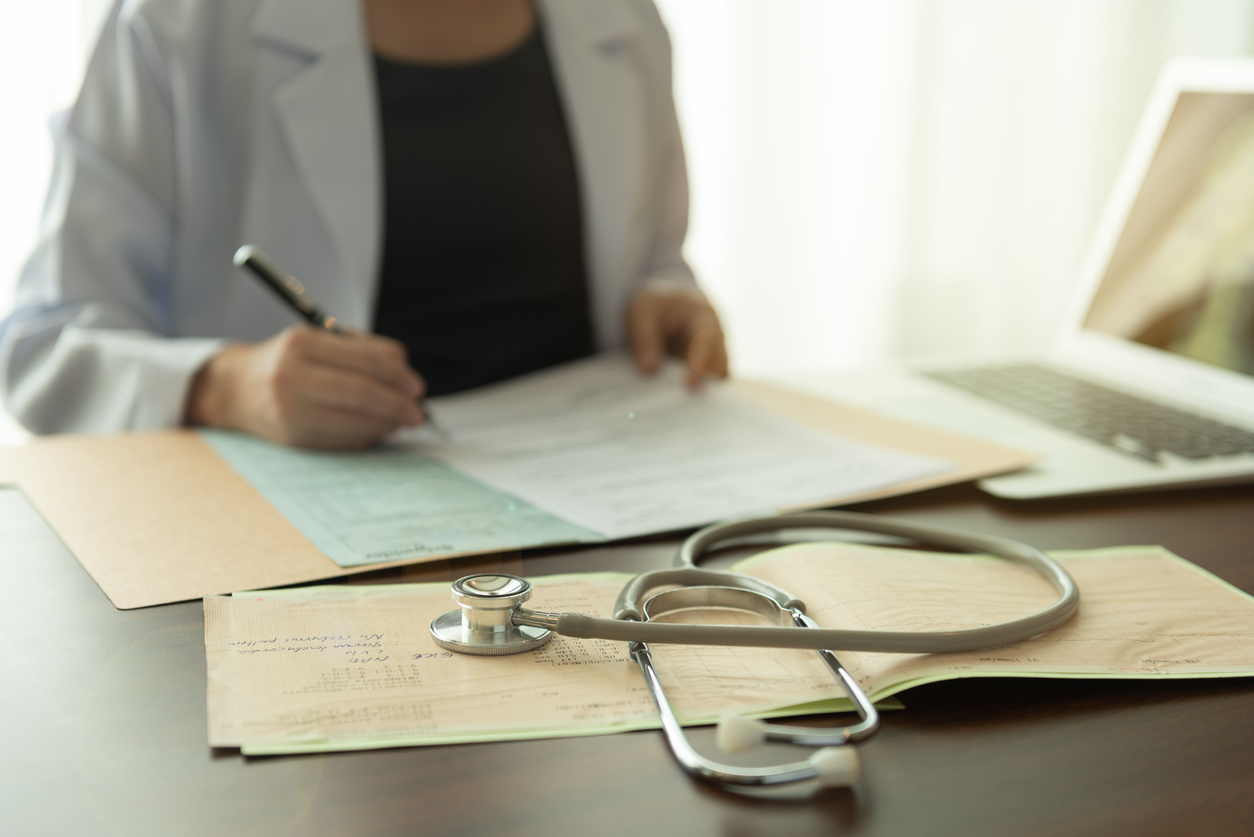 Organizing and Keeping Your Medical Records
Sep. 3rd, 2020
Have you ever thought about the importance of keeping a personal copy of your medical records? Or maybe you're wondering what you should keep from your most recent doctor's visits.
Dr. Istenes, Chief Medical Officer at Saber Healthcare Group, shared her expertise on medical records with us. Dr. Istenes has worked with Saber since 2017, being in the healthcare field with 15 years of prior experience. Some of her duties include leading the clinical team, collaborating with the pharmacy, and working with different insurance programs.
Keeping you or your loved one's medical records can help when you need medical attention in the future. Here are some reasons why you should keep copies of your medical records, and the best way to keep them safe.
The importance of Medical Records
Keeping your medical records – even if you've long recovered – is important.
For one, doctors and nurses need to know how to treat you when you arrive at their office. They will be able to use your records to understand what conditions you might have (or have had in the past) in order to make the best evaluation. They will also use your previous history to determine what medications or remedies will be best to treat you.
Secondly, having your medical records on-hand makes it easy for your doctor or nurse to access that information. Not every healthcare system is compatible with one another, and oftentimes different providers have strict rules to keep personal records secure.
"Medical Records have to be HIPPA protected. That way, other people can't get your information," Dr. Istenes said. "Many healthcare information systems are incompatible with one another when it comes to sending and retrieving information."
Saving your medical records digitally can also be beneficial in case you need medical attention while traveling or if you've recently switched providers. You also might work with different facilities who are part of different healthcare systems that don't share electronic medical records the same way.
With this in mind, you should consider keeping track of your medical records. After all, your records could make a difference in the care you receive.
What Should I Keep in My Medical Records?
Everybody visits the doctor based on their medical needs. We're all different when it comes to our health and the conditions we have.
Here's a few important items you'll want to keep track of in your medical records:
Past Medical History
Health conditions
Dates that you resolved any medical conditions
List of allergies and reactions, including any medication-based ones
Surgeries
Recent hospitalizations
Current medications
Previous doctor's contact information
When collecting information for your medical record, most providers charge a fee for copies of records – particularly if they are paper copies. Chances are, you won't need everything contained in your chart, so ask for relevant information that you need added to your personal medical record.
Dr. Istenes suggested another way to maintain and update your personal medical record is to keep the discharge summary that doctors give you after a visit at their office. If this is not provided to you, then request one: under The Affordable Care Act, doctor's offices must give this. Use these sheets to update your medical record or keep these together as a medical record.
How Can I Keep My Personal Records Safe?
With recent technology, there are more options than ever when it comes to keeping medical records. There have been many apps and developments in technology to safeguard information and keep the records secure.
Dr. Istenes discussed the numerous options when it comes to keeping a personal medical record.
"You can keep a written document or use electronic portals or apps. However, it is necessary that this medical record is easily accessible, not only by yourself, but by a responsible party as well in case of an emergency," Dr. Istenes said.
Because you have the choice to keep a printed piece of paper or a digital record, it's important to decide what's best for your needs. Other ways to think of this is ease of accessibility in case of an emergency or how often you visit the doctor.
The Security of Medical Records
Dr. Istenes also shared that keeping medical records secure is one of the most important duties of doctors and nurses. Each medical record system has different layers of securities to keep unwanted parties from accessing patient information. That's also why many of the online systems are incompatible with one another, leading to healthcare providers to print out the records for their patients.
However, paper records can be hard to keep secure when the documents are printed out. These records could potentially be handed off or seen by other people. One example Dr. Istenes gave was that a person in an ambulance could see someone's personal records if they are being transferred to another facility.
Another reason paper records might not be the best way to hand off information to a new nurse or doctor is there's more room for error. When a nurse types in the record, there's a chance they will make a mistake or mistranslate information. Yet it's critical for nurses to put the correct data into their system to ensure the patient receives the best care.
To ensure accuracy, keep your own medical records in an easy to keep format. You can use an app to help store information for when you need to give it to a nurse.
Online Medical Record Services
Many healthcare providers now use electronic medical records with patient portals. This is a beneficial option to not only access test results, but also your medical history. If your doctor's office has an option to sign up for a patient portal, it is best to sign up.
Dr. Istenes discussed Point Click Care, the electronic medical record system Saber Healthcare Group uses. Although there are many systems that healthcare systems use, Point Click Care is the largest provider for the Long Term Care industry. Point Click Care collaborates with Epic, another popular electronic medical record provider, and these systems are able to share information.
The apps to keep medical records include options such as Apple Health Records or Capsule.
Apple Health Records are accessible for iPhone and iPad users and can track health records across many major healthcare systems. Your health data stays up to date across all your devices automatically through iCloud.
Capsule stores your data on your phone, not through a central server. This app allows you to share records with family members and physicians and transfer files.
Yet keeping your medical records behind a password can still pose a challenge, especially if there's an emergency.
"If you go to the ER and no one can unlock your phone to see these apps, that could be an issue," Dr. Istenes said.
With this in mind, it's important to consider who will be responsible on your behalf for accessing your medical information in case you need medical attention. Trust a loved one with the password to your records – if they can bring up the accurate digital copies, then the doctors and nurses can treat you with the right information.
The same goes for keeping written papers as your personal medical record. It would benefit you to have a responsible party who knows where and how you keep these papers. You should also take responsibility for knowing your loved one's information.
Medical Records and the Future
Dr. Istenes shared her hopes for technology with medical records expanding in the future.
"There's many systems, so sharing is difficult," says Dr. Istenes. "The likelihood that records will flow is slim."
Veterans Affairs (VA) clinics and offices all use the same system, which is convenient for doctors and patients. If all hospitals could adapt this practice and use compatible systems, there would be less chance of lost or misinterpreted information.
Interoperability would help both patients and doctors in the future. When it comes to transferring medical records, printing documents, and handing papers over, crucial information can get lost.
However, technology will continue to develop when it comes to keeping medical records. In the future, there might be easier ways to secure information and transfer it between facilities.
For now, you'll have to take the steps to keeping you or your loved ones healthy by keeping records in a way that works for your family.
Saber Healthcare is an organization dedicated to providing consultant services to long term care providers. This article is for informational purposes and is not meant to be seen as professional advice. Please consult with a medical expert before relying on the information provided.