Commitment + Clinical Leadership = Better Outcomes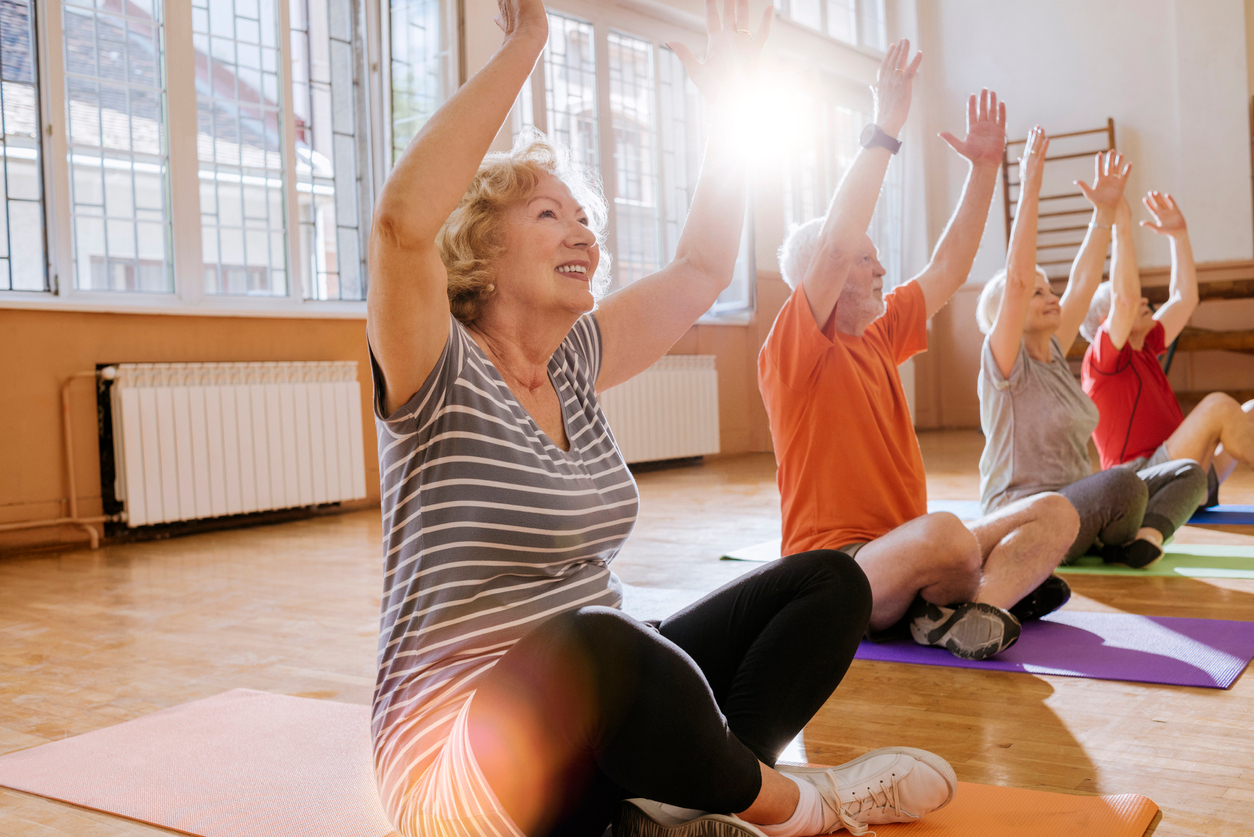 Low-impact Exercises for Older Adults
Nov. 4th, 2021
Low-impact exercises are a great way to increase your heart rate and stay active without putting too much stress on your body.
Low-impact exercises minimize the pressure that you put on your joints.1 This makes low-impact exercises ideal for people with conditions such as arthritis, mobility problems, or aches and pains.
Here are some ideas of low-impact exercises that older adults can enjoy.
Walking
Walking is a great way to stay active because it doesn't put much stress on your joints.
Walking has been found to improve your heart health because after you exercise, your heartrate increases and your body is pumping more blood. Studies show that walking for 30 minutes a day for five days a week may help reduce your risk of heart disease by as much as 19%.2
Furthermore, the more often you walk, your risk may decrease even more. One reason for this is walking increases your heart rate, which strengthens the heart and improves the flow of oxygen and nutrients to the organs.3
Some other health benefits of walking include burning calories, boosting your immune system, toning your legs, and easing any joint pain you may have.
There are studies that show walking is linked to reduced anxiety and depression because improved walking oxygen flow throughout the body has been found to boost your energy and mood.4
Cycling
Cycling is a great cardio activity that can give your legs a workout. Cycling is a non-weight-bearing activity because you utilize your bike to stabilize your balance and take weight off your joints, which means there is a lower risk of injury.
Cycling can burn calories, which is helpful when it comes to maintaining your weight. It can also get the heart pumping, which in turn can help decrease your risk of major health issues such as cancer and heart disease.5
Swimming
Swimming is a full-body workout because you're moving your body against the resistance of the water. The resistance in the water is easy on your joints, which makes it accessible for people who have joint conditions such as arthritis.
Swimming is a great workout to build endurance because the exercises can help improve your lung and heart strength. Whenever you need air, your brain sends a signal that your body needs oxygen, and your heart will pump faster to replenish the oxygen throughout the body.
Over time, this can help you maintain a healthy heart and healthy lungs, which can help protect you from heart conditions and lung diseases.6
Water aerobics
Water aerobics is another water-based workout that is low-impact, which makes it a great option for those with arthritis or any kind of mobility issues.7
One health benefit of performing water aerobics is it gets your heart pumping and allows you to burn calories while staying cool in the water.
Water aerobics will give you a chance to attend a workout class and socialize, which can help you make like-minded friends who are interested in similar workout activities.
Yoga
Yoga is another low-impact exercise that can improve your balance and strength. Yoga is known to help with conditions such as arthritis or back pain because of the gentle stretching techniques.8
Yoga can also be a relaxing exercise that can help reduce stress your levels because there are many meditation and breathing techniques.9
The breathing techniques combined with the slow and steady movements can also work to lower your heartrate and reduce stress.
Pilates
Pilates is an option if you're looking for a low-impact exercise, and it's often recommended by doctors for rehabilitation patients. Pilates is an overall body exercise that focuses on stabilizing and building muscle, especially your core.
Pilates can increase your core strength, while decreasing back pain and stress. Pilates can also improve posture, flexibility, and mobility.10
Pilates works to build overall strength, which provides better support for your joints. This reduces the risk of injury with other daily activities and sports.
Dancing
Dancing is a form of exercise where you can put as much effort into it as you'd like. If you're looking for a low-impact exercise, try taking a beginner's dance class. There are many different options depending on what kind of dance you're interested in. Some low-impact styles of dancing include ballet or ballroom dancing.
Over time, regular dancing can improve your balance, flexibility, and cardiovascular health.11 Attending a dance class or dancing on your own can also help boost your energy and mood. If you want a social activity, then a dance class with a group is for you.
Saber Healthcare Encourages You to Stay Active
Saber Healthcare encourages you to find an exercise that works for you so you can get moving and stay healthy. If you're looking for a low-impact exercise that allows you to get a workout in without the added pressure on your joints, try one of the activities mentioned above.
Saber Healthcare's Life Enrichment teams at our aquired buildings work hard to give residents fun activities that allow them to stay active and moving. To learn more about Saber Healthcare and the care our teams offer, click here.
Saber Healthcare is an organization dedicated to providing consultant services to long term care providers. This article is for informational purposes and is not meant to be seen as professional advice. Please consult with a medical expert before relying on the information provided.
Sources