Commitment + Clinical Leadership = Better Outcomes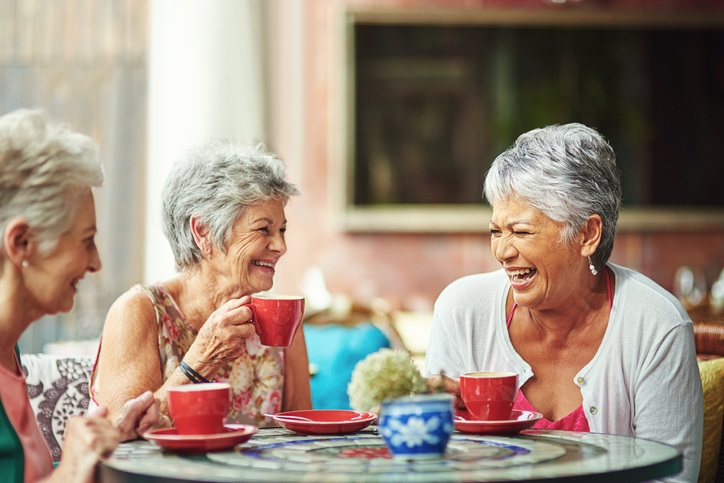 How to Improve and Maintain Social Wellness
Jul. 12th, 2022
Social wellness is built upon our relationships and the interactions we have with others. Social wellness is about creating a positive support network where you can rely on your connections with family and friends.
Approximately 20% of Americans are known to feel lonely in their free time. However, feelings of loneliness can put you at risk for health problems such as anxiety, depression, and high blood pressure.1
As you go through life, it's important to maintain and build friendships. Oftentimes, your social life can take a backseat when you become busy with other obligations such as work, school, or kids.
Some benefits of having a good foundation for friendships include:2
A sense of belonging
Improved happiness
Reduced stress
A support network of people whenever you're faced with life's problems
People who can promote healthy lifestyles
How to Improve Social Wellness
It's important to nurture your relationships to get the most out of your connections with others. A few ways you can improve your social wellness include:
Make time to talk. Keeping in touch with your family and friends is important, whether you go out to lunch once a week or have a phone call every once in a while. Prioritizing talking with people you care about will help your relationships grow stronger.
Reflect on your needs. Sometimes, you may need to talk to others; other times you might need some space. Keeping your social needs in mind and communicating those needs to others can help you improve your social wellness.
Stay in touch with hobbies. Another way to maintain your social wellness is by keeping up with your hobbies. Whether you like art, fitness, food, or crafting, find a group of people who share your hobby and can help you further your knowledge of your chosen craft or skill.
Find people to support your goals. Whether you want to write a book, get in shape, or find a new job, you want to surround yourself with like-minded people who will help you reach your goals. Oftentimes, people who share the same goals as you can make the best allies as they can help you learn something you may not have known before!
Practice self-care. By caring for yourself, you will have more time and energy to put back into your relationships with others. Make sure you get enough sleep, eat three meals a day, and find time to stay active. A healthy body and mind will allow you to focus your energy on creating positive relationships with your family and friends.
Learn how to communicate. You should learn how to communicate with others, whether it's your spouse, a friend, or someone at work. You can learn how to better communicate with others by becoming an active listener and learning how to phrase things in a way that is exactly what you mean.
Ways to Make New Friends
It's always great to expand your current support network. Oftentimes, friends will come and go in your life, and it can be a journey to find lifelong friends you can rely on.
When you're looking to make new friends, keep in mind that having a few friends you are close to is better than having many friends you are not close to. Some ways you can meet people who can be part of your support network include:
Community events. Many people in the community share the same hobbies and interests as you. You can find these groups online or by looking at newspapers or bulletin boards.
Attend neighborhood functions. Some neighborhoods or apartment complexes will offer fun parties or events to help people in the community meet each other. Plan to attend one of these fun social events to meet people.
Church groups. If you attend a church or are part of a faith-based organization, this is a great way to meet people with similar values. Many churches will also offer social events to help people meet one another.
Volunteer work. You can find like-minded people by volunteering for a cause you are passionate about. Many volunteer groups can be found within the community. Some places, such as nursing homes, are always looking for volunteers.
Continuing education classes. If you're looking to learn a skill or want to broaden your current skillset, attending classes at a college or university can help you meet others who share the same interests.
Make Your Personal Connections A Priority Today
Now that you know the importance of social wellness, you should take steps to reaching out to a family member or friend today. Build your social support network and find ways you can continue to rely on those closest to you in your life to reach your goals!
Saber Healthcare is an organization that provides services to more than 115 buildings across the states of Ohio, Pennsylvania, Virginia, North Carolina, Indiana, Delaware, and Florida. To learn more about our company and services, click here.
Saber Healthcare is an organization dedicated to providing consultant services to long-term care providers. This article is for informational purposes and is not meant to be seen as professional advice. Please consult with a medical expert before relying on the information provided.
Sources
"Social Wellness: A Determining Factor For Employee Wellness At Work." Vantage Circle, Vantage Fit. 18 February 2021. Accessed 7 July 2022. Link: https://blog.vantagefit.io/what-is-social-wellness/#:~:text=Facts%20and%20Stats%20on%20Social%20Wellness&text=The%20death%20rate%20of%20socially,lonely%20in%20their%20free%20time.
"Adult Health." Mayo Foundation for Medical Education and Research. Accessed 7 July 2022. Link: https://www.mayoclinic.org/healthy-lifestyle/adult-health/in-depth/friendships/art-20044860