Commitment + Clinical Leadership = Better Outcomes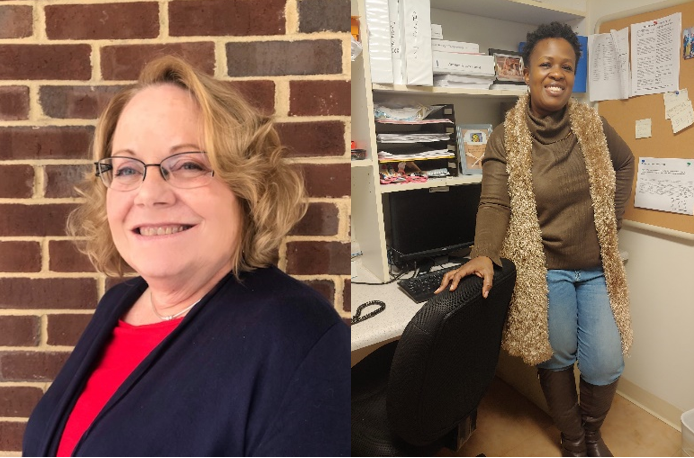 What is Social Work and how does it help the Community?
Mar. 10th, 2021
Social workers are part of many different industries, from healthcare companies to government agencies to schools. That means those who choose to dedicate their lives to social work have many different opportunities available to them depending on their career goals.
But what exactly is a social worker and how do they help the community? We took the time to interview Rosalind Nelson, Director of Social Services at New Castle Health and Rehab, and Helen Trammell, Director of Social Services at Stratford Rehabilitation Center.
"Originally, I wanted to be a nurse and went to school for it. However, I am a strong believer in God and that he knows best. Once I realized that I liked helping the patients, a light bulb went off in my head and I learned about social work. I knew that I was meant to do this job and believe everything happens for a reason," Nelson said.
"At times, it helps to fill the heart. Sometimes your personal life is stressful and most of the time you don't have control over what happens. However, we do everything to make someone's life better. When you succeed it fills some of that hole in your heart. This is a rewarding profession, and even though there are bad days, I don't know what else I'd do. I stayed here for twenty-four years for a reason," Trammell said.
These two ladies shared their knowledge about the social work industry and what they do on a daily basis to ensure our residents and their families stay connected.
What is your background in social work?
Nelson graduated in 1995 with a bachelor's degree in social work. Her first-ever job was in a nursing home, and she later moved onto foster care for six and a half years.
After some time passed, Nelson returned back to her roots and decided to work for nursing homes again in 2002-2003.
"I really enjoy helping others and love to see the smiles they have on their faces when they are discharging or getting something that makes them happy (ie: visits, care packages, or participating in activities). For me, social work is especially rewarding as it has helped me help my family who too had to accept the placement of my mother into a nursing home. I understand more than ever the challenges individuals face transitioning into and residing in a nursing home, but there are also many rewards faced as well," Nelson shared.
Trammell has been with Stratford Rehabilitation Center for over twenty-four years. She remembers how the building was before and after Saber Healthcare acquired it.
"I love what I do and it's basically second nature. I work one-on-one with many patients. I like to have a sense of humor when I interact with others and I can be professional when I need to. I enjoy talking with the families," Trammell said.
What is social work?
Social work is working with people who have different cases and helping them through the tough times in their lives. Some areas where social workers assist others include addiction, behavior, and healthcare.
"Our field is about listening and being there for someone who is in need. I enjoy my role as an advocator for residents and talking to the staff what their needs may be at the time. I am able to put myself in their shoes and help them adjust and have some of their needs met," Nelson said.
As a social worker, Nelson knows the importance of listening and being attentive to the lives the residents want to live.
"We are basically the gopher because we do more than just basic documentation and what the state requires," Trammell said. "I will work with families to find the information that they need, even if it isn't in my realm."
Trammell also said there will be good days and bad days as a social worker. She mentioned it is important to keep up with what is going on because she can't ignore calling a family back. That means social workers must be able to organize their day and prioritize tasks that need to be done.
Can you describe what a social worker does in a day?
We asked Nelson and Trammell what social workers do on a daily basis. Some of the tasks include:
Filling out resident information. This includes the admissions packet that has information such as the resident's history, immunizations, and other medical information.
Keeping up-to-date with how residents are doing. Social workers are responsible for making sure that they communicate with their team about a resident's well-being, such as if a resident needs to go to the hospital. They also will keep track of this information on various documentation.
Helping residents discharge. Residents must have a plan for when they are ready to go home. They need equipment, medications, and anything else that will help them when they transition.
Care Conferences. Social Workers will keep in touch with families and let them know how their loved one is doing at the building.
Shopping for the residents. Because the residents are unable to go to the store, social workers will shop for what the residents want and need.
Helping with activities. When the activities department has parties and special activities for the residents, social workers may take a role in helping with the event.
Answering questions the families have. Social workers will talk to the families when they have a question and help them find the answer.
What are some skills that a social worker needs to be successful?
There are many different skills that social workers can use to be successful in their role. We asked Nelson and Trammell what two skills social workers should possess.
"Patience and organization," Nelson said. "You need to be organized and know how to manage your time. I recommend keeping a clipboard and a list of things that need to be completed to ensure what's needed to be done is done."
"You must be task-oriented and compassionate. There are many things to prioritize when it comes to social work, and you have to know what should be done first. You also need to be compassionate. If you can't sympathize and are not a social person, it will be hard. You always talk to residents, families, and venders. You are the first impression they have of the company," Trammell said.
How has your team adapted to doing social work during the pandemic?
The pandemic has changed our lives in many ways, including how social workers help our residents and families during these challenging times.
"I allow the residents to vent to me because I understand how frustrating it can be. I'm always here to make sure their psychological needs are met because they can't go to a store, spend time outside, or visit their families like others can," Nelson said.
She also told us that many of the residents have cell phones at her building and that she has to assist them with using Zoom to talk to their families. This is one way New Castle Health and Rehab is looking to connect families to their loved ones.
"In some ways, it has been different because we have to wear a mask, face shield, and worry about infections. The residents are also unable to see their family members and our conference calls are more impersonal. I know this bothers our families, so I will be glad when things are lifted," Trammell said.
Trammell understands how difficult family members have it because they are unable to come visit their loved ones. She has been doing her best to help them adapt to the situation and work through these challenging times with the residents and their families.
Share one positive memory you've had in the last year related to your job
Nelson said that she encountered a resident who the building wanted to stay long-term because they did not have the support they needed at home.
"We thought that they'd do better in a long-term care setting. We let them know the safety and benefits of staying, and eventually they agreed to stay long term in the facility. I'm happy that they are adjusting very well to their new life here," Nelson said.
Trammell said that one of the residents left that they never thought would. She went home and was very excited.
"I did everything to make sure her transition home was as seamless as possible. Being able to see people go home is a reward. She was a good lady."
What is your favorite part about your role?
"Making a difference," Nelson said. "I love being able to multi-task, and I am the only social worker here. I do a good job making sure the residents have what they need and do things as they come. The residents know that they can call me and they rely on me. I'm their shopper and I spend time talking to them. There are many facets to this job and I do what I need to."
"I really enjoy helping activities with parties and events. I love handing out food to the residents and socializing with them. I also really like interacting with the families when they come," Trammell said.
Saber Healthcare thanks our social work team!
Here at Saber Healthcare, we're thankful for the hard work our social workers like Nelson and Trammell do each and every day. Our social workers help connect families to their loved ones and are the glue that keeps our team on track.
Have you decided that social work is your calling? Check out some of our open Social Work positions on our website
Saber Healthcare is an organization dedicated to providing consultant services to long term care providers. This article is for informational purposes and is not meant to be seen as professional advice. Please consult with a medical expert before relying on the information provided.