Saber Healthcare Blog & Newsroom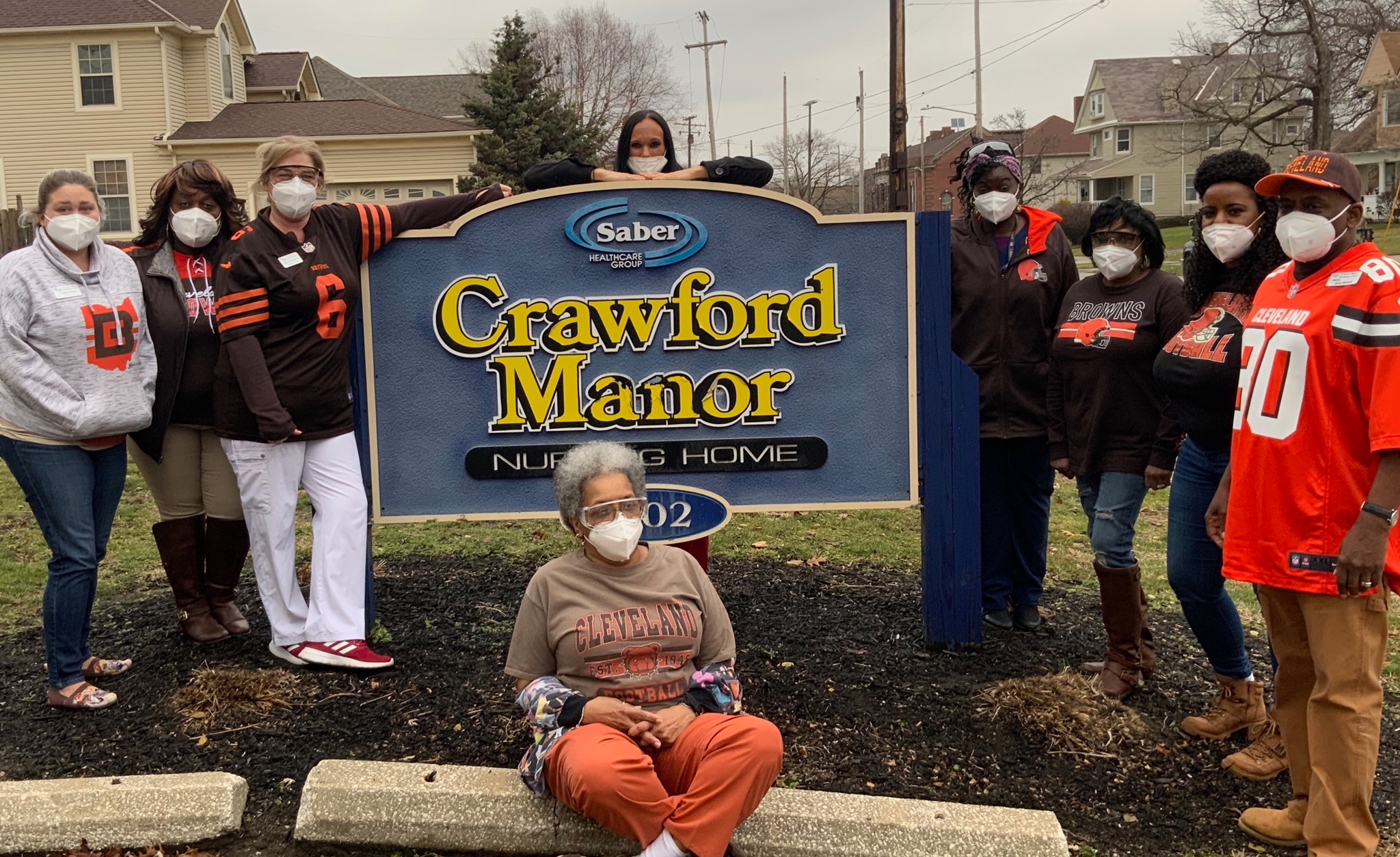 Holly Miller Receives "Hats off To Our Heroes GameDay Experience"
Jan. 6th, 2021
The Browns award Holly for being dedicated to Crawford Manor's residents.
Cleveland, Ohio – Holly Miller, Director of Nursing at Crawford Manor and a huge fan of the Cleveland Browns, was recently a "Hats Off To Our Heroes Gameday Experience" winner. She told us there were roughly 1,300 nominations and only about seventeen people were chosen for it.
As a recipient of this experience, Miller received Browns jerseys, t-shirts, gloves, hats, a purse, coupons from Sugardale for free ham and bacon, and other Browns memorabilia. She also interviewed and served as the Dawg Pound captain at the game, an experience which she described as "amazing and humbling."
"I really liked being there to support the Browns. Every day, I feel like I'm riding the storm out. This was very enjoyable," Miller said.
Miller joined Saber Healthcare in July of this year. Since then, she's been on the front lines helping our residents. She likes talking to residents about different activities and shares her love for the Browns with them.
Miller told us she works seven days a week almost every week. She said her goal was to create a homelike environment for the residents, and she always picks up shifts whenever needed.
"When I interviewed with Crawford, I fell in love with the building. I've always enjoyed working in the intercity, so I decided to take the Director position," Miller said.
Furthermore, Miller cancelled her own wedding in order to care for the residents. She shared that when COVID-19 first hit there was a lot of gaps in information, so she decided it would also be safer for the older members in her family to hold the wedding at a later date.
Miller also shared with us that she has been a Browns fan for her entire life. She played softball and basketball back in the day and has always enjoyed the sports scene.
"My favorite thing about the Browns is our perseverance and the fans. There are groups all over the world dedicated to the team, something you don't see for other ones. Win or lose, we're diehard, and we back them."
About Saber Healthcare Group: Established in 2001, the Cleveland-based company has grown from two skilled nursing facilities to more than 105 skilled nursing and assisted living facilities in seven states (Ohio, Indiana, Pennsylvania, Delaware, Virginia, North Carolina and Florida). Saber's "On the Cutting Edge of Healthcare" philosophy has spurred its growth and the company to implement greater healthcare knowledge and technologies to serve residents and patients in better ways.