Saber Healthcare Blog & Newsroom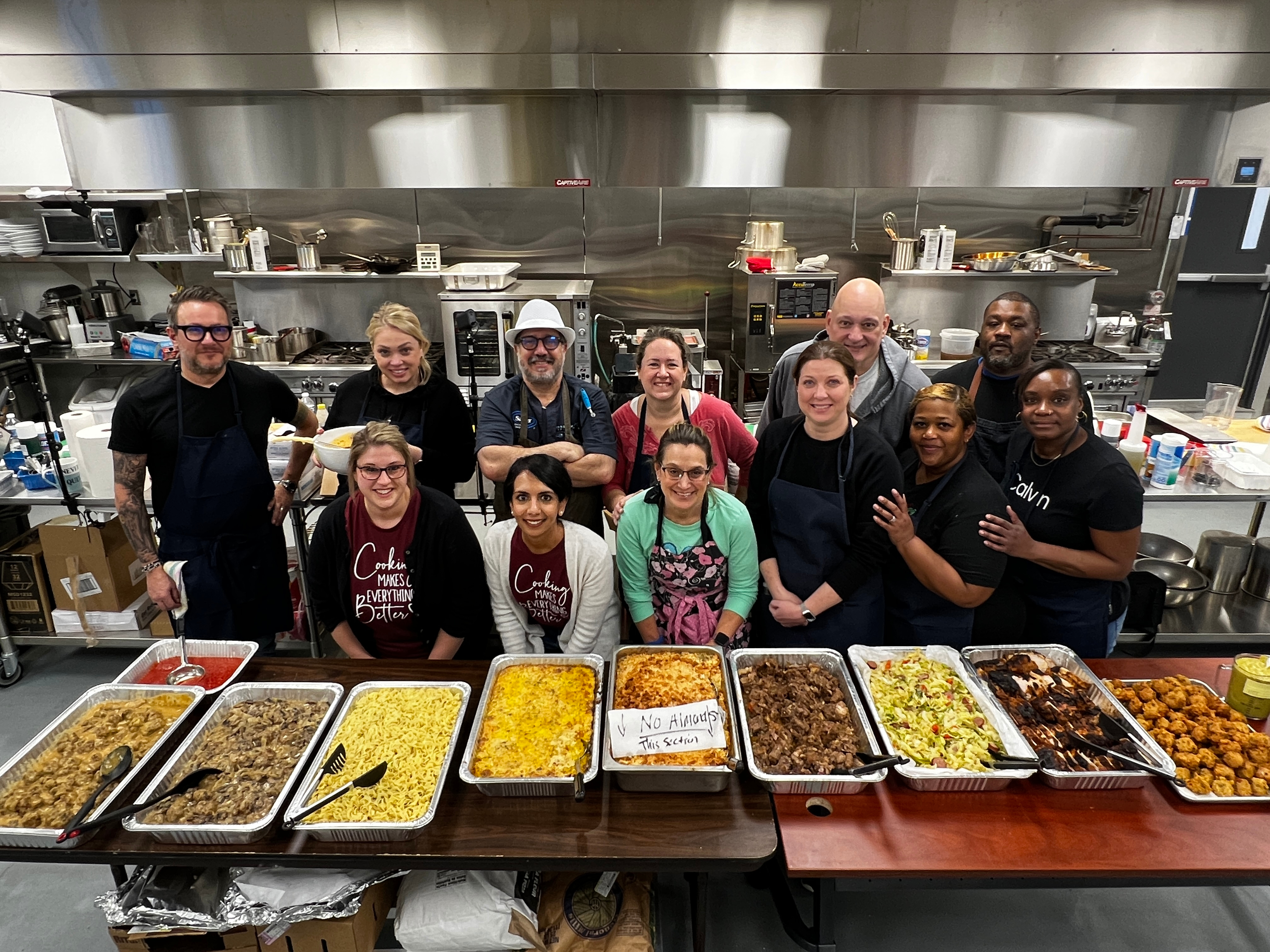 Saber Healthcare Hosts Cooking Demo at Community Support Center
Dec. 21st, 2022
Employees gathered together to learn from Vice President of Culinary, Chef Moe
Beachwood, Ohio – On Friday, December 9th 2022, employees at the Saber Healthcare Community Support and Development Center took part in a cooking demo. The cooking demo was led by Chef Moe Elmaher, Vice President of Culinary Research and Development, and was focused on helping employees learn to cook for 40-50 people.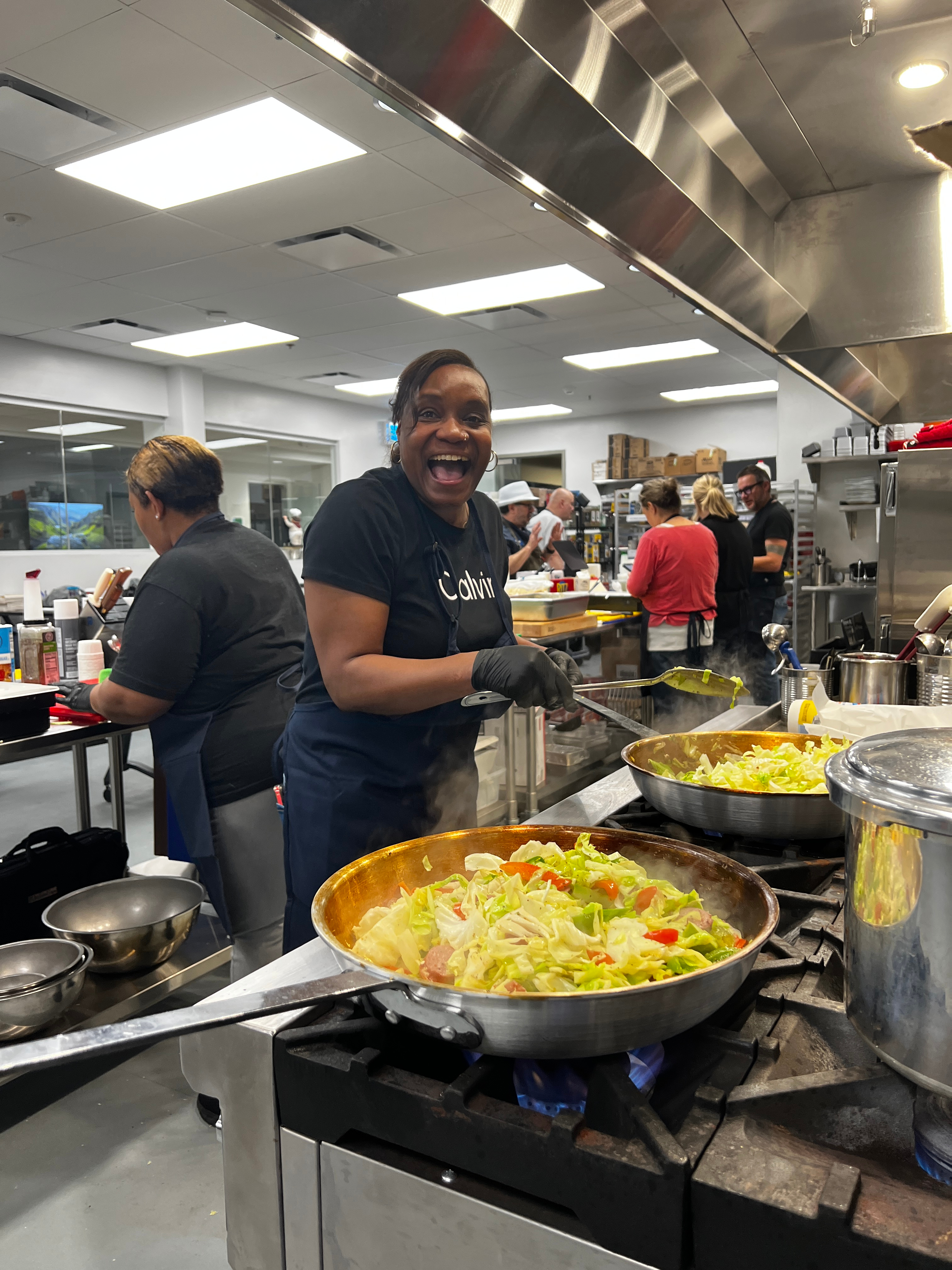 "It was a wonderful opportunity to cook in a professional kitchen, utilizing top of the line kitchen equipment and accessories. I enjoyed seeing everyone's culinary skills in action. It was a fun activity on a Friday morning, and the outcome was delicious!" Stacey Hillinski, HR manager, said.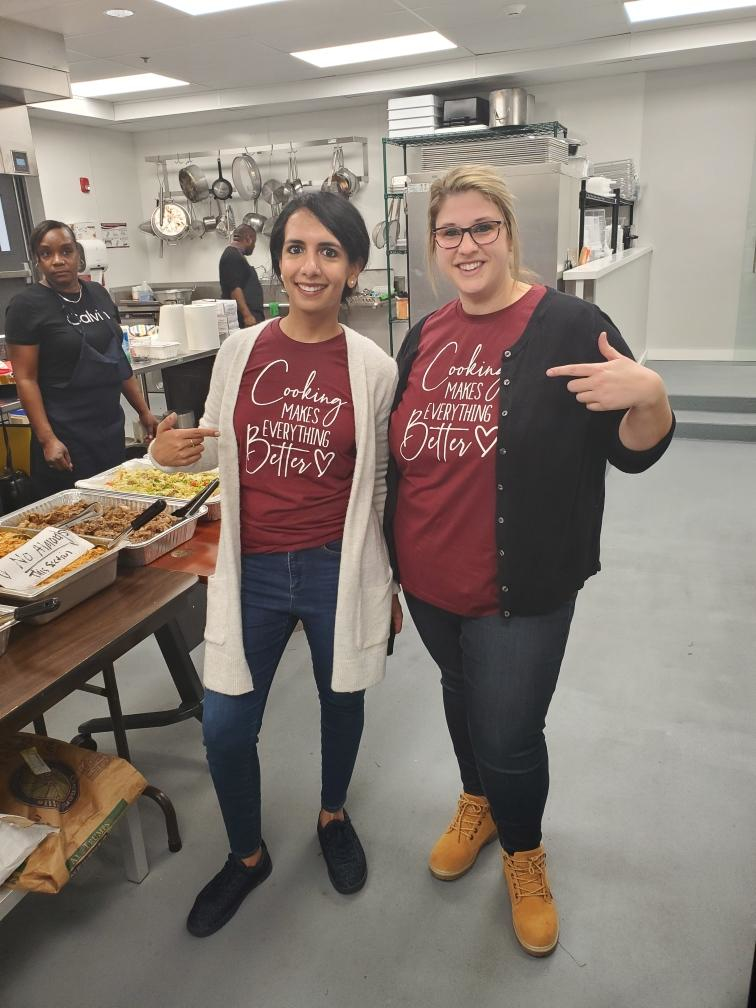 There were five teams of two people, and the team pairings were made of employees who typically did not work together. This was to help the community support center employees make a friend while learning new cooking techniques. Chef Moe taught safety tips to the participants, such as how to properly use a knife and utilize different temperatures. He also explained the differences between seasonings and what combinations made the best flavors.
Beth Reid, Director of Complex Care Management, said, "I completely enjoyed cooking with Chef Moe and my colleagues. Not only did I learn better cooking skills, but I learned new ones. Chef Moe has a sign in his kitchen about cooking from your soul:
A recipe has no soul. You, as the cook, must bring soul to the recipe. -Thomas Keller
After cooking with Chef Moe, I can now relate, understand, and embrace this philosophy."
There were a total of 5 recipes used during the competition, with some of the menu items including Brazilian Rice Fritters with a Secret Green Sauce and Roasted Pork Shoulder, Swedish Meatballs over Egg Noodles served with Onion and Mushroom Gravy, and Cheesy Potato Casserole. These recipes were typically designed to feed 4-5 people, but Chef Moe taught the cooking demo participants how to scale up the amount they were cooking to feed more.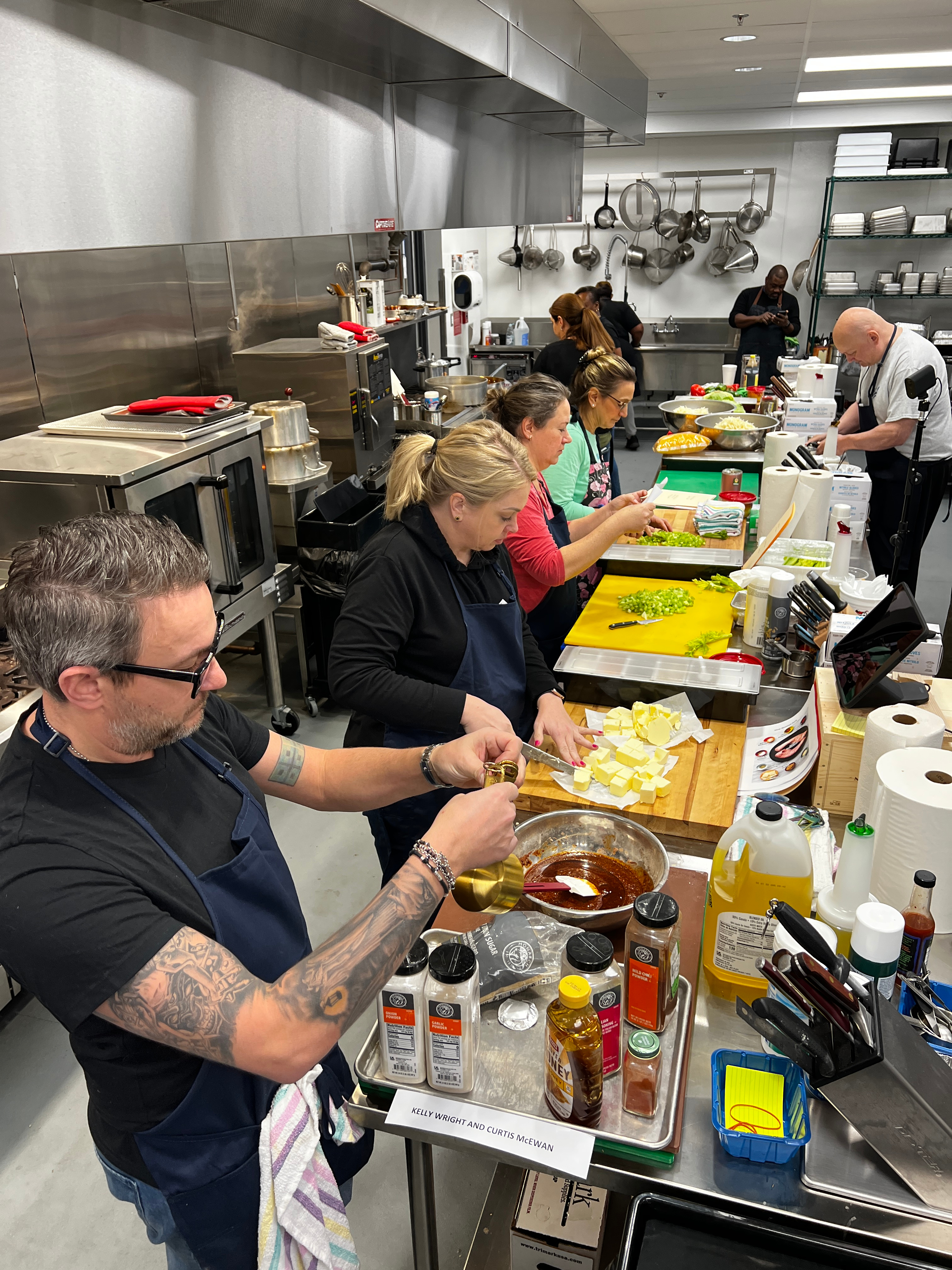 "I taught them techniques on how they can scale up the recipes without changing the quality of the food. For example, you will need to increase the amount of protein but still keep the amount of salt minimal. Seasonings typically have to remain at a lower quantity because overdoing it can ruin the taste of the dish," Chef Moe explained.
One of the participants, Kelly Wright, Vice President of Talent Development, told us, "It was fun to use commercial-grade equipment! I enjoyed learning how to scale a recipe to feed a lot of people."
Leah Schneck, Vice President of Social Services and Life Enrichment Director, said that she and her teammate worked on her mom's comfort dish: Chicken and Rice Casserole. "My mother passed away 5 years ago and was an incredible cook. Making her recipes always means so much to me, and being able to share this and reminisce about her with my partner Beth made the day special. I also learned from Chef Moe how to sauté, which I found I've been doing incorrectly for years. It was so much fun to work with Beth and the others as they were cooking, and all the food was delicious!"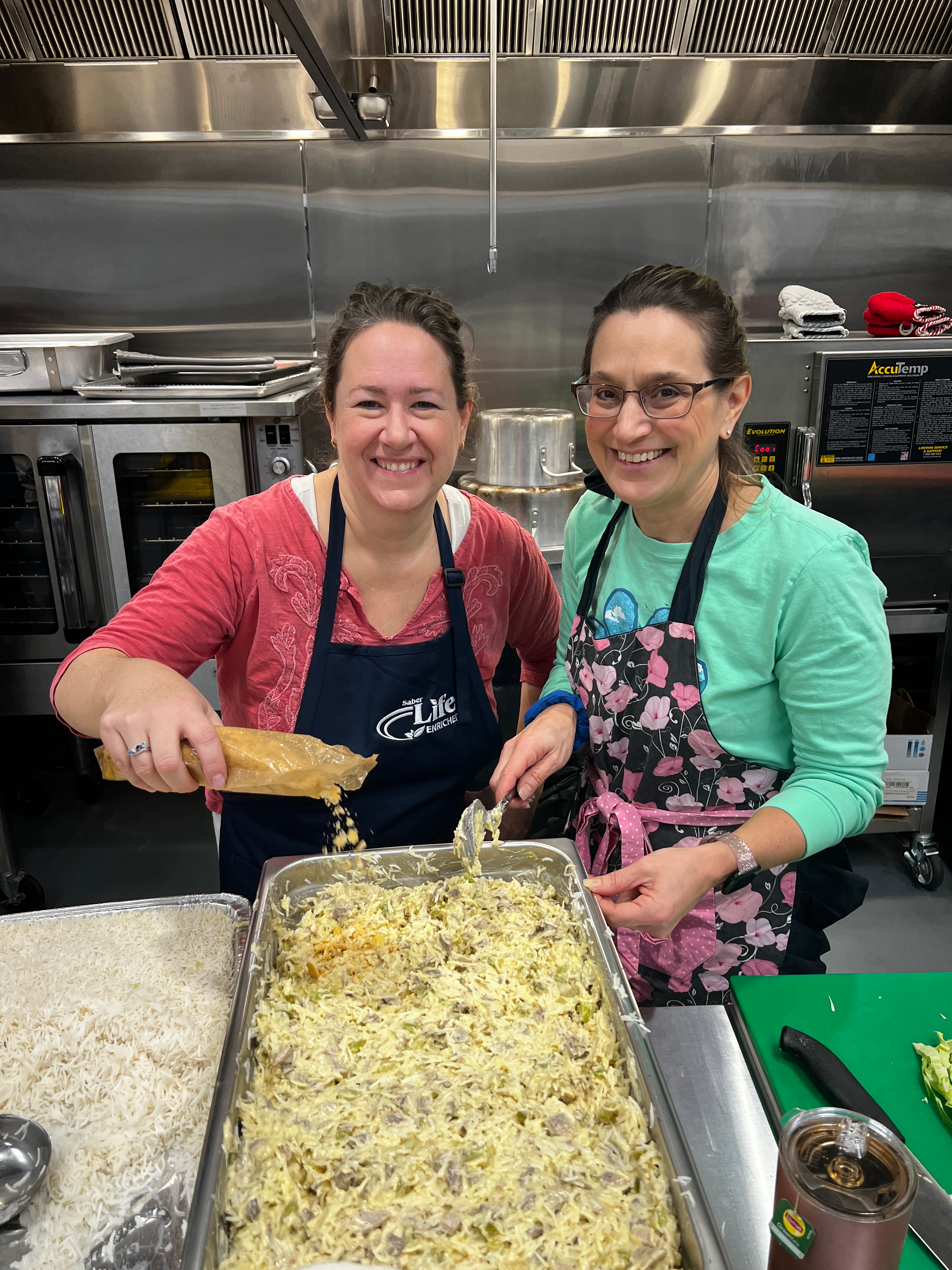 Chef Moe shared that the Saber Scratch program was also taking off at select Saber Healthcare communities. Right now, they are starting off with a bread program where the dietary teams will make bread from scratch. Eventually, they will move into other items such as vegetables and protein. Chef Moe has a goal to get at least 20% of the company on this program, and has been working with the dietary teams to slowly implement it.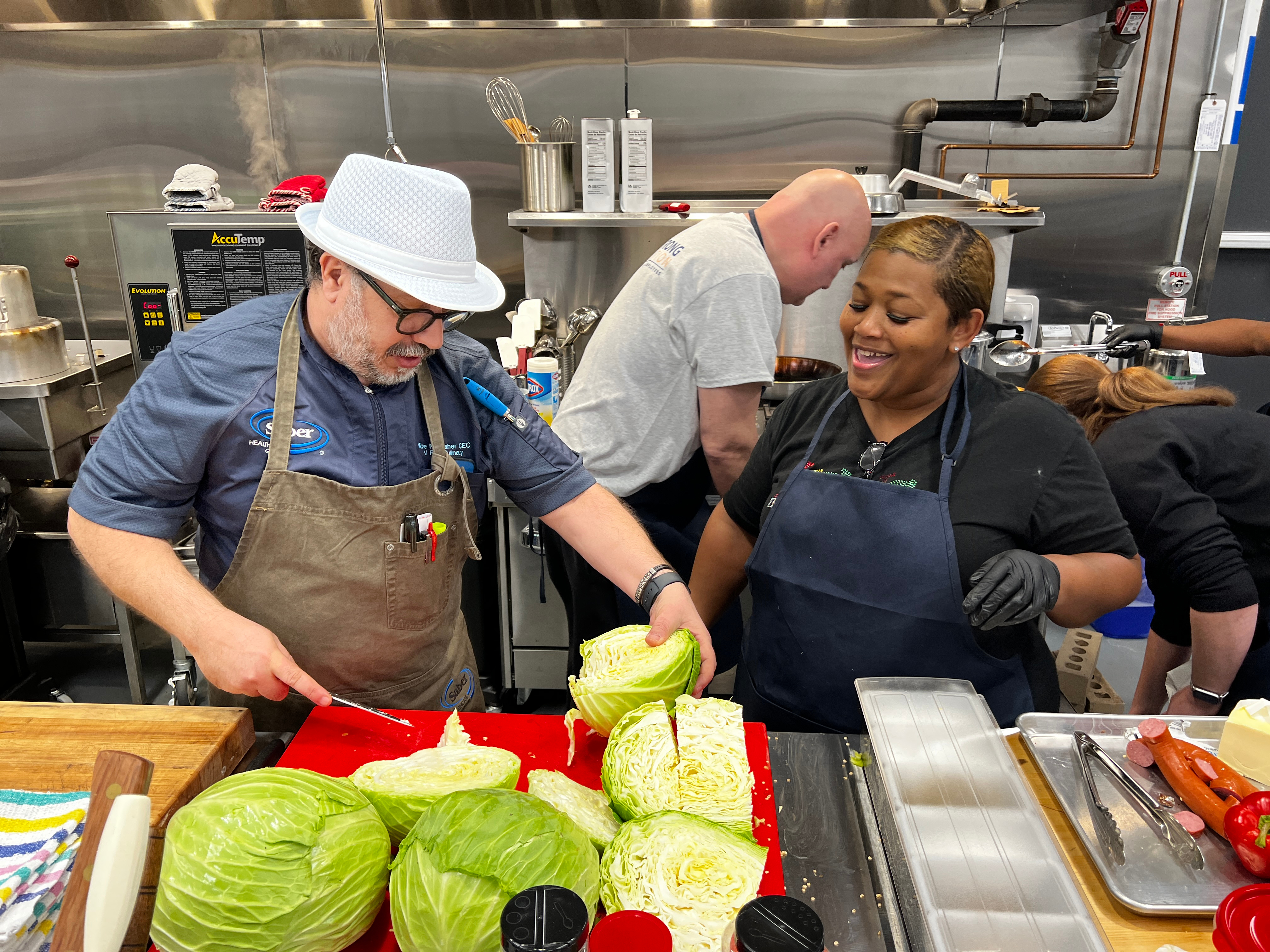 In the future, there will be more cooking demos to help employees learn how to cook and use kitchen equipment. Chef Moe has ideas such as a bakery contest and a mystery basket cook-off. Our Saber team is excited to continue exploring the art of cooking and how to cook healthier options to better serve our communities and residents.
About Saber Healthcare Group: Established in 2001, the Cleveland-based company has grown from two skilled nursing facilities to more than 115 skilled nursing and assisted living facilities in seven states (Ohio, Indiana, Pennsylvania, Delaware, Virginia, North Carolina, and Florida). Saber's "On the Cutting Edge of Healthcare" philosophy has spurred its growth and the company to implement greater healthcare knowledge and technologies to serve residents and patients in better ways.