Saber Healthcare Blog & Newsroom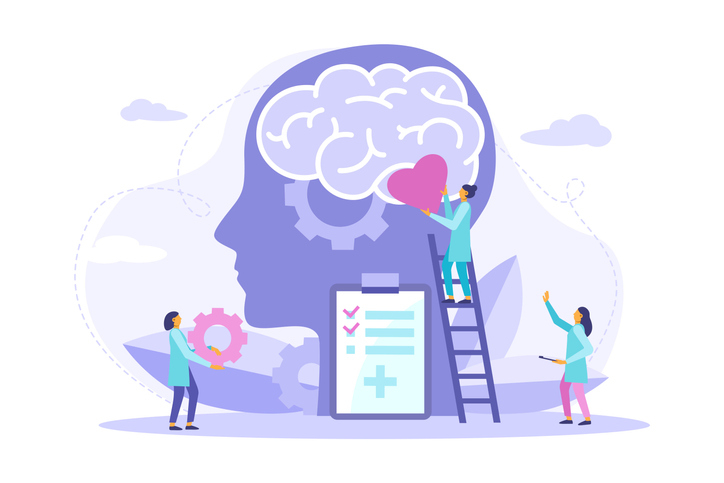 Community Welcomed to CEU Workshop on Happiness & Positive Psychology
May. 15th, 2022
Local healthcare workers discovered ways to be happier and learned about positive thinking
Beachwood, Ohio – On May 5th, 2022, Saber Healthcare held a Continuing Education Unit (CEU) event open to the local administrators, nurses, and social workers in the Cleveland area. The event invited professionals to our Community Support and Development Center to learn how to start thinking more positively in their personal and work lives.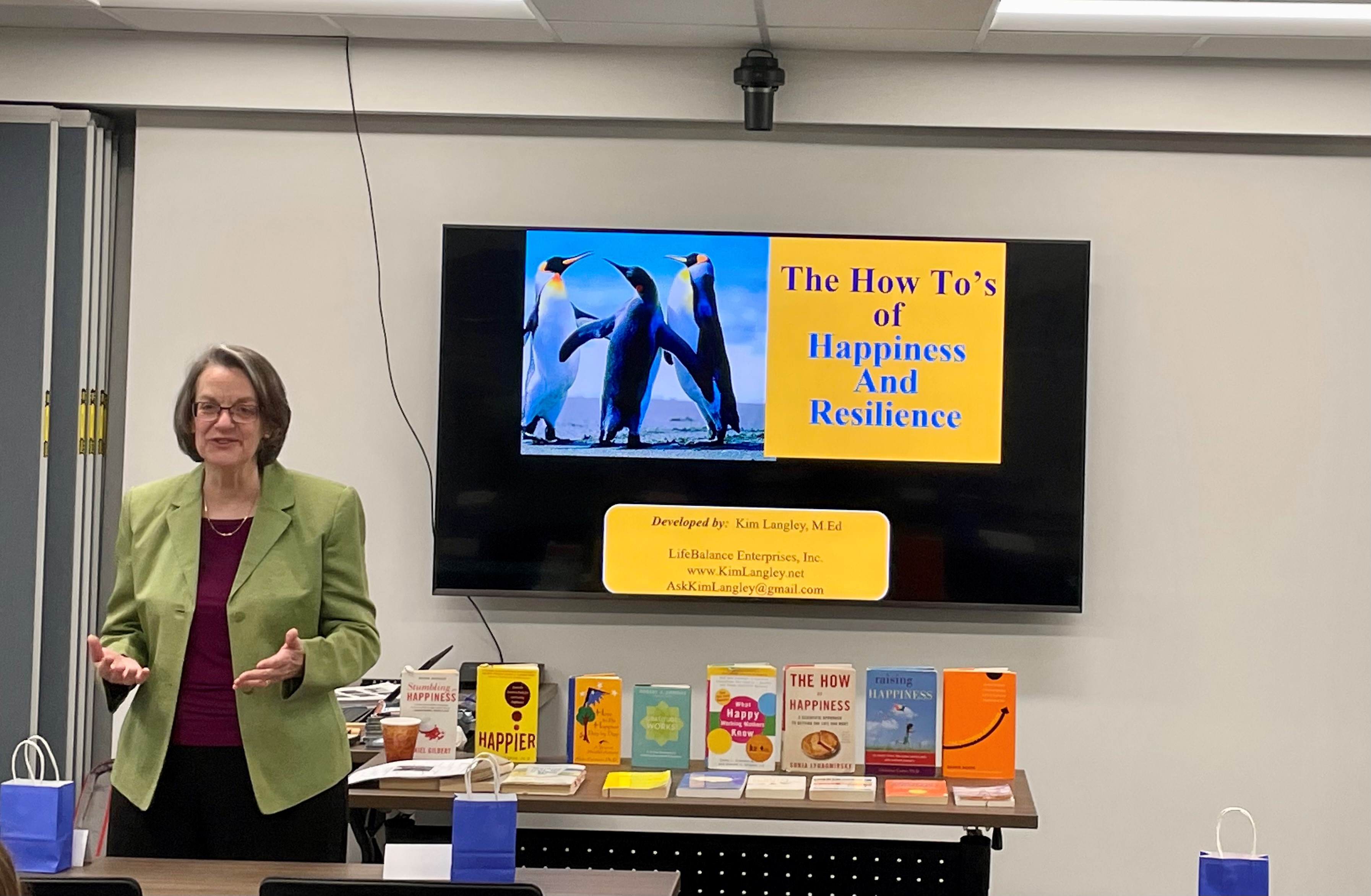 We invited Kim Langley, President of LifeBalance Enterprises Inc., to speak about the research on positive psychology and how to improve overall happiness. Langley has over 35 years of experience as a trainer and coach, assisting many organizations with making positive changes in their company culture.
"There are over 40 years of studies on positive psychology, and there is evidence we can do things to increase our happiness," Langley said. "People in healthcare deal with tough situations every day, and they need a toolbox of happiness that they can take to work with them and do a good job."
Langley discussed using Insight Meditation, Happify, and other apps to encourage those in the class to get a daily dose of happiness facts and try different meditation techniques. She also discussed using Health Journeys to meditate with guided imagery, a method of meditation that involves someone guiding you through different places or scenarios. An example of guided imagery could be visiting a forest filled with wildlife or sitting on a beach as you listen to the waves.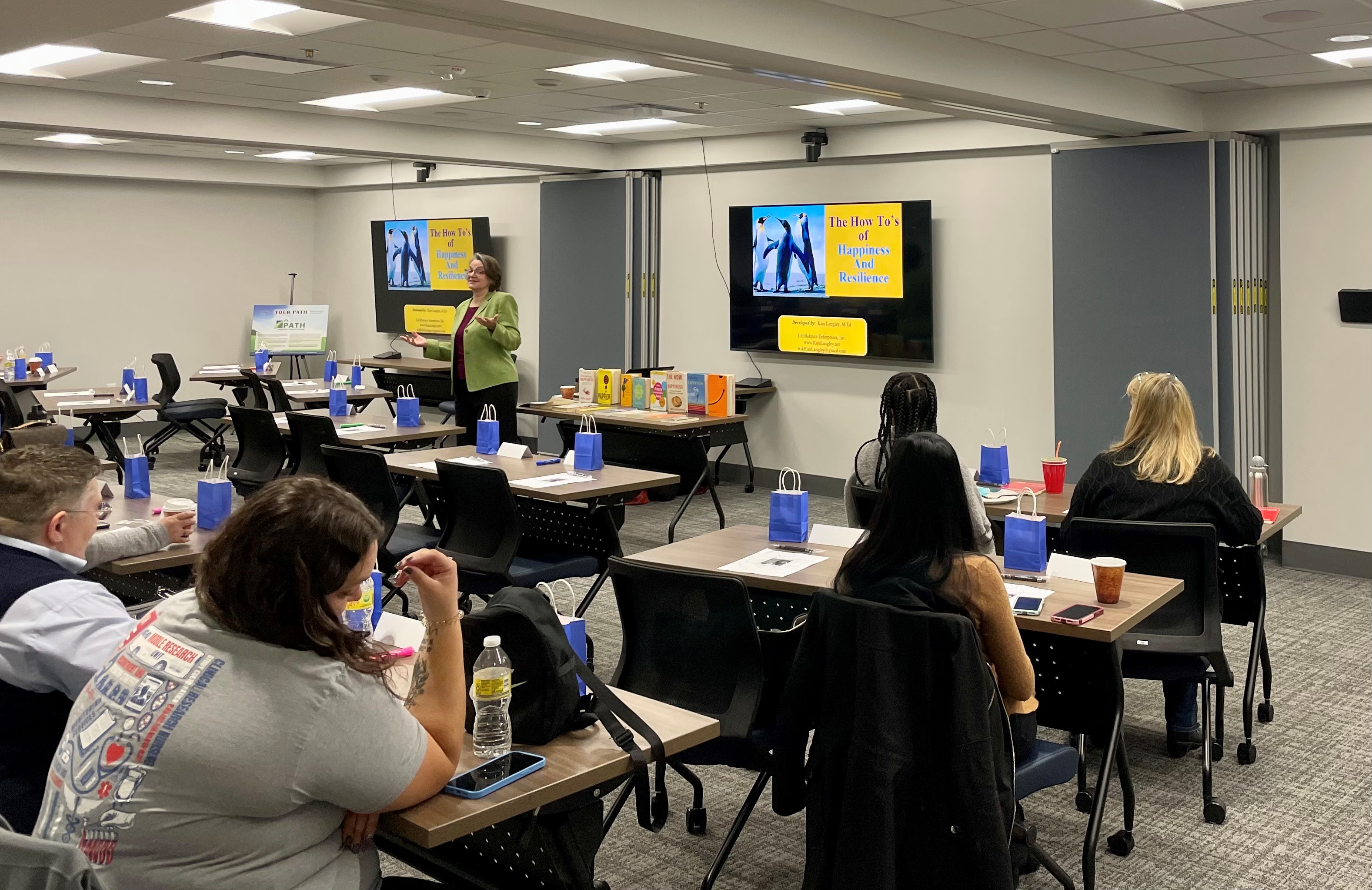 Another part of the CEU consisted of taking assessments based on the Lickert scale, which gives someone their happiness baseline. One of the assessments, the Person Activity Fit Diagnostic, is a series of 12 questions that will assess what activities you can do to be happier.
The CEU workshop looked at research to define happiness as well as the psychology behind an individual's happiness level. The workshop also discussed tips to help improve relationships, including setting family goals and ways to rethink your worldview.
Some resources Langley suggested include reading The How of Happiness by Sonja Lyubomirsky, a self-help book filled with research on the psychology of happiness, as well as quizzes and worksheets designed to help someone reach their goals. Lyubomirsky is a researcher that takes academic findings and writes about them in a conversational way to help her audience learn about themselves. Another resource Langley recommends is the work of Tal ben-Shahar, who has written books such as Happier, No Matter What, and taught the most popular class at Harvard, The Science of Happiness.
"Make happiness your hobby! Happiness is a skill—and you can train for that skill just like you build muscle for a marathon. But you can't do it if you don't know anything about the science of happiness. So follow pages on social media or sign up for the occasional blog post that reflects good positive psychology, happiness research, and gratefulness. That way you'll get the daily (or weekly) dose, and day by day, year by year, you will collect a serviceable toolbox that will help you through the ups and downs of life," Langley said.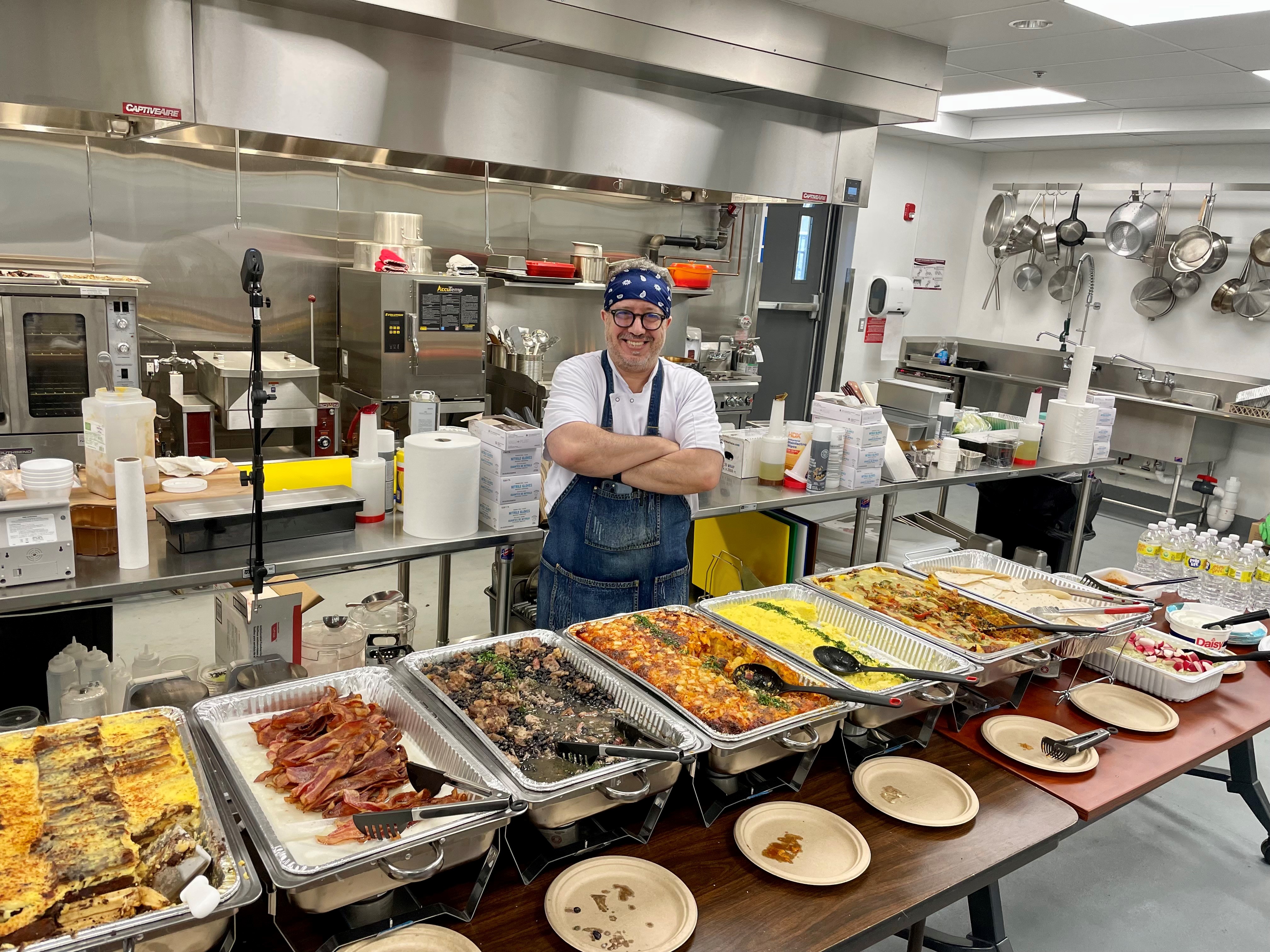 Chef Moe, Director of Culinary at Saber Healthcare, provided a beautiful breakfast spread. He offered a variety of choices of varying flavors for our guests to enjoy during the event.
Saber Healthcare is proud to help people in the community expand their mindset through our CEU workshop. We thank Langley for her time and thoughtfulness in creating this presentation!
About Saber Healthcare Group: Established in 2001, the Cleveland-based company has grown from two skilled nursing facilities to more than 115 skilled nursing and assisted living facilities in seven states (Ohio, Indiana, Pennsylvania, Delaware, Virginia, North Carolina, and Florida). Saber's "On the Cutting Edge of Healthcare" philosophy has spurred its growth and the company to implement greater healthcare knowledge and technologies to serve residents and patients in better ways.
Saber Healthcare is an organization dedicated to providing consultant services to long-term care providers. This article is for informational purposes and is not meant to be seen as professional advice. Please consult with a medical expert before relying on the information provided.