Saber Healthcare Blog & Newsroom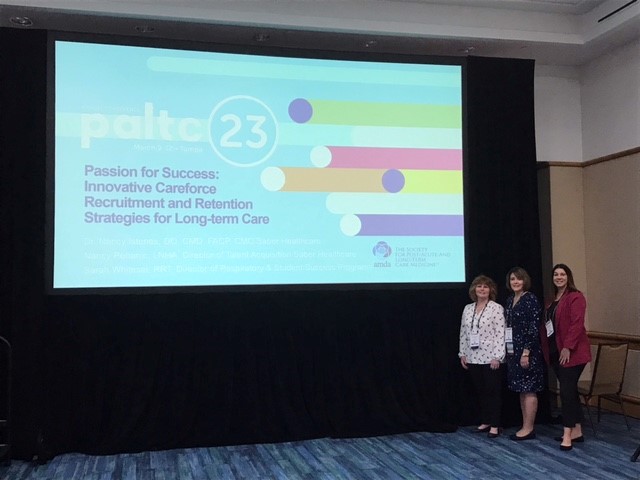 Saber Presents at American Medical Directors Association Conference
Mar. 22nd, 2023
Saber Healthcare Leaders Travel to Tampa to Discuss Long-Term Care Topics and Strategies
Tampa, Florida – The Saber Healthcare Group leadership team had the opportunity to travel to Tampa, Florida for the American Medical Directors Association (AMDA) conference on March 10th. At this conference, our team presented to other leaders in the healthcare industry to educate them about the state of recruitment in long-term care.
The four-day conference had over 1,000 in attendance, including physicians, nurse practitioners, physician assistants, facility medical directors, and other allied health professionals in post-acute and long-term care medicine. The AMDA conference consisted of educational activities, a discussion of clinical advances, and presentations including, but not limited to, retention strategies and workforce development.
Dr. Nancy Istenes, Chief Medical Officer for Saber Healthcare Group, attended and presented on workforce development alongside the AMDA's Workforce Development Committee. Dr. Istenes joined two other Saber leaders, Sarah Whitesel, Director of Respiratory Programs & Student Success Program, and Nancy Pehanic, Director of Talent Acquisition, as they presented information about careforce recruitment and retention strategies in long-term care.
Melissa Purvis, VP of Program and Policy Development for Saber Healthcare Group, was selected to be a judge for the academic poster presentations. The conference encouraged members to participate by giving them an opportunity to "teach" through the submission of academic posters. Posters require an abstract outlining the topic being presented and a poster displaying the outcomes and conclusions of the research. This year, there were 85 poster submissions, and they covered four domains: research, quality improvement, education, and case study. A panel of 6 invited judges, including Purvis, reviewed the posters, spoke with the presenters, and then collaborated on judging the submission.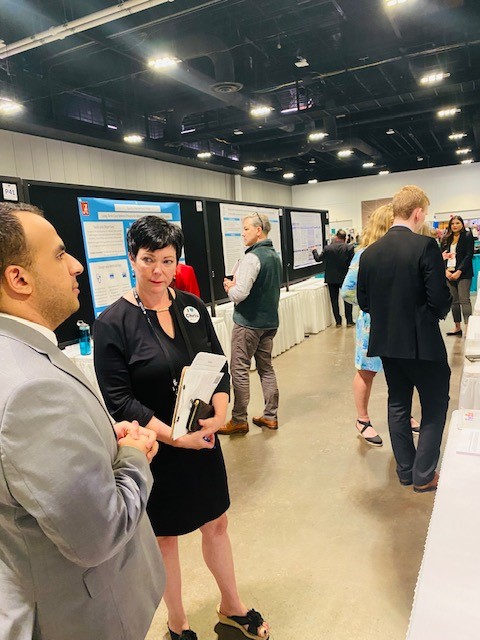 Photo: Purvis judging academic poster presentations
Saber Healthcare and its leaders are thankful to have been a part of the AMDA conference for the opportunity to help shed light on long-term care strategies. Our healthcare leaders are dedicated to furthering their knowledge in the long-term care industry to support the communities they serve.
About American Medical Directors Association: The Society for Post-Acute and Long-Term Care Medicine is the only medical specialty society representing the community of over 50,000 medical directors, physicians, nurse practitioners, physician assistants, and other practitioners working in the various post-acute and long-term care (PALTC) settings. The Society's 5,500 members work in skilled nursing facilities, long-term care and assisted living communities, CCRCs, home care, hospice, PACE programs, and other settings.
About Saber Healthcare Group: Established in 2001, the Cleveland-based company has grown from two skilled nursing facilities to more than 115 skilled nursing and assisted living facilities in seven states (Ohio, Indiana, Pennsylvania, Delaware, Virginia, North Carolina, and Florida). Saber's "On the Cutting Edge of Healthcare" philosophy has spurred its growth and the company to implement greater healthcare knowledge and technologies to serve residents and patients in better ways.