Commitment + Clinical Leadership = Better Outcomes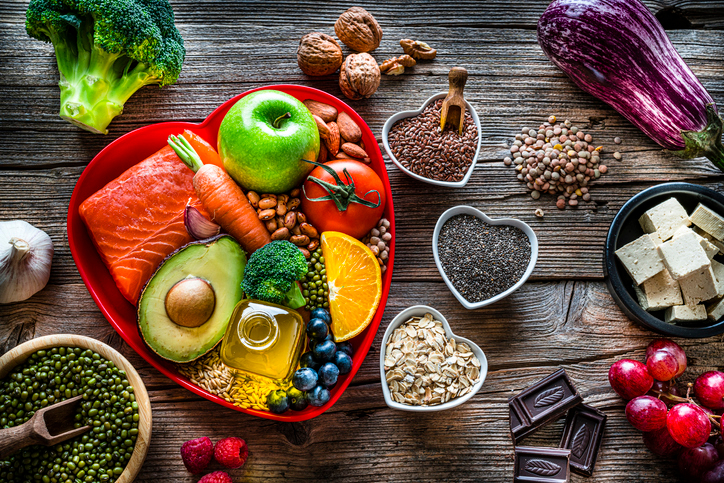 10 Heart Healthy Foods to Add to Your Diet
Aug. 22nd, 2021
Did you know that 655,000 Americans die of heart disease each year? That's approximately 1 out of every 4 deaths in the United States.1 Having a healthy heart is important to prevent cardiovascular conditions such as heart disease, heart attacks, and blood clots.
The arteries in your body are only 4 millimeters in diameter. A bad diet can clog them over the years with foods that promote high cholesterol and build-up.2
What you eat can directly impact your blood pressure and cholesterol levels. The foods you eat can determine your heart health.
Here is a list of 10 foods that can help improve your heart health by lowering cholesterol, protecting your blood vessels, and positively impacting your cardiovascular system.
Berries
Berries have been shown to have a positive impact on heart health alongside the other vitamins and nutrients that they provide.
Berries prevent heart disease with antioxidants, which can help protect the body against oxidative stress and inflammation. Some berries proven to benefit heart health include strawberries, blueberries, raspberries, and blackberries.3
One study looked at the correlation between blood pressure and eating blueberries. The researchers had one group drink blueberry smoothies and the other drink a placebo. They discovered that there was an improvement in endothelial function, which is a thin membrane in the heart and blood vessels that helps control blood flow.4
Another study found that blackberries improved the cholesterol levels of those who had metabolic syndrome.5 Metabolic syndrome increases the chance of heart disease and heart attacks, and approximately 1/3 of Americans have it.6
Eating fruits can be a natural way to help improve your blood flow and lower cholesterol, which can help keep your heart healthy for years to come.
Whole Grains
According to the Heart Foundation, whole grains can reduce the risk of heart disease by up to 30%. Some of the ways whole grains help your heart is by reducing your body's cholesterol levels and lowering your blood pressure.7
Whole grains contain the bran, endosperm, and germ, while refined grains will have the bran and germ removed from them. However, refined grains remove some of the nutritional value that the full state of the seed in whole grain provides.
Another reason why whole grains are good for your heart is because they contain fiber. Fiber is responsible for breaking down food into glucose, which can prevent blood clots and promote lower cholesterol levels. Lowering cholesterol build-up is important for preventing heart disease and heart attacks.8
An analysis found that over 3,000 people that consumed whole grains had smaller increases in blood sugar, blood pressure, and waist size.9
The Heart Foundation recommends that you eat 3 servings of whole grains to keep your heart healthy. Whole grains are also a good option for those at risk for developing diabetes, and have been proven to lower the risk by up to 32%.10
Nuts
Nuts are a great option for an addition to a salad or yogurt. Nuts are also heart healthy, and the American Heart Association recommends eating 1.5 ounces of whole nuts a day.11
Nuts contain Omega-3 fatty acids, which help your heart by preventing irregular heartbeats that lead to heart attacks. Nuts also have Vitamin E, which can prevent plaques from developing in your arteries.12
Research has also found that those who ate nuts at least five times a week have a reduced risk of cardiovascular disease by 14% and coronary heart disease by 20%.13
One analysis found that walnuts are heart healthy because they decrease the risk of cardiovascular disease. They found that those who ate walnuts were less likely to experience cholesterol concentration, and they had healthier arteries as a result.14
Some options for eating healthy nuts include walnuts, pistachios, peanuts, pecans, and almonds. When buying nuts, you should check the ingredients on the food label because some of the sugars, spices, and honeys can negate the health benefits.
Vegetables
Vegetables are packed with vitamins and nutrients that can help your heart stay healthy.
Some of the vitamins and nutrients that vegetables that can help your heart health include:
Potassium. Many vegetables contain potassium, which helps your body control its blood pressure by processing salted foods and controlling the tension in your blood vessel walls. Some vegetables that are rich in potassium include carrots, avocados, peas, lima beans, and spinach.15
Vitamin C. Vitamin C has been found to lower blood pressure by promoting cell growth in the lining of our arteries and heart.16 Some vegetables high in vitamin C include broccoli, cauliflower, and Brussel sprouts.17
Beans
Beans are a great food for your heart. Beans contain resistant starch that helps your good bacteria in your gut, and multiple studies have found that it can also reduce the amount of triglycerides and cholesterol in the bloodstream.3
A review discovered that eating a diet of legumes reduced incidence rates by 10% for cardiovascular disease, coronary heart disease, and hypertension.20
Another reason why beans are a good food for the heart is they are high in fiber. A half-cup of beans contains 14g of fiber, which can help control cholesterol levels.21
Add beans into your soups, salads, stews, casseroles, and snacks to help improve your heart health.
Fatty Fish
Fish contains omega-3 fatty acids, which have been proven to lower blood pressure, reduce blood clotting, and decrease the risk of heart failure.22
One review looked at the effects of fish on cardiovascular health and discovered that omega-3 fatty acids can reduce the risk of cardiac death. Omega-3 fatty acids can also help reduce inflammatory cytokines, which affect the body's immune response.23
The American Heart Association recommends eating 2 servings of fatty fish each week. They define fatty fish as those high in omega-3 fatty acids, including:24
Salmon
Lake Trout
Herring
Mackerel
Albacore
However, they do warn that the mercury found in fish can be harmful to your health, so it is important to check the serving sizes and nutrition labels. It is especially recommended that children and pregnant women are conscious about the amount of fish they consume.
Olive Oil
Olive oil is used as a cooking ingredient, and it can be found in many Mediterranean dishes. Olive oil has been discovered to improve heart health over a series of studies.
A study looked at the link between olive oil and cardio metabolic risk. The researchers looked at 63,867 women and 35,512 men who did not have cancer, heart disease, and strokes. At the end of the study, the researchers concluded that those who consumed ½ tablespoon of olive oil a day had a 15% lower risk for cardiovascular disease.25
Another study found that those who consumed olive oil within a Mediterranean diet had lower systolic and diastolic blood pressure, alongside fruits and vegetables. Foods such as cereals and meats were found to be not as heart healthy.26
Olive oil can be a heart healthy alternative to other cooking ingredients such as vegetable oil, butter, or mayonnaise. It can also be added to your cooked dishes and sauces.
Green Tea
One drink that may have heart health benefits is green tea. A study looked at over 40,530 Japanese adults who drank green tea 5 times a day. The participants had a 26% lowered risk of dying from a heart attack or stroke.27
Green tea is a heart healthy drink because of its ability to break up harmful plaques that can build up and clog the blood vessels. This results in lower blood pressure, cholesterol levels, and less arterial stiffness.28
Another property that makes green tea good for your body is it improves the lining of the endothelial cells in blood vessels.29 This lining plays a role in preventing blood clotting and immunity, and has been linked to heart attacks and strokes.30
Add green tea into your diet to help your blood vessels remove harmful plaques that can build up. Make sure to avoid adding sugar or unhealthy additives to the tea, which could potentially negate the positive effects.
Tofu
Tofu is a popular vegetarian protein that is made of soy milk. Tofu originated in China, and it can be added to many dishes including soups, noodle bowls, and salads.
A study looked at blood samples to determine the link between soy and its effect on various aspects of the blood. The researchers found a correlation between soy and lower cholesterol levels. They also found that systolic blood pressure was lower in the male participants.31
One reason why Tofu is heart healthy is it contains isoflavones, which can minimize heart disease risk. A study looked at 200,000 people who ate at least one serving of Tofu a week and found that the participants had an 18% lower risk of heart disease.32
Cooking dishes that contain Tofu can be one way to help keep your heart healthy.
Dark Chocolate
Even though chocolate usually isn't on the list of foods one would consider healthy, dark chocolate has been found to have a positive effect on heart health.
Dark chocolate contains antioxidants that can fight inflammation and damage caused by free radicals. The best kind of dark chocolate for these health benefits does not contain sugar or saturated fats.33
The main difference between dark chocolate and milk chocolate is it contains 50-90% cocoa butter, cocoa solids, and sugar while milk chocolate contains 10-15% of these ingredients with milk. The cocoa found within dark chocolate contains flavanols that protect the heart by supporting the production of nitric oxide, which relaxes the blood vessels and improves blood circulation.33
A study looked at the effects almonds, cocoa, and dark chocolate have on cholesterol. The result was that these foods all lowered the levels of lipoprotein, which cause the arteries to clog.34
Because the high fat found in chocolate can negate the health benefits, it is recommended to consume 1 ounce of dark chocolate a day.35
Saber Healthcare Encourages Heart Healthy Habits
With many Americans at risk for heart disease and strokes, Saber Healthcare encourages you to start eating a balanced diet that keeps your heart healthy. A healthy heart can help your body fight off disease and prevent cardiovascular issues in the future.
Saber Healthcare's dietary team works to provide our residents with diets that meet their health and nutritional needs each day. Our dietary department designs menus with food that not only tastes great, but also provides the vitamins and minerals our residents need to live a healthy life.
To learn more about Saber Healthcare and the care that we offer to our residents, click here.
Saber Healthcare is an organization dedicated to providing consultant services to long term care providers. This article is for informational purposes and is not meant to be seen as professional advice. Please consult with a medical expert before relying on the information provided.
Sources