Commitment + Clinical Leadership = Better Outcomes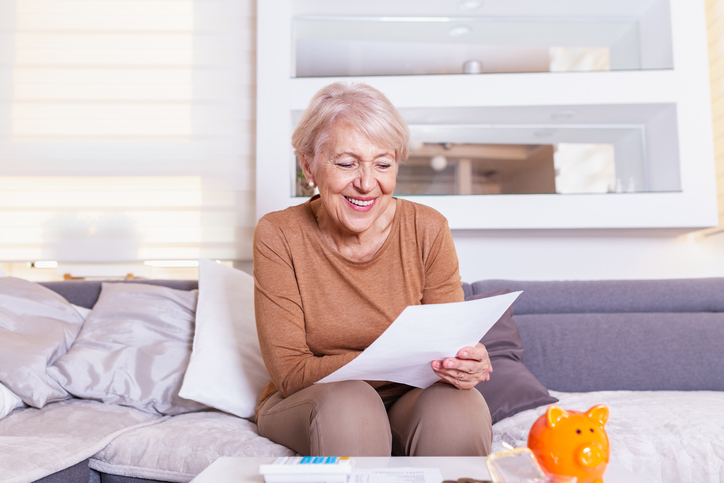 4 Benefits of Senior Pen Pal Programs
Aug. 18th, 2021
It is estimated that ¼ of adults ages 65 and older are socially isolated.1 Many seniors may feel lonely because they are retired, live in a nursing home, or no longer participate in some of the activities that they once were physically capable of.
According to the Centers for Disease Control and Prevention, social isolation can cause a 29% increased risk for heart disease and 32% increased risk for strokes. Loneliness can also cause a 50% increased risk of dementia, which many seniors are at risk of developing as they age.2
It is important that the seniors in our communities continue to connect to others in order to feel accepted and loved. One way to show appreciation for seniors is by talking with them through a pen pal program.
Here are 4 benefits of senior pen pal programs, as well as some ways you can get involved in writing letters to seniors in your community.
Writing Letters Can Give a Sense of Belonging
Writing to a senior pen pal can give them a sense of belonging. Many seniors may feel lonely throughout the day, especially if they live alone.
Seniors have knowledge, hobbies, and experiences that they are interested in sharing with others. They want to talk with people who enjoy the same things as them and would be willing to hear their advice.
By having the opportunity to write a letter to someone in the community, seniors can feel that they are making a difference by sharing their experiences. This can be a highlight in their day when they sit down to write a letter to talk to someone.
Writing Reduces Anxiety and Depression
Many seniors may feel stressed or depressed, especially if they lack the independence and routine that they once had.
Luckily, writing has been proven to reduce the symptoms of depression and anxiety. One study found that those who journaled for 15 minutes a day over the course of 3 days a week felt less depressed after a month.3
That means if a senior were to write to a pen pal a few days a week, they will improve their mental well-being by sharing and expressing their feelings with someone. They will be able to talk about their day and share the positive things that happen in their life with someone else.
Writing Letters Doesn't Involve Technology
While some seniors are starting to learn how to use technology, many of them did not grow up with it. That means some seniors may not be able to utilize the internet to talk to others in their community.
Luckily, writing letters does not involve technology, meaning that seniors don't need to necessarily understand the internet to write to someone. All that they need to write a letter is a pen, paper, and an envelope.
Writing a handwritten letter can also make a senior pen pal feel like they have a personal connection to someone. It will make them feel appreciated that someone took the time to write and mail to them, especially since they might oftentimes feel left out due to people always using their smartphones.
Reading and Writing Letters Can Be Enjoyable
Receiving a letter in the mail can be the highlight of a senior's afternoon. They will get to hear someone else's story, learn about their accomplishments, and may even find some good advice within their letters.
Each letter that comes in the mail can be a new experience for a senior that day. Having someone's response come into their mailbox can be something that they look forward to each time because each letter will help them get to know their pen pal better.
A pen pal is also a real, genuine connection that a senior has with someone. They'll feel appreciated that a person likes talking to them, and they will write their response hoping to continue the pen pal friendship.
How to Find Senior Pen Pals
There are many different organizations in your community, as well as online, that are looking to connect seniors with pen pals.
Here are a few ideas on how you can become a senior's pen pal today:
Reach out to a retirement community or nursing home. There are many businesses in your local area that might have a pen pal program available. Some of them might have seniors searching for pen pals while others might be able to connect you to an interested senior. Reach out to your local retirement or nursing home to find out if there is a senior who might be a good fit as your pen pal.
Participate in volunteer groups. There are volunteer groups that are dedicated to helping people in the community, including ones that help seniors. Many of them may already have a pen pal program or would be open to starting one.
Look for Facebook Groups. There are many Facebook groups dedicated to helping connect seniors to pen pals. Search for one in your area that can help you find a senior who has the same interests.
Saber Healthcare and Pen Pals
Here at Saber Healthcare, many of the buildings we offer services in have ran successful senior pen pal programs in the past. These pen pal initiatives are designed to help the residents talk to people in the community and give them a sense of belonging. These programs have helped the residents feel connected by sharing their hobbies, interests, personal views, and experiences with a friendly ear.
If you would like to know if a community has a pen pal program, or if you would like to find a resident to be your pen pal, call a one of the buildings near you and ask!
To learn more about Saber Healthcare and the care we provide to our residents, click here.
Saber Healthcare is an organization dedicated to providing consultant services to long term care providers. This article is for informational purposes and is not meant to be seen as professional advice. Please consult with a medical expert before relying on the information provided.
"Social Isolation and Loneliness in Adults." National Academy of Sciences, The National Academics of Sciences Engineering Medicine. Accessed August 17th, 2021. Link: https://www.nap.edu/catalog/25663/social-isolation-and-loneliness-in-older-adults-opportunities-for-the
"Loneliness and Social Isolation Linked to Serious Health Conditions." Centers for Disease Control and Prevention. Page last reviewed April 29th, 2021. Accessed August 17th, 2021. Link: https://www.cdc.gov/aging/publications/features/lonely-older-adults.html
"Mental Health Benefits of Journaling." WebMD. Accessed August 17th, 2021. Link: https://www.webmd.com/mental-health/mental-health-benefits-of-journaling