Commitment + Clinical Leadership = Better Outcomes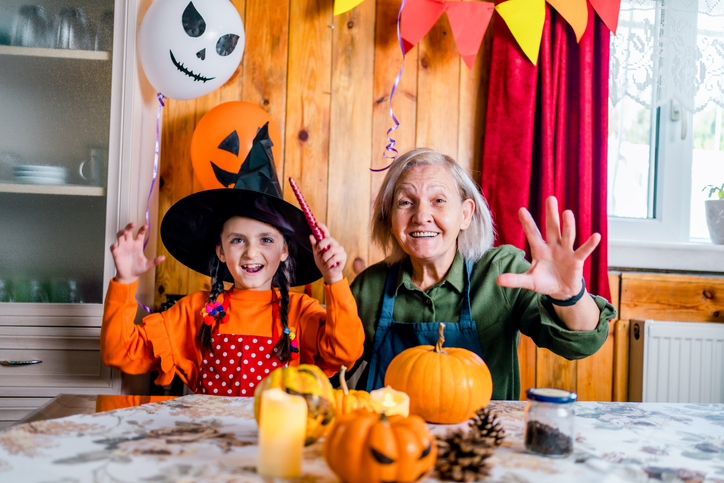 Halloween Activities For Seniors
Oct. 18th, 2023
October is a time for yummy treats, haunted houses, and fun costumes! With Halloween approaching, seniors are getting ready to celebrate the spooky season with their families and friends. Here are some fun Halloween activities for seniors this season!
Make a Costume
Dressing up on Halloween isn't just for kids – seniors can enjoy dressing up as well! They can make a costume based on one of their favorite characters, through crafting or thrifting. There are also some options for pre-made costumes for seniors available at local Halloween party stores.
Watch a Scary Movie
Scary movies can be a fun Halloween activity for seniors this year! There are always new scary movies coming out around this time at the theater. Your senior loved one may also have a favorite scary movie from their childhood that they can share with the whole family. There are Halloween movies for all ages, so don't miss out this season on a trip to the theater!
Make Festive Snacks
Many seniors love to bake, and Halloween time is the perfect time to make some spooky treats! From orange and black cupcakes to Halloween-themed cakes, there are so many fun goodies that your senior loved one can make this year. Baking the treats for a party or to hand out on Halloween can make them appreciated by all.
Tell Scary Stories
Seniors will have some fun and interesting scary stories that they've experienced or heard over the years. A story time with the whole family can be a fun way for everyone to tell scary stories and reminisce about the spooky season. To make it even more fun, you can make it around a campfire or plan for this activity at a Halloween party!
Crafts
Many seniors love crafts, especially if they have an artistic side! Crafts can be a fun way to decorate the house and help keep a senior active. From painting activities to easy spooky crafts you can buy at the store, seniors will have plenty of Halloween themed artistic endeavors this year.
Carve a Pumpkin
Pumpkin carving is a fun Halloween activity that the whole family can enjoy together! Your senior loved one can carve their own pattern or use an idea that they find online. If your senior loved one has arthritis or difficulty cutting a pumpkin, perhaps painting a pumpkin can be a good alternative to carving one.
Play Halloween Themed Games
Around this time of year, there are plenty of Halloween themed board games that senior loved ones will enjoy playing. Some ideas include Clue, Escape Room in a Box, Halloween Bingo, and Horror Trivia. These board games can be played on a board game night with the whole family!
Create a Halloween Care Package
Many seniors have causes that they volunteer for, whether it's through a church or a local organization. One activity a senior can do this year to celebrate Halloween is to create Halloween care packages for people in need. They can gather a group together and work on creating bags of spooky treats and goodies to give to others. Some good organizations to reach out to include hospitals, veteran's organizations, and healthcare facilities if your loved one wants to help a specific cause.
Make Spooky Candles
If your loved one enjoys candles, then they should consider making their own this season! There are some candle making guides that you and your senior loved one can follow online this year. Some guides can even help you make a flameless candle, which can be an option to keep seniors safe who are unable to properly use a lighter.
Go for a Hayride
Around this time of year, there are many fun hayrides with Halloween themes available all over town! Take your senior loved one to a local hayride to enjoy some of the spooky decorations. This can be a great way for your loved one to enjoy some of the colder weather and beautiful leaves during this time of year.
Pass out Candy
Many seniors enjoy participating in Halloween festivities each year by passing out candy and looking at the costumes. There are many Halloween events where your senior loved one can volunteer to pass out candy, from mall events to trunk or treats. This can be a great way for seniors to give back to the community while having fun!
Scavenger Hunt
A Halloween themed scavenger hunt can be a great way for seniors to have fun this Halloween season! You can gather your family and friends and create a scavenger house from the comfort of your own home. There can even be a prize for those who finish the scavenger hunt!
Saber Healthcare
Saber Healthcare is an organization that provides services to more than 115 buildings across the states of Ohio, Pennsylvania, Virginia, North Carolina, Indiana, and Delaware. To learn more about our company and services, click here.
Saber Healthcare is an organization dedicated to providing consultant services to long-term care providers. This article is for informational purposes and is not meant to be seen as professional advice. Please consult with a medical expert before relying on the information provided.