Commitment + Clinical Leadership = Better Outcomes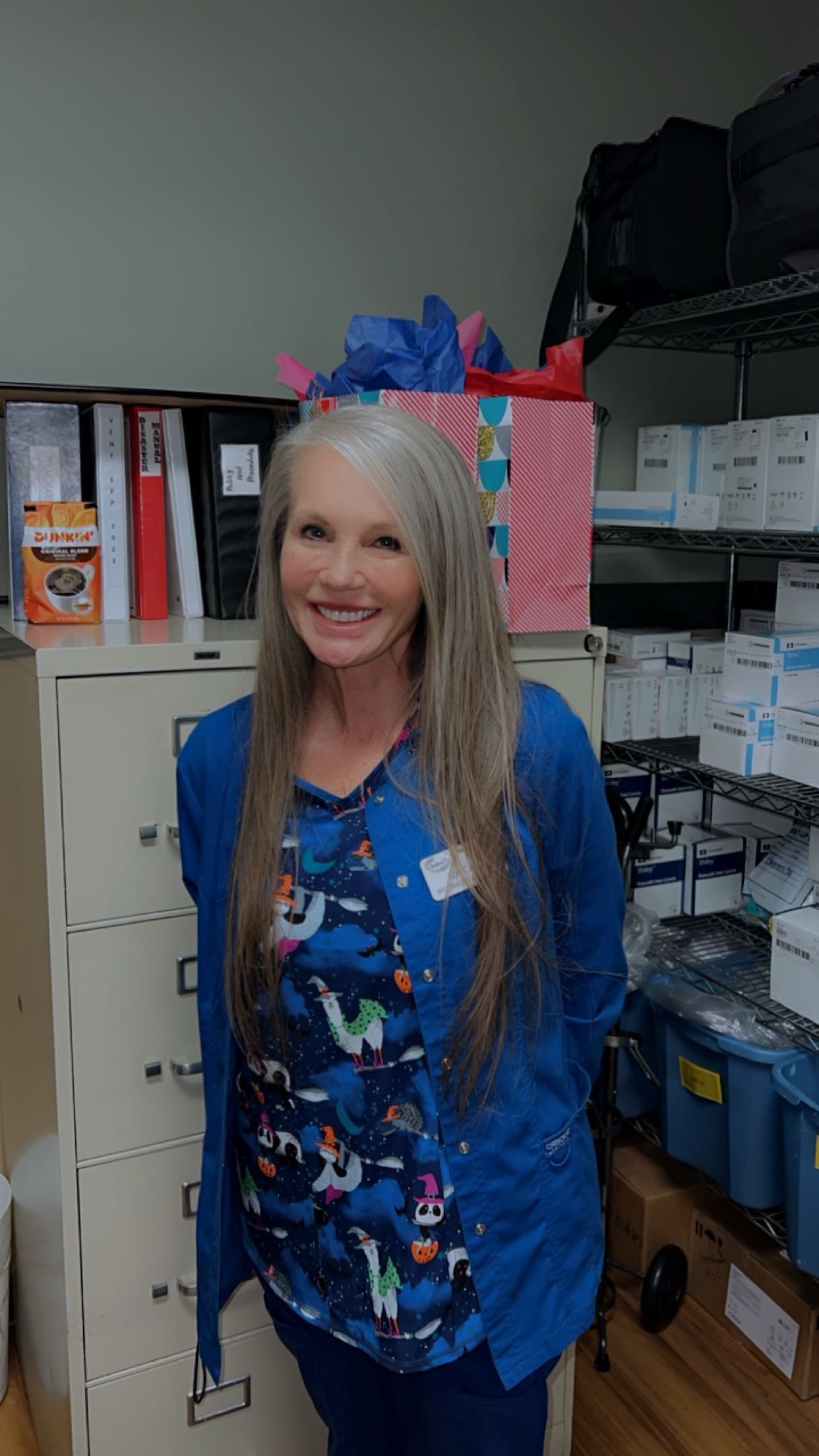 How Respiratory Therapists Help Residents
Oct. 27th, 2023
Respiratory Therapists help people who have trouble breathing. They work primarily with individuals who have lung conditions that they either need to treat or adapt to living with. Respiratory Therapists work in a variety of settings, from nursing homes to hospitals to rehab centers.
We interviewed April Carroll, Registered Therapist and Respiratory Director from Ridgecrest Manor Nursing and Rehabilitation in Virginia. Carroll shared her story and expertise with us on Respiratory Therapy!
"Currently, Ridgecrest Manor as well as other communities Saber is privileged to serve are working towards the Passy Muir Credential of Excellence. This is a wonderful accomplishment because it helps our staff better serve the residents," Carroll told us. "The certification shows that there is an interdisciplinary staff working towards providing quality care."
Tell us about yourself
Carroll told us that she graduated from a community college and earned her degree from a nursing program.
"For the last twelve years, I have been working at Ridgecrest. I have been the Respiratory Director for two years."
She told us that she was first introduced to respiratory therapy when her grandfather needed care. She took what she learned from that experience, and now utilizes it to help other people.
"We work with many residents who were coal miners here at Ridgecrest. Many of them need respiratory therapy to help them get back on their feet. I always work to help everyone learn how to have a good quality of life, whether they are short-term or need to adapt to living with a ventilator."
How can someone become a Respiratory Therapist?
"I recommend starting with searching for community colleges that offer respiratory therapy programs," Carroll told us. "Look at the curriculum, talk to other people, and get involved. There is a ton of opportunity in this field, from working in a hospital to nursing homes. A professor can give you an overview of the field and walk you through the first day to the last to see if this is what you want to do," Carroll advised.
She told us that most people can become a respiratory therapist by attending community college, graduating with a degree in applied science, and then going on to get their Bachelor's and other respiratory therapy credentials. She earned an associate of applied science Mountain Empire Community College.
How does your team organize tasks?
Carroll told us seven therapists are on the staff at Ridgecrest Manor Nursing and Rehabilitation. They have a schedule that rotates everyone around on different days depending on their community's needs.
"Every day here at Ridgecrest is different, and I am always happy to help everyone on the team. We will divide up our duties when needed and look at how many residents who need care," Carroll explained.
What is your favorite part about your job at Ridgecrest Manor?
"Sometimes, a resident will come to Ridgecrest who needs respiratory therapy and has to adjust to their new life here. This can cause them to feel frustrated, but I feel very rewarded seeing them progress and improve on their own," Carroll told us. "Some of our residents are able to eventually get off the ventilators and return home to their loved ones. For our long-term residents, I really enjoy seeing them making friends and getting involved in activities. Whenever I see our residents smile from their progress, that is extremely rewarding."
What is one fact about respiratory therapy that most people wouldn't know?
"Many people don't realize that you can live a fulfilling life on a ventilator," Carroll shared. "Oftentimes, I think people believe ventilators as something in the hospital. However, our residents at Ridgecrest who need ventilators are able to learn to adapt and live fulfilling lives. It is extremely rewarding to see people progress and get involved. Some of our ventilator residents are eventually able to go home after they learn how to adapt."
Tell us about the positives of being a respiratory therapist
"I've been working at Ridgecrest Manor for a long time, so I have tons of positive experiences!" Carroll told us. "I mainly enjoy the satisfaction of seeing the residents learn how to adapt through respiratory therapy. I've watched many people start with a ventilator and then walk out of here on their own power. Our entire team is invested and close to our residents, and many of us will do special things for them when they ask. We want to get to know them and make them feel comfortable here. When the residents trust the therapists, it helps them through the care process."
Saber Healthcare Gives A Shout Out to Respiratory Therapists!
Saber Healthcare is proud to give a shout out to all respiratory therapists who work each day to help their residents. Your hard work and commitment helps people learn how they can better manage their breathing and live with their lung conditions.
If you're interested in serving others as a respiratory therapist, apply to one of our Saber affiliated positions at a community near you.
Saber Healthcare is an organization dedicated to providing consultant services to long-term care providers. This article is for informational purposes and is not meant to be seen as professional advice. Please consult with a medical expert before relying on the information provided.