Commitment + Clinical Leadership = Better Outcomes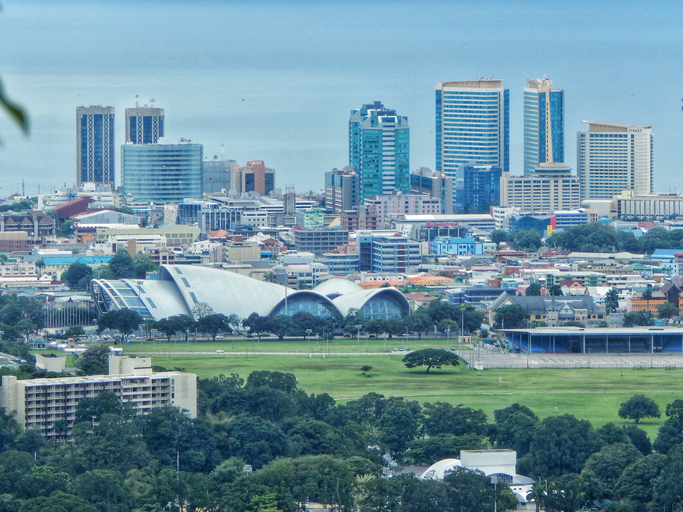 Port of Call: A Journey to Trinidad and Tobago
Aug. 14th, 2023
Each month, participating communities at Saber Healthcare Group will take their residents on a journey to a different country or city through fun activities, games, and a monthly meal. Each culture that is chosen will be explored by our residents right in the comfort of their own home.
For August, we are celebrating the rich culture of Trinidad and Tobago. We asked our residents to take out their passports and (metaphorically) come explore these islands with us!
About Trinidad and Tobago
Trinidad and Tobago is an archipelagic state in the Southern Caribbean, consisting of two islands. Trinidad is the island with the larger population, while Tobago only has 4% of the population.1 There is an estimated 1,535,178 residents who live in Trinidad and Tobago.2
Additionally, Trinidad and Tobago residents are usually called Trinidadians or Tobagonians, or by their nicknames, Trinbagonians or Trinis. One interesting fact about Trinidad and Tobago is its economy relies heavily on petroleum and petrochemicals.1
Fun Activities to Do in Trinidad and Tobago
Trinidad and Tobago has a ton of fun activities that your whole family can enjoy.
There are over 80 beaches that you can explore in Trinidad and Tobago. One of the beaches you can visit includes Maracas Bay, a popular beach boasting of beautiful palm trees and vendors selling delicious Caribbean food. Another beach is Las Cuevas, which is close to rainforests that give it great views and trails to explore after swimming.3
Trinidad and Tobago also offer fun carnivals throughout the year to celebrate their culture and heritage. These carnivals offer incredible performances, delicious cuisine, colorful costumes, and traditional music.
You can also do lots of animal sightseeing throughout Trinidad and Tobago. The islands are home to more than 472 bird species, 100 mammals, 90 reptiles, 50 freshwater fish and 950 marine fish. Trinidad and Tobago is especially popular with bird watchers due to the hundreds of species that you can find. You'll be able to catch a glimpse of many unique animals teeming around the landscape.1
Sports such as cricket, basketball, and football are all popular in Trinidad and Tobago. You can take your family to see local games of these sports or find places to participate in them yourselves.
The Food of Trinidad and Tobago
Trinidad is home to many native fruits and vegetables, including tomato, eggplant, pepper, and sweet potato. Many people in the Caribbean use these fruits and vegetables as staple ingredients in many of their recipes.4
The food of Trinidad and Tobago has influences from many different cultures, due to the many immigrants from over the years. This makes Trinidad and Tobago a melting pot for many different cuisines, including Indian-South Asian, West African, Creole, European, American, Chinese, Amerindian, and Latin American. Curried crab and dumplings make up a large selection of the dishes available in Trinidad and Tobago.5
Here are a few different cultures that Trinidad and Tobago has incorporated into their cuisine.
Creole
Creole food in Trinidad and Tobago originated from the West Africans who came to the Caribbean, and they taught the people who lived here how to make many "one pot" dishes to feed a group of people. Some foods that the West Africans introduced to the locals are stews, fried baked stuffed meats, and pelau.6
Chinese
Additionally, there is also a presence of Chinese food in Trinidad and Tobago. Many Chinese restaurants line the streets, selling food that is both tasty and convenient for people. Some popular Chinese dishes include wontons, spring rolls, and sweet and sour pork.7
More About Trinidad And Tobago Cuisine
Callaloo: The National Dish
The National Dish of Trinidad and Tobago is Callaloo, a soup made with dasheen (taro) leaves, okra, crab, shrimp, pigtail, and other meats. The ingredients used will depend on the region, but it is also served with rice and beans or bread. Many people will also add blue crab to the dish, but it can be left out if needed. Thyme, garlic, onions, and pepper are some of the most popular seasonings to add to callaloo.8
Street Food
Trinidad and Tobago serves a variety of street foods. Some popular items include doubles, aloe pie, saheena, baiganee, and wrap roti. Bake and shark is extremely popular in the Maracas beach area, which is a fried dish topped with fresh fruit.5
Port of Call Menu
Our residents in participating communities will be enjoying the food of Trinidad and Tobago for this month's port of call. If you want to join in on the fun, here are the recipes! Our recipes are designed to serve up to 10 people.
Pineapple, Mango, and Cucumber Caribbean Salad
5 EA Mango Diced Frozen or Fresh
1 EA Onion Red Diced Small
2 EA Tomato Diced Fresh
1 EA Cucumber Diced English Seeded
Half CUP Cilantro Chopped Fresh
1 TBSP Salt
1 TBSP Pepper Black Ground
3 TBSP Lemon Juice
5 TBSP Vegetable Oil
Method
Combine all of the ingredients and mix well. Cover and refrigerate until service time.
Trinidad and Tobago Jerk Chicken
5 lb Chicken Raw 8 Ways Bone In
Half CUP Jerk Spice
1 CUP Pineapple Juice
1 TBSP Salt
1 TBSP Pepper Black Ground
HALF CUPS Vegetable Oil
HALF CUP Garlic Granulated
HAL CUP Vinegar
2 TBSP Paprika
Method
Combine all of the ingredients and mix well. Cover and marinate overnight.
Lay chicken pieces over parchment paper on a sheet pan and roast at 375f for 35 minutes or until internal temperature has reached over 165 degrees.
Transfer the food into a serving pan including roasting juices.
Roasted Turmeric Cauliflower
3 Heads Cauliflower Florettes Fresh Or Frozen
2 TBSP Turmeric Spice
Half CUP Vegetable Oil
1 TBSP Salt
1 TBSP Pepper Black Ground
Hal CUP Butter Melted
1 CUP Cilantro Minced
2 TBSP Garlic Minced Fresh
Method
Combine all of the ingredients except for the butter and cilantro, and roast in a 350f oven for 25 minutes.
Toss in butter and cilantro. Serve.
Trinidad Tobago Casava Pone Cake
Corn muffin mix
Coconut milk unsweetened
Pumpkin puree
Sugar brown
Cinnamon ground
Ginger ground
Nutmeg ground
Clove ground
Butter soft
Salt
Vanilla extract
Milk
Method
Combine all of the ingredients in a large mixing bowl and whisk until it is a consistent batter.
Transfer into greased 2" baking (9" x 13") pan and divide evenly.
Bake at 350f for 35 to 45 minutes or until the cake is fully cooked in the center and set.
Cool down completely then portion at 2"X 2" squares.
Activity Plans for Trinidad and Tobago
Our Life Enrichment departments at the participating communities have some fun activities to celebrate Trinidad and Tobago! Here are some of their fun, exciting ideas for August.
Maple Heights Health & Rehab Center
At Maple Heights Health and Rehab, they plan on having the residents bird watch in the morning to pretend that they are at Newton George. They will also give an informational PowerPoint on Trinidad and Tobago, alongside showing videos on topics such as a Catamaran snorkel tour and a tour of the Tobago Cocoa Estate to help immerse the residents in the culture. The residents will also play trivia, participate in carnival activities, and enjoy a lunch prepared by the dietary department.
Dresher Hill Health & Rehabilitation
Dresher Hill Health & Rehabilitation will hold a fun trivia session with the residents based on Trinidad & Tobago. They will also offer the residents a morning yoga class at the Kariwalk village (in the main dining room). Dresher Hill's residents will also bird watch, enjoy traditional cuisine, and have a fun music and dance party.
Harmon House Health & Rehab
Harmon House is going to have an exciting Powerpoint, a short video, fun facts and trivia for the residents. The residents received passports from Oriental Trading that they can add to each month. The Life Enrichment department will be leading sand art with seashell necklaces for an activity. Harmon House will also be having a Paint & Sip (non-alcohol, Trinidad & Tabago themed!). They plan on decorating for the Trinidad & Tabago party with the meal later this month!
Clarksville Health & Rehab
The Life Enrichment department at Clarksville plans on watching the soccer game in 2023 for their Port of Call. The residents will also do a feather Caribbean carnival, as well as a craft involving feathers. The dietary staff will put together a Trinidad & Tobago meal.
Saber Healthcare and Port of Call
Saber Healthcare is proud to offer our port of call each month. We hope the residents enjoy Buenos Aires and everything it has to offer!
Saber Healthcare is an organization dedicated to providing consultant services to long-term care providers. This article is for informational purposes and is not meant to be seen as professional advice. Please consult with a medical expert before relying on the information provided.
Sources