Commitment + Clinical Leadership = Better Outcomes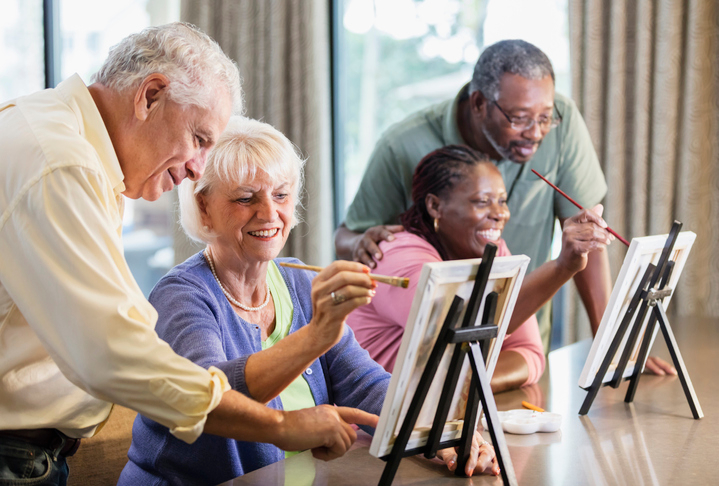 What is Art Therapy?
Feb. 13th, 2022
Art therapy is using artwork and the creative process to help someone explore their feelings and thoughts without judgement. Art therapy is usually given by a professional therapist to help improve mood, treat psychological disorders (such as anxiety or depression), boost self-esteem, increase productivity, improve motor functions, and foster social skills.
The techniques used in art therapy utilize creativity as a form of self-expression. Some art therapy techniques include:
Drawing
Painting
Coloring
Doodling
Scribbling
Shading colors
Clay
Collaging
Crafting
Carving
Pottery
Card making
Mixing art supplies
As someone goes through art therapy, they use the creative process to identify how they think and feel. Many times the art therapist will ask the participant questions to help their client analyze their artistic process. This can help someone discover their emotions, which can help them understand their thoughts and behaviors.
History of Art Therapy
"Art therapy" was first coined in 1942 by Adrian Hill, a British artist who discovered the health benefits while bedridden with tuberculosis.
In the 1940s, several medical writers used the term "art therapy" to describe it as a means of treating people through the creative process.
Many influential writers, including Margaret Naumburg and Florence Cane, wrote about the benefits of the creative process and how it can be used to analyze the subconscious mind.1
Why Use Art Therapy?
There are many benefits that are linked to practicing art therapy, including:2
Promoting self-expression
Finding awareness
Exploring feelings in a safe environment
Decreasing levels of stress, depression, and anxiety
Improving memory and focus
Improving problem-solving skills
Developing interpersonal & social skills
Finding healthy coping skills
Art therapy has been proven to help treat a variety of conditions. Some of them, according to Very Well Mind and Good Therapy, include:(1 and 3)
Anxiety
Depression
Eating disorders (such as Bulimia and Anorexia)
Post-Traumatic Stress Disorder (PTSD)
Age-related issues
Stress
Substance use disorders
Cancer
Family/relationship issues
Attention Deficient Hyperactivity
Heart Disease
Fatigue
Cognitive functioning impairments
What Qualifications Do Art Therapists have?
Art therapists usually have a master's degree in psychotherapy and visual arts from an institution accredited by the Council for Higher Education Accreditation (CHEA). If an art therapist has the initials ATR after their name, then they are registered on the Art Therapy credentials board.4
Art therapists are trained to understand how the different uses of colors, textures, and media can play a role in helping someone discover their feelings. They can help an individual reveal a deeper understanding about themselves by using a combination of psychotherapy and artistic visuals.
Where Can You Find Art Therapy Programs?
Art therapy can be done for all ages. Some of the places that most commonly have art therapy programs include:
Art studios
Long term care facilities
Schools (Elementary, high school, and colleges)
Hospitals
Therapy practice offices
Senior centers
Shelters (such as homeless shelters or women's shelters)
Wellness and community centers
Correctional facilities
Rehabilitation centers
Small group settings
Who Should Try Art Therapy?
Art therapy is great for an artistic individual who is open to exploring their feelings through the creative process. You don't have to be an artist to receive benefits from art therapy; you just need a willingness to create and be mindful.
It's been found that those who struggle with trauma can benefit from art therapy because they have feelings that are hard to express in thoughts and words. The ability to use creativity to express thoughts can help someone understand their trauma and the emotions surrounding it.2
Those who may not have a creative mind or are skeptical if art therapy can help them might not experience all the benefits an art therapy program has to offer.
Art Therapy vs. Expressive Arts Therapy
Expressive arts therapy is utilizing multiple different creative outlets in order to use the creative process to understand your thoughts and feelings. This can include different creative outlets and therapies such as music therapy, dance therapy, poetry, writing, and even art therapy.5
Art therapy, on the other hand, only focuses on using art to explore the creative process and our feelings within it. Art therapy focuses primarily on the visual aspect and using art while expressive arts uses different forms of art for expression. There is always a product after an art therapy session where there may not be after an expressive arts therapy session.
How to Start Art Therapy
Starting an art therapy program can help you explore your subconscious through the creative. Here are some tips you can use to begin an art therapy program!
Find an accredited art therapist. There are art therapists in your community who are open and available for helping you find a reputable art therapy program. Many accredited therapists will work in community centers, schools/universities, and therapy offices. Ask them what they specialize in – some may specialize in mental health while others will focus on those with substance abuse – to find the right program for your needs.
Check your insurance. If you're interested in art therapy, your insurance may cover all or part of the sessions. Check your insurance to find out what classes you can afford for your coverage.
Keep an open mind. The first key step to starting an art therapy program is to understand that the creative process will teach you to take steps to understanding your feelings. Stay open-minded to the program, and be ready to answer any questions your art therapist asks you. You can also work with your art therapist on various goals that you may have through the art therapy sessions.
Saber Healthcare and Art Therapy
Here at Saber Healthcare, we encourage you to explore your thoughts and feelings through art therapy alongside a professional therapist to help improve your wellbeing. Art therapy can be a great step to learning more about your subconscious thoughts and can give you a new perspective on your everyday mindset and emotions.
Our trained therapy professionals have provided art therapy to the residents we are privileged to serve in the past. For example, Bath Creek Estates has an established Opening Minds Through Arts (program) to help the residents learn through self-expression. Read about the full story here.
Saber Healthcare is an organization dedicated to providing consultant services to long term care providers. This article is for informational purposes and is not meant to be seen as professional advice. Please consult with a medical expert before relying on the information provided.
Sources