Commitment + Clinical Leadership = Better Outcomes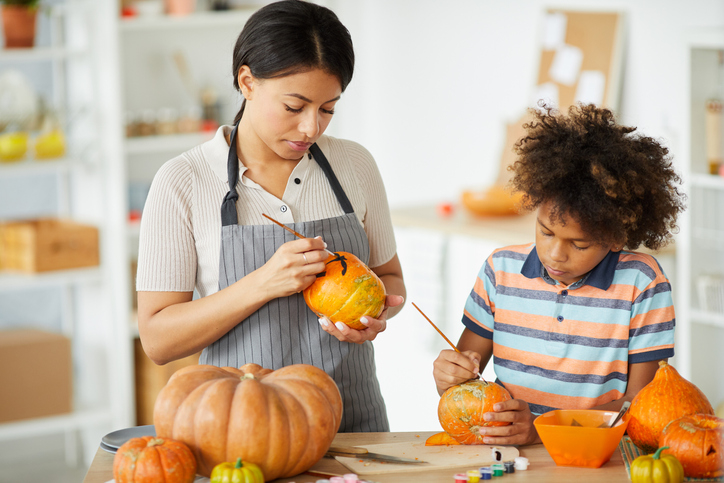 5 Fun Family Autumn Activities
Sep. 30th, 2020
As the leaves start turning from green to gold and the air begins to chill, it's time to welcome in the next season: autumn! This is the time filled with harvests, apple cider, and beautiful scenic changes to the landscape.
With the current pandemic, some of your family's favorite autumn activities may be canceled or limited this year. That means some of your holiday traditions might need to be creatively adapted.
However, don't worry: we still have some ideas you can use to celebrate the festivities with your family.
Here's five autumn activities to help celebrate the changing of the season.
Pumpkin Carving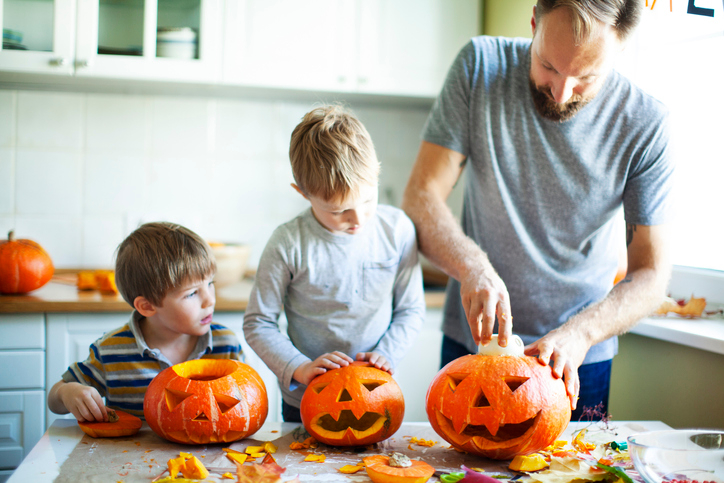 Pumpkin carving is one of the most popular traditional autumn activities. Not only are pumpkins used as Halloween decorations to light up the night, but they're great seasonal pieces your family can display throughout the fall.
Another reason pumpkin carving is a fun family activity is it can help you and your kids get creative. No two pumpkins will look the same, so everyone will have theirs that is unique to them.
Get started Pumpkin Carving
With many autumn activities being closed for the pandemic, you might not be able to go to a pumpkin patch to choose the perfect pumpkins this year. However, you can still find plenty of pumpkins at local supermarkets near you.
Think about the type of pumpkins you'll need. The size and shape will depend on what kind of artwork your family members are looking to make. Some people also enjoy making sets of pumpkins that go together.
If you have smaller children, consider doing painted pumpkins with them instead. This autumn activity can help bring them into the fun safely.
After you purchase your pumpkins for the family, you'll need to have adequate materials to carve them. You'll need:
Stencils to help you trace a design onto your pumpkin to carve the perfect shape.
A sharpie to darken the design of where you'll cut.
A spoon to scoop out the excess pumpkin seeds and fruit.
A container for the excess seeds and fruit, should you wish to use these later for cooking.
A knife to carve the pumpkin.
A light for the inside.
Once you gather all of these materials, your family will be able to start carving their pumpkins. You can use your creativity or follow tutorials online to create the looks you want.
The best part is when you're finished, your family can display their creations on the front porch!
Explore Nature on an Autumn Hike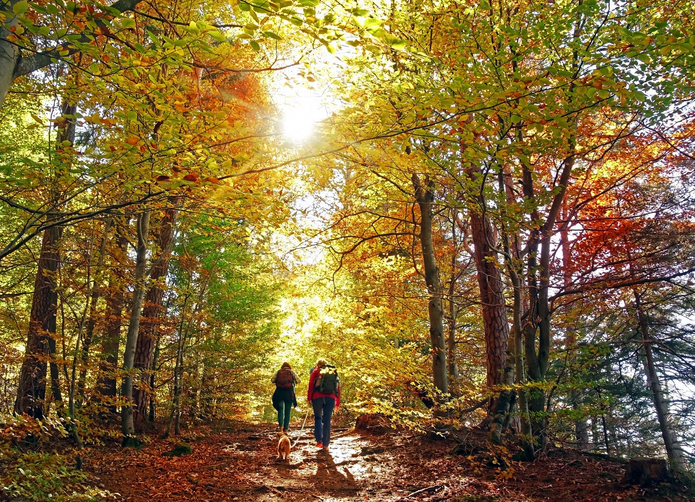 Another great autumn activity your family can do this fall is go on a nature hike. With the leaves changing different colors, this is a great way to enjoy their delightful colors while they're beautiful gold and sunburnt orange.
There are many places you can explore during the fall time. If you live near the park, go visit the trails and see the wildlife that's naturally in your area. If you're near the mountains, plan for an all-day trip exploring their natural picture-perfect scenery.
You can enhance your family's nature walk by planning a few fun autumn activities. Here's a few ideas to help you get started:
Plan on taking photos. One way to remember your nature walk is by bringing a camera to take fun photos. You can capture pictures of the scenic wildlife and of your family having a great time. These can be used later on to make a collage for your family's memories.
Collect something. Whether that's something like rocks, flowers, or leaves, plan on making a collection of items to find with your family. You can write out a list beforehand if you want to make it a scavenger hunt. Collecting items along the way can also help younger kids have a goal as they explore nature.
Pack snacks or a picnic. Another way to make your autumn hike a memorable day is by packing food. Everyone loves to eat, and they'll thank you for taking delicious snacks along. Bring along fun fall treats like caramel apples and pie to fit the fall scenery!
With all these ideas in mind, you can work to plan the perfect autumn day with your family. Take the time to enjoy the changing weather and the scenery together!
Have a Backyard Campout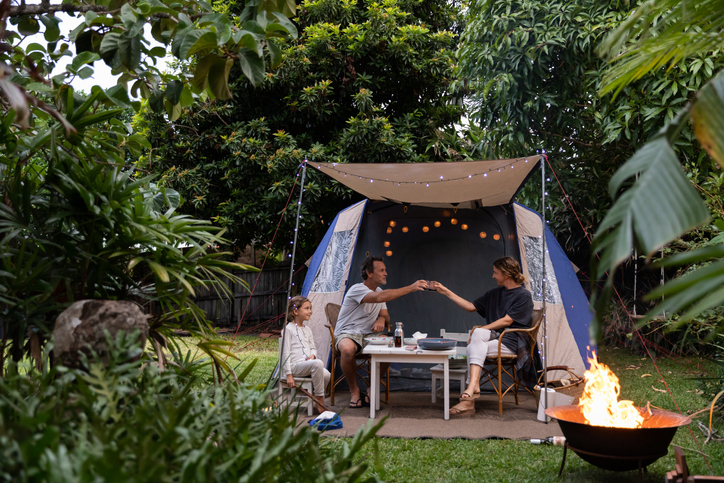 Another fun autumn activity your family can enjoy at home is having a backyard campout! With many campgrounds closed or limited due to the pandemic, you can work to bring the fun of camping right to your own backyard.
Camping during the fall time is a great way to enjoy the outdoors. You can enjoy the natural wildlife behind your house and experience the cool, chilly weather at nighttime.
Here's some ideas to make the most of your backyard campout:
Make a backyard bonfire. One of the best autumn activities you can do at home with your family is to create your own backyard bonfire. You can have everyone sit around and tell different stories that they have from throughout the years. This is also a great chance to grab some marshmallows and make some s'mores!
Stargazing is another fun autumn activity you can do at your homemade campout. You can buy a guide for your family so you can find the different constellations that can be seen in the sky.
Tell Ghost Stories. No campout is complete without scary ghost stories, so have everyone sit in a circle and tell their best ones. This is a great way for everyone to get a chance to speak and show off their creative storytelling skills.
Set up tents. Another way to help make your backyard campout feel like a real one is to set up tents on your lawn. Not only will your family get a camping-like experience, but you'll also get to have fun using sleeping bags outside.
A backyard campout is a great way your family can enjoy the changing of the seasons while still getting a taste of real camping. The best part is if you forget something, you can just run into your house and go grab it!
Host a Pie Baking Contest
Fall is notorious for its endless amount of delicious apple and pumpkin pies. Between the Halloween and Thanksgiving themes, there's so many reasons these festive treats are a staple at any autumn event. This is also the season when every cook brings out their secret recipes and makes these goodies.
One way your family can enjoy autumn is by hosting a pie baking contest. Since there are so many different seasonal flavors to explore, you can have everyone use a different recipe and see who makes the best pie. Some of your family members might even have their own that they'd like to share!
Here's a few ways you can have a successful pie contest:
Set the rules. Before you reach out to your family and friends about the contest, decide what the rules are going to be. Whether everyone has to make their pie the same flavor or use the same ingredients, let the cooks in your pie contest know what the rules are. These can be as loose or as challenging as you'd like.
Have a deadline. Tell everyone what day and time they should bring their pies over for taste testing. This will ensure everyone's on the same page so they can work to meet the deadline.
Have a grand prize. Whether it's something simple like a gift card or a day at the winner's favorite restaurant, heighten the stakes by having a grand prize. This will help encourage some friendly competition and bring out the best pies in your friends and families.
Don't worry if some of your family members can't (or aren't interested) in cooking – everyone will want to have some when these are brought out for dessert! You can also make this a fun day with your family to hang out and get to know each other.
Make Fall Crafts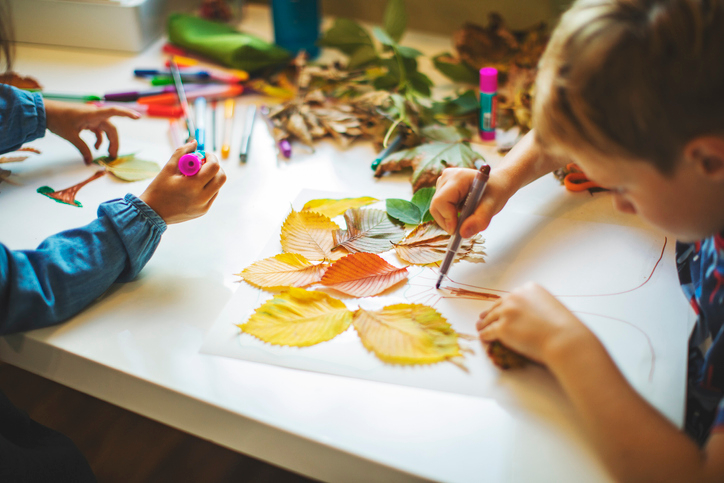 Another great way for your family to welcome in the fall is by making fun, festive crafts. After all, people love creating things that they can call their own, and all ages can participate in the creativity!
There are so many different craft kits and ideas that you can find on the internet. From Halloween-themed activities to making fun displays, there are autumn activities for everyone's skill level for when it comes to getting crafty.
Preparing to Make Crafts
When choosing what crafts your family should do, you can keep a theme and budget in mind. You can also consider how much space you have in your house and how messy the crafts might get. For easy cleaning, you'll probably want to keep everything in the same room such as the kitchen.
When shopping for supplies, stores sell plenty of autumn crafts that you can make right out of the box. However, if you're a more artistic person, you might find that making something more unique is up your alley. You can explore the shelves or find ideas on the internet to find activities for your family to do all season long.
Here's some simple craft ideas your family can think about doing this fall:
Decorating pumpkins
Making your own Halloween or fall decorations
Seasonal coloring books
Knitting or quilting warm hats and scarves
Watercolor painting autumn pictures
Creating a leaf collage
The best part about crafting is everyone in your house can take part. You can gather the entire family together and make a whole day!
Saber Healthcare Welcomes in the Fall
As the season changes, we're excited to see what this autumn brings. Our company's healthcare heroes are welcoming in the season along with our residents.
If you're like to learn more about Saber Healthcare and the services we provide, click here.
Saber Healthcare is an organization dedicated to providing consultant services to long term care providers. This article is for informational purposes and is not meant to be seen as professional advice. Please consult with a medical expert before relying on the information provided.