Commitment + Clinical Leadership = Better Outcomes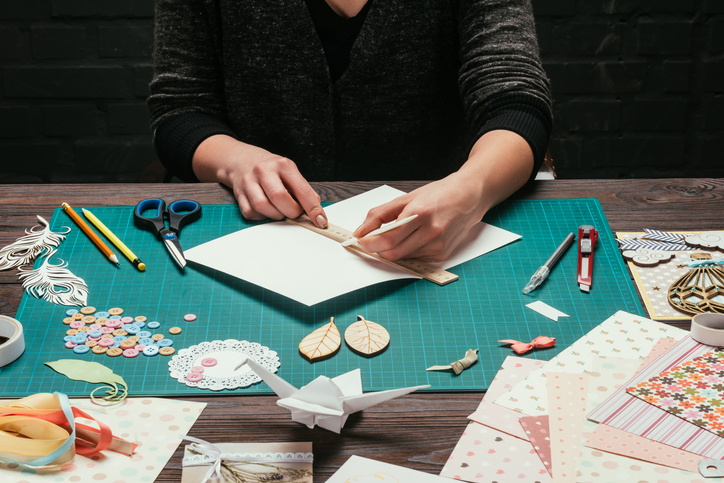 10 Thoughtful and Creative Handmade Gift Ideas
Apr. 3rd, 2021
Handmade gifts are special because they are one-of-a-kind and were made with someone in mind.
The first Saturday of April is National Handmade Day, which celebrates those who take the time to make unique gifts. This day also includes people with businesses that make handmade products.
Here at Saber Healthcare, we appreciate all of the handmade gifts, from cards to blankets to everything else, that we receive for our residents. Handmade gifts have brought joy to many of our residents, and we appreciate those who are thinking of them.
To help celebrate National Handmade Day, here are 10 thoughtful handmade gift ideas that you can make and give someone today.
Cards
Handmade cards are a way to let someone know you're thinking of them, whether it is a holiday or special event. A homemade card stands out in the mail because it shows that you took the time to create and send something special.
You don't need to be an artist to make a handmade card – you can use fun materials such as fake flowers, feathers, buttons, ribbons, bows, stickers, and glitter to make your card unique.
Personalize a card for someone that you think would enjoy one!
A hand-painted mug
A hand-painted mug is the perfect handmade gift idea for someone who loves coffee or simply needs something to store pencils in.
There are many different options when it comes to creating a hand painted mug for someone. You can buy a blank mug that you can decorate at a ceramics shop, or you can create your own if you have the ability to.
Consider what the purpose of the mug will be and then work to make one that your loved one will enjoy.
A custom scrap book
If you and your loved one have a lot of memories together, you might want to consider making them a scrapbook with all of the photos you have taken. This is a great way someone can review all of the memories you have and keep them in an easy-to-find place.
You can buy a scrapbook at a craft store or create your own. Some ideas to decorate the pages include writing fun paragraphs about the memories and adding different borders around the pictures. Don't forget to include the dates as well!
Coasters
Coasters are a great gift for anyone because they are useful and can be made in a variety of different ways. You can create coasters out of wood, glass, cardboard, yarn, or corkboard.
Take the time to think about some creative ways you can make the coasters for your loved one stand out. For example, if they love flowers, think about making the coasters a spring theme with flowers and vines. Another way you can make your coasters unique is by personalizing them, such as adding the names of their family members.
Give your loved one coasters for a practical and innovative handmade gift!
Bookmarks
Another clever handmade gift idea is to make a bookmark with a thoughtful design. Bookmarks are easy to create out of anything, and you can laminate them when you are done.
Some ideas to make your bookmarks unique include adding in quotes from a favorite series, using watercolors to make the colors pop, and adding ribbons to help someone keep track of the page they are on.
Bath Bombs
Bath bombs are a great way to relax, and you can make your own handmade bath bombs as a gift. If someone enjoys going to the spa, they will be surprised if you make them a bath bomb in their favorite scent.
To make your own bath bombs, you will need essential oils, dyes, baking soda, and a few other ingredients. Make sure to mix the ingredients thoroughly, and follow the instructions to ensure that the bath bombs are able to stick together.
Create bath bombs as a fun way to let someone know you care about them.
Cookies
Cookies are an exciting gift for anyone: not only do they taste delicious, but you can make them in many different flavors. Whether your loved one enjoys chocolate chip, sugar cookies, peanut butter, or a combination of these, you can find a recipe that they will enjoy.
You can find many recipes for cookies online, or you can create your own if you know how to bake. Add sprinkles, frosting, and other decorations to make your homemade cookies stand out.
Scratch art
If you like to color, scratch art is a fun handmade gift that you can give someone. Anyone can make scratch art, and all you need are crayons, paper, and a toothpick.
Scratch art is made by coloring two layers: the first being the colors you want to use, and then a black layer on the top. You can then use a toothpick to scratch out a design.
Plan out your scratch art design and make some for someone today!
Keychains
Another custom gift idea is creating your own keychains. To make unique keychains, all you need is a key ring and an idea for what you want the keychain to look like.
Some homemade keychain ideas include sewing fun animals, using beads to create a design, tying different ribbons together, or making something using resin.
Sun Catchers
Sun Catchers are decorations that you can hang in your window or outside. They are usually made of materials that reflect the sun, such as glass and beads.
To make a sun catcher, you can buy a DIY kit or follow a tutorial online. Make sure to choose colors that are vibrant and will make the room look homey!
Are you ready to make something?
Now that you have some homemade craft ideas in mind, it's time to start making your own. Think about personalizing a gift for someone that they will be able to cherish and enjoy for years to come.
Saber Healthcare Appreciates Handmade Gifts!
When the community reaches out to give handmade gifts to our buildings, we truly appreciate it. Our residents and staff have enjoyed the cards, blankets, masks, and other homemade gifts that we have received over the years.
Thank you!
Saber Healthcare is an organization dedicated to providing consultant services to long term care providers. This article is for informational purposes and is not meant to be seen as professional advice. Please consult with a medical expert before relying on the information provided.