Commitment + Clinical Leadership = Better Outcomes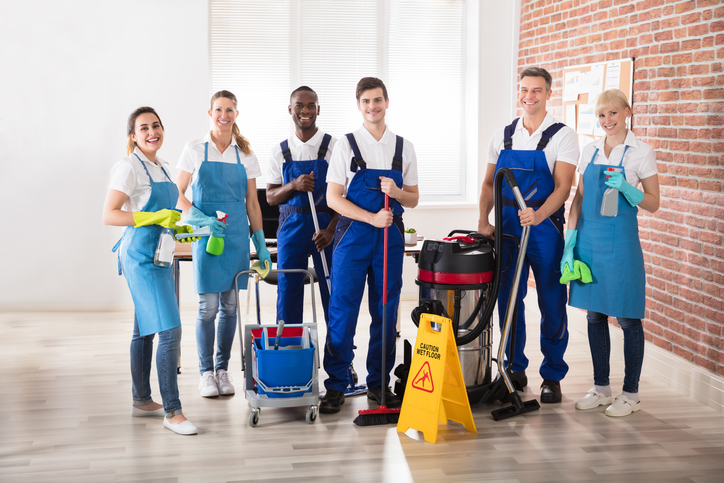 6 Ways to Show Appreciation to Custodians
Oct. 2nd, 2023
National Custodian Day is celebrated each year on October 2nd by different businesses and organizations across the United States.
Custodians are responsible for keeping the offices and organizations that they work for in pristine condition. Their work helps to protect people from contracting harmful viruses and bacteria off the surfaces that they clean.
Many custodians work tirelessly behind the scenes in order to make sure that they're successful in keeping the environment they work in safe and healthy. Here are 6 ways that you can show appreciation for the custodians in your life.
Tell Them "Thank You"
Many times, custodians go unnoticed throughout the day. They might not feel like they are important because the work that they do each day seemingly occurs in the background.
You can stop by and tell the custodian that you know "thank you" for everything that they do. This can go a long way in helping them feel appreciated for the dedication they put into their role.
One idea for telling a custodian "thank you" is by having everyone in the organization sign a card for them. This can be a surprise that you give the custodian to let them know that people are thankful for their hard work!
Give Them a Gift
One way you can show appreciation for a custodian is by giving them a small gift. If your personal or company budget allows, a small token of appreciation can go a long way when it comes to saying "thank you."
Some ideas for gifts include:
A gift card
Flowers
Chocolate, candy, or cookies
A mug
Company gear, such as a t-shirt
Coasters
Help Them Out
Many custodians are responsible for cleaning many different areas throughout an organization. Sometimes, custodians need to stay late in order to make sure that every room is clean for the next day.
One idea to show a custodian appreciation is by helping them out in small ways. This can be as simple as wiping down an area after you use it or picking up a piece of trash if you see it on the ground.
Another idea is to ask other staff members to clean their areas for five to ten minutes before they leave for the day. This can be one way to minimize the amount of trash and cleaning that a custodian will have to do after hours.
Order a Lunch
If the organization's budget allows, you can order a special catered lunch for the custodians that work for your building. A lunch can be a great way to show them appreciation and lets them know that their coworkers are thankful for what they do.
If your organization has one or two custodians, you can always take it upon yourself to order them lunch. You can order it as a surprise delivery or ask them if they want to go out to a restaurant with you.
Invest in New Equipment
If you are a manager or a boss, you can make a custodian's job easier by investing in new cleaning equipment. This can be one way to show that you care about what they do because up-to-date equipment will allow them to clean faster and easier.
If you are an employee, you can have everyone around the organization pitch in and buy them something that needs to be replaced, such as a vacuum cleaner. You can surprise them with the gift while letting them know that you appreciate everything they do!
Host an Appreciation Party
An appreciation party can be a fun way that you let the custodians at your organization know that people are thankful for what they do! The party can be a surprise to make it memorable for the person or group of custodians you're thanking.
The appreciation party can include balloons, pizza, cake, and games. This can also be a great way for other staff members to meet the custodians and learn more about them!
Saber Healthcare Thanks Custodians
Here at Saber Healthcare, we thank those who work in our housekeeping/laundry departments. Each day, our housekeepers keep our residents safe by cleaning up messes, spills, and other hazards around our buildings. They also work to proven linen services and make sure that the residents receive their clean clothes in a timely manner. Thank you!
To learn more about Saber Healthcare and the services that we provide, click here.
Saber Healthcare is an organization dedicated to providing consultant services to long term care providers. This article is for informational purposes and is not meant to be seen as professional advice. Please consult with a medical expert before relying on the information provided.