Commitment + Clinical Leadership = Better Outcomes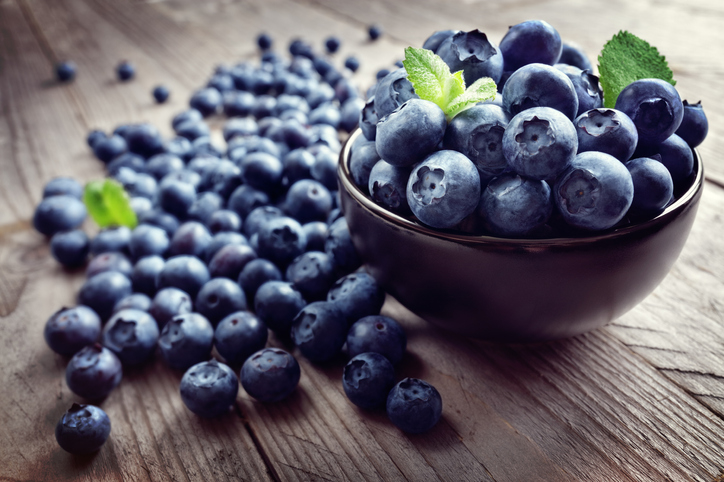 5 Proven Health Benefits of Blueberries
Jul. 8th, 2021
The United States is the world's largest producer of blueberries, with at least 14 states growing them as part of their agriculture.1
Blueberries are a small, savory fruit that make a great addition to a meal at any time of the day. Many Americans add blueberries to their salads, pancakes, yogurts, and desserts to enjoy their sweet taste.
Here are some health benefits of blueberries as well as a few tips you can use to add them into your everyday diet.
Health Benefits of Blueberries
Various studies have been conducted that show blueberries have many positive health benefits on the body.
Check out this list of the health benefits blueberries have.
Lower Blood Pressure
Having high blood pressure can lead to heart attacks and strokes. High blood pressure usually isn't detectable, so it's important that you consume a diet that helps your body regulate it naturally.2
A study published in The Journals of Gerontology, Series A: Biological Sciences and Medical Sciences found that consuming 200 grams of blueberries a day has a positive effect on blood pressure in men. The study gave healthy men a drink made of natural blueberries and found that flow-mediated dilation improved by 2% within the first two hours of consuming the drink. These benefits were found to continue after one month of daily consumption.3
Furthermore, another study followed the diets of about 157,000 men and women. They found that diets with foods containing anthocyanins were 8% less likely to be diagnosed with hypertension.4
Adding blueberries into your diet is one way to help prevent high blood pressure. While no single food can completely protect against it, eating a diet that keeps your blood pressure in check will allow you to stay healthy for years to come.
Blueberries Can Improve Memory
There are studies that link fruits with antioxidants as having an impact on our memory.
The antioxidants in blueberries have been linked to lowering the damage caused by free radicals in the brain, which damage the neurons that send messages throughout our body.5 Reducing the damage caused by free radicals can help fight age-related memory diseases and improve the blood circulation to the brain.
One study followed 9 participants that had declining memories. They gave the participants blueberry juice and studied how their memory progressed over 12 weeks. The conclusion was that their memories improved and the blueberry juice they consumed had a positive effect on cognitive decline, and could even help protect against it.6
Eating blueberries can help keep your brain healthy and help protect it against memory decline. Try adding blueberries into your diet to maintain and improve your memory!
Blueberries Can Improve Cardiovascular Health
Another one of the health benefits of blueberries is that they are linked to improving your cardiovascular health.
A study published in The American Journal of Clinical Nutrition found that eating a cup of fresh blueberries decreased the risk of cardiovascular disease by 15%.7
The researchers studied 138 individuals with Metabolic Syndrome for six months. They found improvements in the circulatory system and arterial stiffness (stiffening of the arterial wall), both of which contribute to heart health.
Eating blueberries can help keep your heart healthy and prevent cardiovascular diseases.
Blueberries Can Help Build Your Immunity System
Our bodies have microflora (gut bacteria and microbes) which contribute to 60-80% of our immune system. Blueberries contain anthocyanins, a flavonoid which helps fight diseases and promotes good gut bacteria. Anthocyanins boost your body's overall immunity.8
Furthermore, a 2016 study looked at the effect flavonoids have on immunity. Studies show that flavonoids decreased the chance of Upper Respiratory Tract Infections by 33% compared to the control group.9
Eating a diet with blueberries can help you build the good gut bacteria in your immune system that keeps you healthy and prevents diseases.
Blueberries Might Help Prevent and Control Diabetes
Blueberries are an excellent choice of fruit to eat when it comes to controlling blood sugar levels.
A study published in 2010 looked at insulin sensitivity levels in overweight individuals by giving their participants blueberry smoothies. The researchers concluded that the blueberry powder improved insulin sensitivity over 6 weeks, with 67% of the participants having a 10% favorable change in their insulin sensitivity levels.10
Another study by the University of Michigan found that rats who ate blueberry powder had lower abdominal fat, triglycerides, and cholesterol. They also looked at the effects of combining the blueberries with a low-fat diet, and that led to lower total fat mass and reduced liver mass.11
These studies show that blueberries are an excellent food for diabetics to use as a way to control their blood sugar. Blueberries can also help prevent diabetes because they can help the body regulate its insulin levels.
Vitamins and Minerals
There are many studies showing that blueberries have vitamins and minerals that benefit your body.
Here's a list of some of the vitamins and minerals you can get from blueberries.
Vitamin C: Vitamin C is responsible for keeping your skin healthy by producing collagen. Vitamin C also prevents iron deficiency and can help you maintain your weight.12
Vitamin K1: Blueberries contain Vitamin K1, also known as phylloquinone, which helps to prevent blood clotting.13
Magnesium: Magnesium is a mineral that helps our body perform over 300 enzyme reactions. It supports our immune system and helps with muscle and nerve function.14
Other Nutritional Benefits of Blueberries:
Fiber: 16% of the carb content of blueberries contains fiber.13 Fiber is important because it aids the digestive system in processing food, which helps your body get the nutrients that it needs.
Anthocyanins: This is found in the skin of the blueberry and helps give it its blue color. Research shows that anthocyanins can help reduce inflammation.15
Quercetin: Quercetin supports heart health by lowering blood pressure and cholesterol in the body. It can also reduce inflammation in the brain and protect brain cells from toxins.16
How to Add More Blueberries Into Your Diet
With the health benefits of blueberries in mind, try incorporating more of this tasty fruit into your everyday diet.
If you're able to, buy blueberries from your local farmers market. The blueberries found in these markets tend to be fresh and contain all of the vitamins and minerals you're looking for in naturally grown blueberries.
Here are some idea you can use to eat more blueberries today:
Add blueberries into the cereal or oatmeal you make for breakfast
Make your own blueberry jam for your toast
Add blueberries into your ice cubes
Make a fruit kabob and add blueberries in as one of the ingredients
Bake blueberries into your pancakes or waffles
Add blueberries as one of the ingredients in your salad
Enjoy yogurt with fresh-picked blueberries
Make homemade blueberry muffins for your family
Blend a smoothie, and add blueberries in as one of your primary ingredients
Add blueberries into your granola snack
Make a blueberry cobbler or pie
Bake blueberry cookies
Add Blueberries into Your Diet Today!
There are many health benefits of blueberries that make a positive impact on your body. Add blueberries to your well-balanced diet to ensure that you're putting your body's health first!
Here at Saber Healthcare, we believe in taking steps to make sure our residents meet their nutritional goals. Our dietary team consistently works to develop and create menus that contain delicious food that meet our residents' daily vitamin and minerals needs.
To learn more about Saber Healthcare and the services we offer, click here.
Saber Healthcare is an organization dedicated to providing consultant services to long term care providers. This article is for informational purposes and is not meant to be seen as professional advice. Please consult with a medical expert before relying on the information provided.
Sources